The Things People Say Right Before They Leave the Trump Administration
The secretary of state denied he was close to quitting, but did not explicitly reject a news report that said he called President Trump a "moron."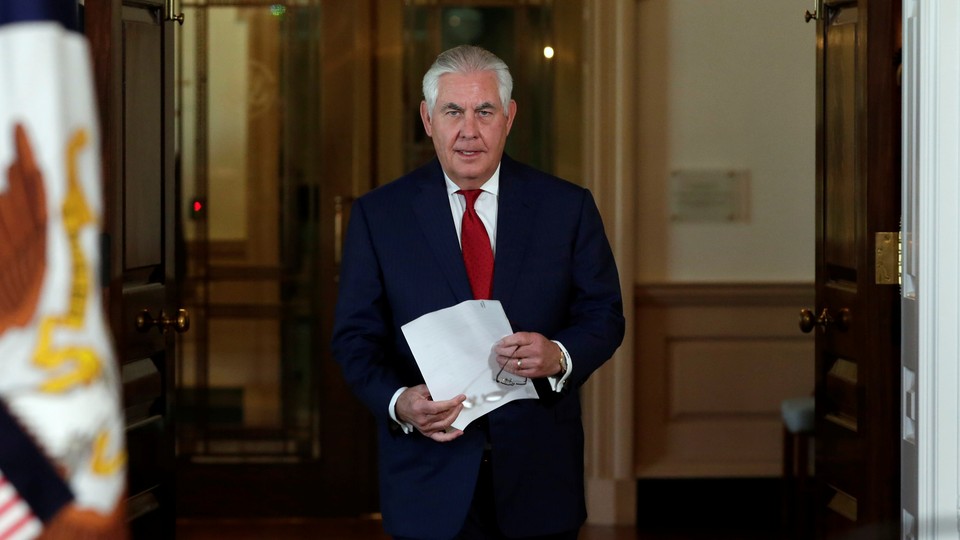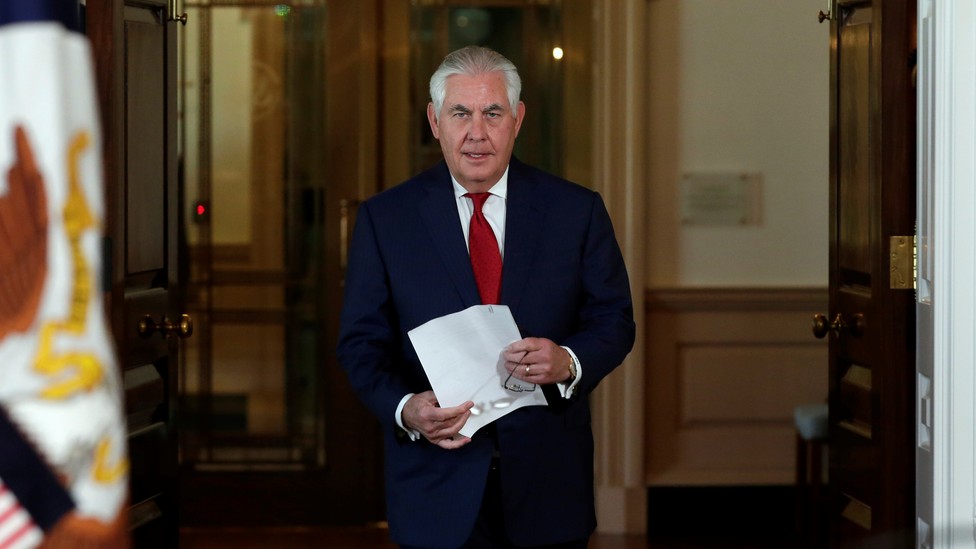 Rex Tillerson's forceful defense of President Trump, after an NBC News report said the secretary of state had called the commander-in-chief a "moron" and seriously considered quitting his job, offered few clues about his eventual fate. From Sean Spicer to Steve Bannon and Reince Priebus, it's not uncommon for Trump's aides to defend the president—right before being shown the door. Tillerson, the top U.S. diplomat, may be in a category by himself—but as he reminded everyone on Wednesday: He serves at the pleasure of the president.
"The vice president has never had to persuade me to remain as secretary of state, because I have never considered leaving this post," Tillerson said in an unscheduled appearance before the media at the State Department, referring to the NBC report.
But multiple news reports since this summer have said Tillerson does not enjoy his job, feels undermined by Trump, and was considering resigning. If those reports were true, Tillerson was hardly going to confirm them at the State Department while insisting he was staying in his job. Instead, he offered what several officials from across administrations do when asked about rumors of impending resignation or dismissal. Tillerson's exact words: "There's never been a consideration in my mind to leave. I serve at the appointment of the president, and I am here for as long as the president feels I can be useful to achieving his objectives." Tillerson was also careful to praise Trump, saying, "He loves his country. He puts Americans and America first. He's smart. He demands results wherever he goes, and he holds those around him accountable for whether they've done the job he's asked them to do."
But Tillerson did not explicitly reject the crux of the NBC News reports—later corroborated by CNN—that he had called Trump a "moron" over the political nature of the speech the president made to an annual Boy Scouts of America gathering. The Boy Scouts apologized for the speech, because presidential addresses to the organization have previously been about service, not politics. Tillerson, a former Eagle scout, once chaired that organization.
When asked whether he would address the "moron" allegation, he replied:
I'm not going to deal with petty stuff like that. This is what I don't understand about Washington. Again, I'm not from this place. But the places I come from, we don't deal with that kind of petty nonsense. And it is intended to do nothing but divide people. And I'm just not going to be part of this effort to divide this administration.
Heather Nauert, the State Department's spokeswoman, later explicitly denied Tillerson had called Trump a "moron." She said the secretary had spoken to the president, adding there was no apology because none was needed.
Trump himself responded to the report ahead of Tillerson's press conference, calling it "fake news" on Twitter.
The @NBCNews story has just been totally refuted by Sec. Tillerson and @VP Pence. It is #FakeNews. They should issue an apology to AMERICA!

— Donald J. Trump (@realDonaldTrump) October 4, 2017
But what the president says publicly or on Twitter about those who work for him can be at odds with their political fortunes. Trump had publicly praised Steve Bannon, Reince Priebus, Sean Spicer, and Michael Flynn, for example, but all of them ultimately ended up departing the White House.
Spicer's resignation in July came following Trump's appointment of Anthony Scaramucci as the White House communications director. Reports that Trump was unhappy with Spicer had circulated for pretty much the entire duration of Spicer's tenure as the White House spokesman. When asked about them in June, Spicer replied: "I'm still here." Trump himself had defended Spicer's performances at the White House podium, in which he frequently misled reporters or misstated facts: "As a very active president with lots of things happening, it is not possible for my surrogates to stand at podium with perfect accuracy!" he tweeted. "Maybe the best thing to do would be to cancel all future 'press briefings' and hand out written responses for the sake of accuracy???"
Spicer's resignation resulted in speculation that Priebus would be the next to go because of his own past frictions with Scaramucci. Priebus, too, denied anything was amiss. "We go back a long, long way and are very good friends," Priebus told the AP. "All good here." When Sarah Huckabee Sanders was asked whether Trump had confidence in Priebus, she replied: "We all serve at the pleasure of the president, and if it gets to a place where that isn't the case, he'll let you know." Priebus was out soon after that. Even after replacing him with John Kelly, Trump called Priebus "a good man."
Bannon, in an interview with the American Prospect that many say led to his ouster, fixed his ire on many of the president's aides, but not Trump himself. Indeed, after Trump's controversial remarks on Charlottesville, in which he decried violence on both sides following a white-supremacist rally but added "you also had some very fine people on both sides," many of Trump's closest aides broke with him. But while Tillerson, Gary Cohn, and others publicly distanced themselves from Trump, Bannon was steadfast, reportedly saying he was "proud" of the president's remarks. That didn't save him, though. Amid reports in August that Bannon's future was in peril, Trump called his chief strategist "a good man, he's not a racist, I can tell you that," but he declined to offer details about Bannon's future, saying merely, "we'll see." Bannon was out on August 18.
Scaramucci himself was ingloriously dumped following imprudent remarks to a New Yorker reporter about Bannon and Priebus—remarks he said he thought were off the record.
Mike Flynn, the national security adviser who resigned early on in the administration amid scandal over undisclosed contacts with the Russian ambassador during the campaign, remains a favorite of the president, who reportedly is still smarting over his absence. Even on the day Flynn left the White House, Kellyanne Conway, the president's counselor, said Trump had "full confidence" in Flynn. Later in the day, Flynn was gone.
Trump at first favored then-FBI director James Comey, because of his role in the Hillary Clinton investigation at the height of the presidential campaign, but ended up firing him because of his continued investigation into the Trump campaign's ties with Russia. In March, amid speculation he was considering resigning, Comey seemed confident he was keeping his job, telling an audience at a cybersecurity conference: "You're stuck with me another 6½ years." In fact, Comey had so little idea what was coming that he reportedly found out he'd been fired when he caught a glimpse of a CNN broadcast while delivering a talk in May to FBI personnel.
Tom Price, the first cabinet-level official to resign from the administration, was the latest to go. Trump said publicly he was "not happy" with his health and human services secretary, who stepped down over a scandal involving his use of private jets for government travel. And when asked if he'd fire Price, Trump replied: "We'll see."
Tillerson, the former Exxon CEO, shies from publicity—and generally avoids the media, something that will ensure that he never outshines or gets better headlines than the president. It has been previously reported that Trump had been annoyed about the kinds of headlines Bannon received. But his remarks on Wednesday won't quiet speculation about just how much influence Tillerson has on the U.S. foreign-policy agenda he's supposed to be leading. (UN ambassador Nikki Haley, for example, can at times appear to be setting policy instead—most recently when she delivered a speech about the flaws of the Iran nuclear deal, and the possible case for withdrawal, that many diplomats say was Tillerson's to make. Tillerson has called the deal flawed, but has previously said the U.S. should stay in it. Trump has called the agreement "the worst deal in history.")
Among the foreign-policy issues where Trump has publicly broken with Tillerson are Qatar, NATO, Iran, and, most recently, North Korea. Ambassador Laura Kennedy, who served at the State Department for four decades until 2015 under both Republican and Democratic administrations, told me this week the president's repeated public disagreements with Tillerson send a bad message. "For the president to deliberately and flippantly taunt his secretary of state undercuts that secretary of state, and it also introduces an element of childishness and pettiness that's very much at variance with the needs of projecting our leadership throughout the world," she said.
Tillerson's remarks Wednesday that he had never considered quitting; that he thought the president was "smart;" and that he served at the pleasure of the president might assuage some of Trump's own suspicions about his secretary of state. But recent history suggests that such statements don't actually say much about the fate of those who make them.