#BalanceTonPorc Is France's #MeToo
In the land of the insouciant shoulder shrug, it might have taken an American-made scandal to start a conversation on sexual assault.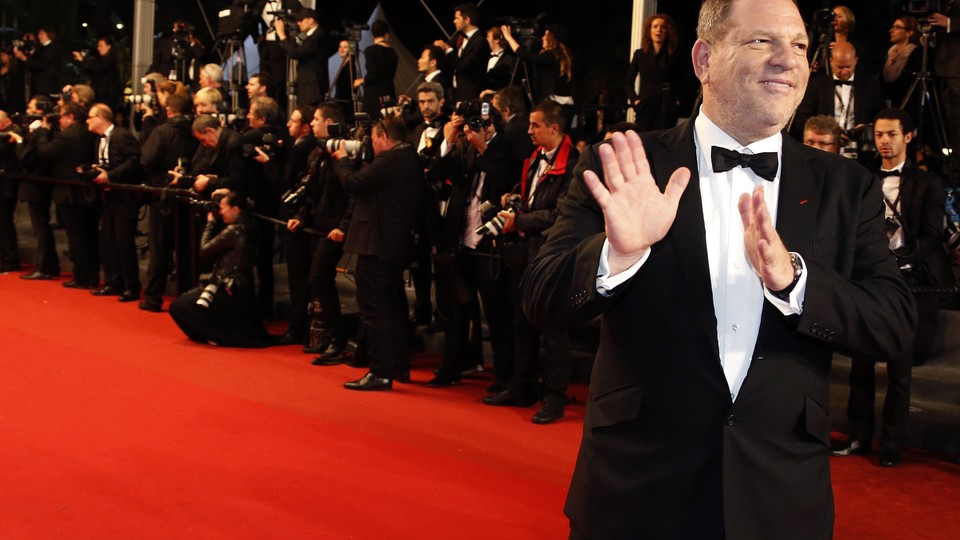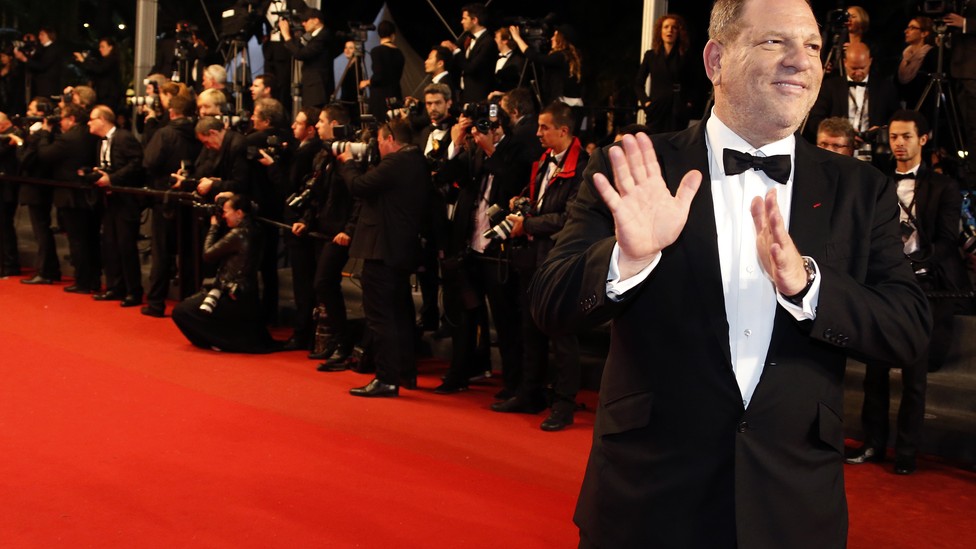 PARIS — My adopted home is the land of the shoulder shrug, of the insouciant "bof," of a "these-things-happen" cynicism—a place where there's a small industry of books on seduction and far more shame attached to discussing money than to discussing sex. So it was surprising to see the Weinstein scandal explode so intensely in France.
But there are darker sides here—daily indignities and workplace harassment, to say nothing of troubling rates of women being harmed or even killed by their partners in France—and it seems to have taken Harvey Weinstein's downfall to bring it out. While the hashtag #MeToo has released an emotional wave of testimonials by women around the world, in a kind of online group therapy, France's answer,  #BalanceTonPorc—"rat out your pig"—which went viral this week, takes things a step further.
Started last weekend by Sandra Muller, a New-York-based French journalist, the hashtag essentially invites naming names. That could be a slippery slope. (Lawyers have asked Muller to delete a tweet in which she named the name of a French executive who she said had told her, "You have big breasts. You are my type of woman. I will make you orgasm all night.")
But the fact that the #BalanceTonPorc hashtag has taken off here—the country where the wild life of Dominique Strauss Kahn, the once presidential-contender and managing director of the International Monetary Fund, was something of an open secret before his political career was destroyed by allegations he had sexually assaulted a hotel maid in New York—marks a shift. It's the flip side of an old dynamic: The French may still consider Americans too moralistic when it comes to sex, but when it comes to sexual harassment, it took an American scandal—and good old-fashioned investigative reporting—to open a debate France has needed to have for some time. It reminds me of how the European press loved picking up American press reports of the sex abuse crisis in the Catholic Church, perhaps because it gave them cover to confront something they knew was pervasive but might never have taken the initiative to tackle on their own (with the notable exception of Ireland's press).
In Italy—home of the actress and director Asia Argento, whose stories about Weinstein have been among the most vivid to emerge from the reporting—the hashtag #quellavoltache ("the time that"), has also been trending, although not so much as #BalanceTonPorc in France.
Here, President Emmanuel Macron, who's made more of an effort at gender equality than some of his predecessors, at least in his rhetoric, saw fit to discuss Weinsteingate on Sunday in his first television interview since becoming president, saying he was urging the revocation of Weinstein's Legion of Honor. (Weinstein was given the Legion of Honor after The Artist, by the French director Michel Hazanavicius, won the Academy Award for best picture and best director in 2011.)
A few days after Macron went on television, as #BalanceTonPorc gained momentum, Marlène Sciappa, France's junior minister for gender equality, said the administration was considering amping up legislation against sexual harassment, including issuing fines for people who engage in cat calling. I cannot imagine how that could be enforced, especially with French law enforcement pretty busy these days—in other news this week, France put a new counterterrorism law into effect—but if it makes French police more sensitive to harassment reports, that's all for the good.
France is not exactly a culture of oversharing, and what's also been new here this week are calls for women to "libérez la parole," or speak out, about harassment incidents.
The actress Isabelle Adjani wrote an op-ed urging women not to be afraid to talk about their own experiences. Even French libertinism contains the word "liberté," she wrote, and women should be free to be seductive without it being an invitation to be raped. She ended on a defiantly French note. "Let these harassing men know that actresses, like workers, farmers or nurses, shopkeepers or teachers, mothers or whores, are all free to fuck, free to abort. And free to speak out!"
France's economy minister, Bruno Le Maire, backtracked in a video message, saying he firmly condemned sexual harassment and urged women to "libérez la parole," after he had said in an earlier radio interview that he believed in loyalty and not in ratting out his colleagues. (French politicians have faced several sexual harassment scandals in recent years.)
In the right-wing magazine Causeur this week, the editor Elisabeth Lévy dismissed #BalanceTonPorc as "the latest faddish ideological gadget," and one that conflated "speaking out" with "denunciation."
I can see what she means about the faddism. But then consider the general landscape. Last week, before the Weinstein scandal opened up the floodgates, Les Inrockuptibles, a French indie weekly magazine, dedicated a cover story to Bertrand Cantat. The front man for the French band Noir Désir, Cantat served four years in prison, convicted of the 2004 murder of his partner, Marie Trintignant, who died of a cerebral hemorrhage several days after Cantat struck her on the head. In the cover story, he talked about how he'd reconnected with his creativity after some tough years.
This prompted a swift response from the French edition of Elle, which this week published an editorial, "In the Name of Marie," with Trintignant's picture. The magazine pronounced the late actress the face of the 123 anonymous women killed by their partners in France last year, and the 33 women a day who report rapes, and the 216,000 sexual harassment claims reported in France in 2016. That, too, went viral. Les Inrockuptibles issued a clarification, explaining its decision to feature Cantat was "complicated" His comeback was newsworthy, they wrote, but after the Weinstein scandal broke, they understood why it might not have been a great idea for a cover.
Is France changing? Maybe it is. Today, millennials with Twitter accounts carry more weight, politically and economically, than they have before. But it could also be that Weinsteingate will pass. Later this month, the French national cinémathèque will hold the French premiere of Based on a True Story, the latest film by Roman Polanski. In the presence of the director. #PlusÇaChange?