The Trouble With Rex Tillerson's Message of Unity
The president himself has repeatedly sent a different message.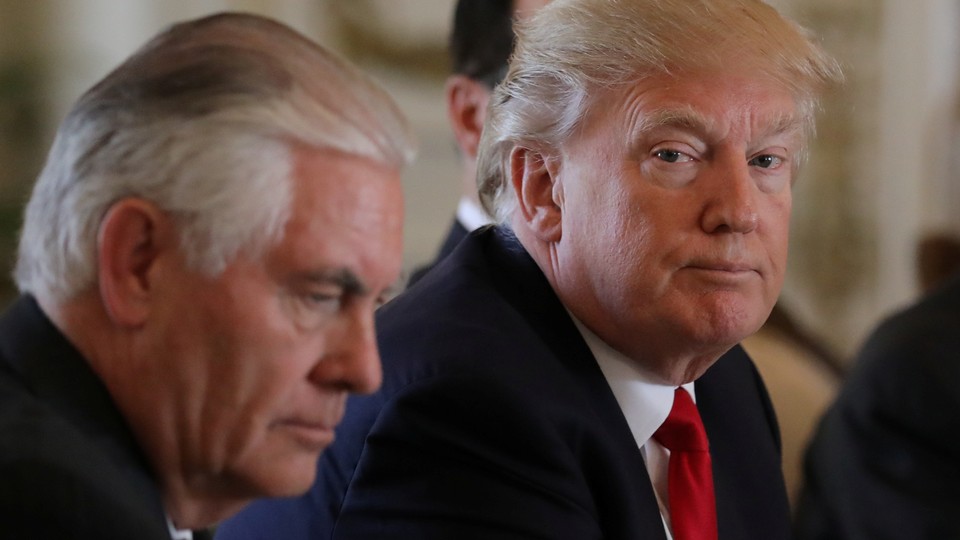 In response to an NBC News report on Wednesday that he had called the president of the United States a "moron" and considered resigning over numerous personal and policy disagreements with Donald Trump, Rex Tillerson projected a united front. The secretary of state praised the Trump administration's "team" effort to confront North Korea's nuclear-weapons program, singling out the defense secretary for embracing "our diplomatic efforts" and the Treasury secretary and U.S. ambassador to the United Nations for advancing those efforts by imposing sanctions against North Korea. He blamed unspecified actors in Washington, presumably including NBC News's sources, for seeking to "sow dissension" within the Trump administration to "advance their own agenda."
What Tillerson didn't say was that among the most prominent of these actors in Washington is his own boss. Over the weekend, in a stunning public rebuke of Tillerson's diplomatic overtures to Kim Jong Un's government—and his national-security team's narrative that Tillerson, not military leaders, was leading the administration's campaign against North Korea—Trump tweeted that the secretary of state was "wasting his time trying to negotiate with Little Rocket Man." In September, when UN ambassador Nikki Haley pushed through the Security Council what she characterized as the "strongest sanctions ever against North Korea," Trump described the measures as a "very small step" that might not have "any impact." In July, Trump distanced himself from his own decision to certify that Iran was complying with the terms of its nuclear deal with the U.S. and other world powers, implying that his aides, including Tillerson, made him stick with the agreement because it was the "easier" option. "If it was up to me, I would have had [Iran] noncompliant 180 days ago," he said. (These divisions are flaring up once again ahead of the next deadline for certifying Iranian compliance, on October 15; in recent days, Trump's top two military advisers have suggested that withdrawing from the Iran deal would undermine U.S. national security, not long after Trump condemned the accord as "an embarrassment to the United States.")
Trump may, to borrow Tillerson's wording, simply have no reservations about exposing and stoking dissension within his administration in order to advance his own agenda. Or he may be pursuing a more calculated strategy—a Trumpian version of Richard's Nixon's attempts to intimidate Cold War adversaries by playing the part of an unpredictable "madman." According to Axios, for instance, Trump recently urged his trade negotiator to extract concessions from the South Korean government by telling his counterparts in Seoul that "this guy's so crazy he could pull out [of the U.S.-South Korean free-trade agreement] any minute." The logic appears to be that there are benefits to keeping other countries guessing about the president's intentions—that dealmaking requires some level of disarray. Amid this disarray, Trump hasn't proven the only divisive figure in the administration: Tillerson himself famously rejected Trump's Charlottesville comments by saying that the president speaks for himself.
But whatever the case, the president has helped enshrine dissension as a defining feature of his administration, recognized by allies and enemies alike. North Korean officials are struggling to understand how the U.S. secretary of state and defense secretary can "so clearly contradict the president," The New Yorker's Evan Osnos reported after a recent visit to Pyongyang. Vesko Garcevic, a former Montenegrin ambassador to NATO, told me something similar about the view from Eastern Europe of the Trump administration's on again, off again rapprochement with Russia. There are times when the U.S. government "seems to be very friendly and forthcoming to Putin," which suggests the United States is "turning its back to the Balkans," he said, and other times when it takes a "more traditional American approach" of supporting NATO and U.S. alliances in Europe.
"Sometimes it seems like an unguided missile," he added. "You don't know what's going to happen next."