Spain's Fresh Memories of Dictatorship
Catalan leader Carles Puigdemont evokes the Franco era in the face of Madrid's call for new regional elections.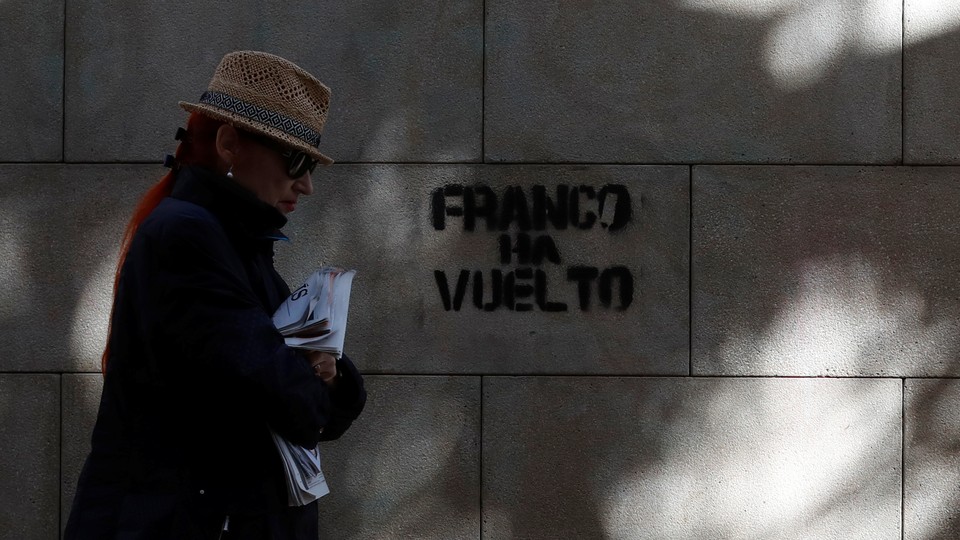 Spain is experiencing its worst constitutional crisis in its nearly 40 years as a democracy, and it keeps escalating. This week, the Spanish government announced it would impose direct rule over the northeastern region of Catalonia, where a contested referendum—one Madrid had declared unconstitutional—yielded a vote in favor of independence. What's next is uncertain, but some have turned to the country's past to explain its unprecedented present.
Responding to Spanish Prime Minister Mariano Rajoy's announcement he would dismiss Catalonia's regional government and force new elections, Catalan President Carles Puigdemont accused Spain's central government of committing an "attack on democracy" intended to "humiliate" Catalonia and its people. He went on to invoke the era of Spain's dictatorship, dubbing Rajoy's decision "the worst attack against institutions and the people of Catalonia since the military dictatorship of Francisco Franco."
It's no trivial comparison for a country like Spain, whose past four decades as a constitutional monarchy were preceded by four decades of dictatorship after the Spanish Civil War. Under the repressive rule of military leader Francisco Franco, Spain was governed by the slogan Una, Grande, y Libre (one, grand, and free), a post-civil war mentality in which any sort of regionalism perceived as a threat to Spain's homogeneity was outlawed and censored. Catalonia was among several regions bearing the cost of these measures—public use of the Catalan language was outlawed, and political dissidents were threatened with imprisonment, exile, and even death.
But the Spain of the Franco era bears no resemblance to the Spain of today. Not only has Catalonia thrived as one of Spain's wealthiest and most highly industrialized regions (though Catalonia has long been a relatively prosperous region, the country's economy was weak and internationally isolated for decades following the Civil War), but it also enjoys one of the highest levels of autonomous self-rule in the country's highly decentralized system. In addition to boasting its own regional leadership and parliament, Catalonia retains control of its own policing, education, and public transit. Still, the comparison between the past and the present—Francoist Madrid against oppositional Barcelona—remains.
"The position of regional nationalists to obviously create this strong opposition between themselves and the central government … we've seen that for really quite a long time," Mary Vincent, a professor of modern European history at the University of Sheffield, told me. She noted that the division most commonly plays out in the country's sporting arenas, in the fierce soccer rivalry between its top two teams: FC Barcelona and Real Madrid. Indeed, Barca fans have long considered the team to be "Més que un club" ("more than a club") and a symbol of Catalan identity, with some choosing to refer to Real Madrid as "General Franco's team."
But Vincent said this latest invocation of Franco marks an escalation. "In purely factual terms, yes, that hasn't happened since the Constitution of 1978," she said of the Spanish government's moves to retake the powers of its autonomous region and impose direct rule. "We're in a very new territory. In that sense, it's not remotely a return to anything that's happened before. It's a new phase in Spain's constitutional story."
The next chapter of that constitutional story remains unwritten. With Spain's senate widely expected to back Rajoy's decision to invoke Article 155—the part of the constitution that allows Madrid to suspend a region's autonomy—and dismiss Catalonia's regional leadership by the end of the week, observers now look to Puigdemont, who said he will call Catalan parliament into session Thursday to debate a response. Still, the prospect of Catalan leaders accepting direct rule and new elections appears unlikely—Puigdemont's government has thus far refused to disown the independence referendum or call for new elections.
Barcelona Mayor Ada Colau denounced both sides' apparent willingness to prolong the impasse, and called on both leaders to move from grandstanding to dialogue. "Of course sooner or later we need to have elections, to change the cycle, but to get there we need to have them along with a return to institutional normality," Colau told attendees Sunday at CityLab Paris. "That means not being under the threat of an intervention using Article 155—but also being without a unilateral declaration of independence."