Shinzo Abe Keeps Winning
Despite his unpopularity, Japan's nationalistic prime minister will likely get a big boost in Sunday's snap elections.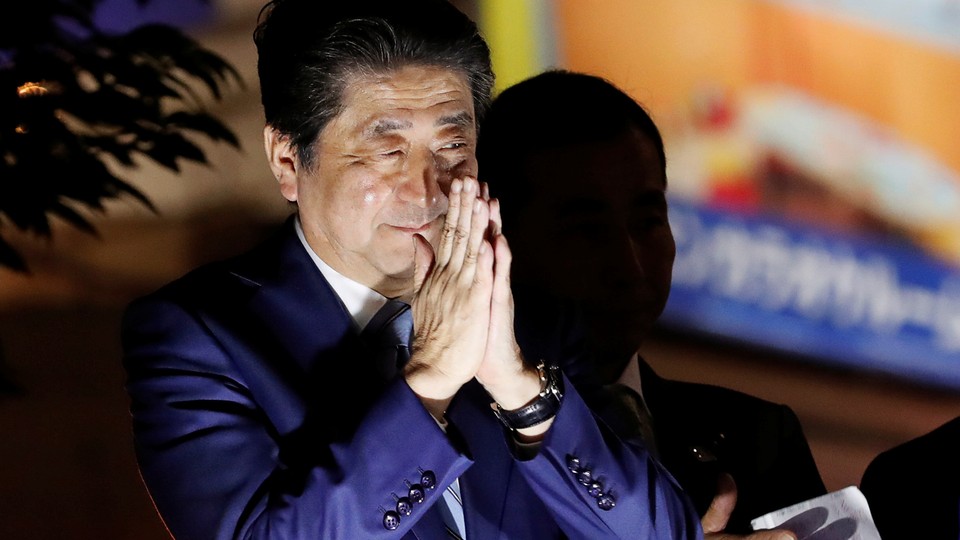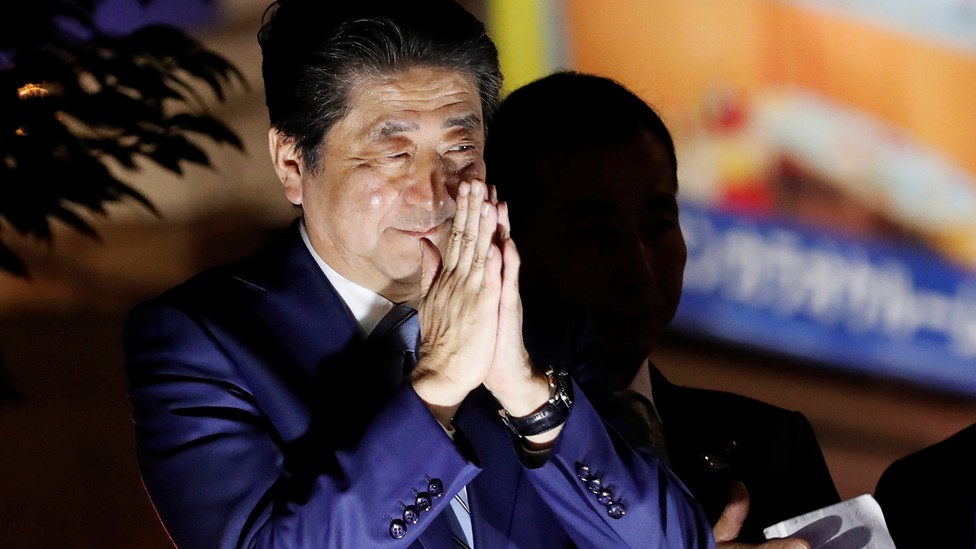 When Shinzo Abe, the prime minister of Japan, called a lower house snap election in September, he appeared to be imperiling his supermajority and risking a Theresa May nightmare scenario: losing power by winning a narrow victory. Abe didn't need to call elections until December 2018, but took the plunge early to capitalize on both an opposition in more disarray than usual, and the boost to his public support triggered by North Korea's recent missile tests.
The elections, which will take place on October 22, will pit two parties that didn't exist a month ago against Abe's Liberal Democratic Party (LDP)-led ruling coalition, which commands a two-thirds majority in both the lower and upper house of the Diet, the Japanese legislature. Yuriko Koike, the conservative governor of Tokyo, looked poised to mount a serious challenge, judging from how her Tokyo First party annihilated the LDP in July's local-assembly elections. For the national elections, she launched a new party called "Hope" that started off with promise.
But today, based on every poll, Abe is poised to retain his hold on the Diet's lower house, extending the LDP's dominance of Japanese politics. In contrast, Hope seems hopeless, headed for a disappointing showing. In any case, the new Diet will be even more dominated by right-wing forces—forces that support Abe's nationalistic, hawkish vision for Japan.
Abe's apparent success presents something of a conundrum: How does one reconcile his string of electoral victories since 2012 with the tepid public response to his signature policies and leadership? Or with the uneven consequences of "Abenomics," his eponymous policy prescription for reviving the economy through fiscal stimulus, massive monetary easing, and structural reforms? Public-opinion surveys underscore his unpopularity: A recent poll by NHK television found that 39 percent of those surveyed support the Abe cabinet, while 42 percent disapprove; two-thirds of all those sampled don't think he should have called snap elections. The poll also found 43 percent of the public agrees with his policy of no dialogue with Pyongyang, versus 49 percent who disagree, reflecting concerns that his hardline position is risky and shortchanges diplomacy.
Suspicions linger that Abe dissolved the Diet to avoid a grilling about corruption allegations and a cover-up involving his former defense minister. Abe suffers from a major trust deficit, as about 80 percent of the public doesn't believe his denials regarding two cases of alleged cronyism. (One crony allegedly received a 90 percent discount on the sale price of public land for an ultra-nationalistic private school he planned to start, while the other chum got approval to open a veterinary school, the first such exception to the government moratorium on such schools in half-a-century.)
Even among those who support Abe's drive to revise the constitution, usually targeting Article 9, in which Japan renounced both war and the government's right to maintain a military, most don't want those revisions to happen on his watch. While the LDP is by far Japan's most popular party, with about 30 percent support (versus single digits for all other parties), a majority of those supporters want someone else at the helm. NHK polls consistently show that among Abe's supporters, the biggest reason for supporting him is the lack of a plausible rival. Meanwhile, support for his policies and leadership is down in the low teens. And even as the Nikkei stock average soars and the job market remains tight, wages are flat, bonuses are down, and household income has been stagnant during Abe's nearly five years in power. Meanwhile, the precariat of poorly paid non-regular workers constitute 38 percent of the workforce. So much for Abenomics.
Normally, an unpopular leader with unpopular policies would stand no chance. But Abe timed the elections perfectly, just after a divisive Democratic Party internal election and before Koike could prepare Hope for a campaign. He has deflected questions about the wisdom of calling for a vote in the middle of the ongoing national security crisis with North Korea, and given voters a choice between him and his inexperienced rivals. Kim Jong Un's alternating series of missile tests and intimidation—threatening Japan with a nuclear strike and dismissing Abe as a headless chicken—has helped him recover from a low of 26 percent in the polls this summer. Abe has tapped into public anxieties to make the case that, despite his flaws, he is the best candidate to cope with the crisis.
Also helpful for Abe: Hope's sputtering campaign, which was dealt a blow when Koike deciding against running for a seat herself, playing it safe at a moment that required her to appear resolute and fearless. After all, she has positioned herself as a rabble-rousing populist. Perhaps more damning was her mishandling of the merger with the disbanded Democratic Party, forcing its "refugees" to sign pledges to support her party's platform. Suddenly, Hope dropped like a rock in the polls as she was pilloried in the media for dictatorial tendencies and excessive arrogance, a space that heretofore had been Abe's exclusive turf.
Events also seem to be conspiring to boost the LDP. Since the campaign began on October 10, Japan has been battered by heavy rains, limiting opposition candidates' chances to hold rallies and make their case to voters. A typhoon is forecast on election day, which will probably depress voter turnout, boosting the LDP and its well-oiled voter turnout machine. The newer parties will struggle, given the discouraging poll projections for a major LDP win and inclement weather.
Typically, only about half of Japan's eligible voters cast a ballot, and the LDP wins about half of those votes. This means that it wins elections on the back of support from about one-quarter of all eligible voters. Yet this translates into a large number of seats in the Diet, due to disproportionate representation of rural constituencies that tend to support the LDP. (The Supreme Court has enigmatically ruled that this rigged system is "in a state of unconstitutionality" without nullifying the results.)
Nonetheless, Abe will claim a mandate for his policies, and will likely push forward with his plans to revise Article 9. He also seeks special powers to declare a state of emergency, which would allow him to suspend the Diet and rule by cabinet decree. Abe has been a transformative leader on security, boosting what Japan is committed to do in support of its military alliance with the United States.
But the Abe Doctrine of shedding constitutional constraints on Japan's military forces makes much of the Japanese public uncomfortable. Eventually, they worry, Washington will drag them into a conflict that isn't relevant to their national interest. The U.S.-Japan Defense Guidelines signed in April 2015 greatly expand Japan's collective self defense commitments without placing any limitation on geographical scope. But later that year, Abe compromised on the legislation, allowing Japan to implement its guidelines in ways that Beltway wonks worry might give Japanese leaders too much wiggle room on living up to their commitments. While most of the Diet supports constitutional revision, getting its various parties to agree on what to revise and how to do so will be harder. Even members of the LDP aren't in full lockstep on revisions.
As the situation on the Korean peninsula lurches towards conflict, public ambivalence about Abe's hardline approach to North Korea and concerns about stronger security ties with America limit Abe's prospects of being a pivotal player. With missiles flying over Japan becoming the new normal, the public favors dialogue and engagement—options that Abe adamantly opposes. In early November, President Donald Trump will visit Japan to affirm the strength of the alliance in a nation that has a very low opinion of him and where only 24 percent express confidence in his foreign policy, down from 78 percent support for the Obama administration's diplomacy. Abe has done what he can to cozy up to Trump, but many here worry where this relationship will lead, and if Japan may pay a high cost for America First.
Before that, Abe must first win a mandate that'll allow him to continue remaking Japan, shaking off a seven-decade-old tradition of pacifism.