What the Hell Happened in Niger?
Rumors are swirling over what took place in the final hours before four U.S. servicemen died—but a clear picture of what actually took place is only beginning to emerge.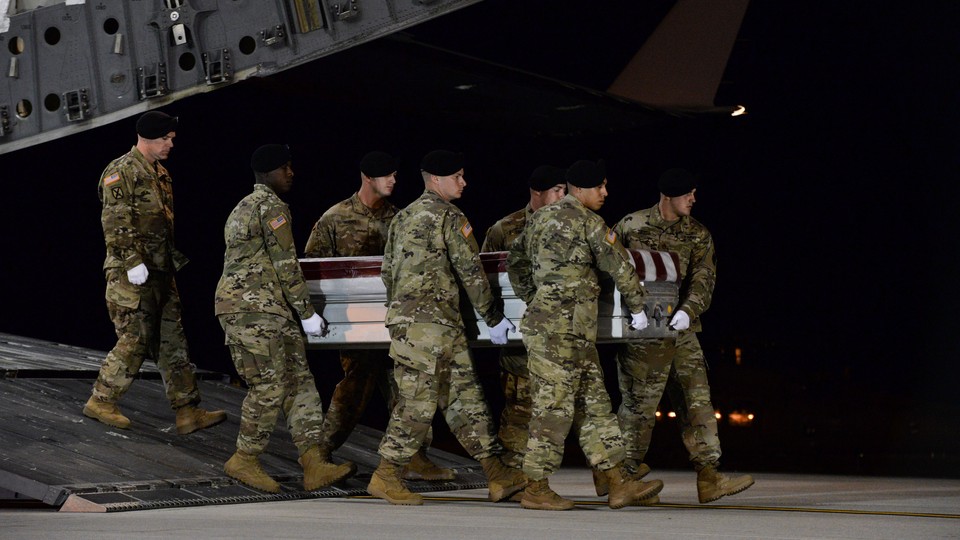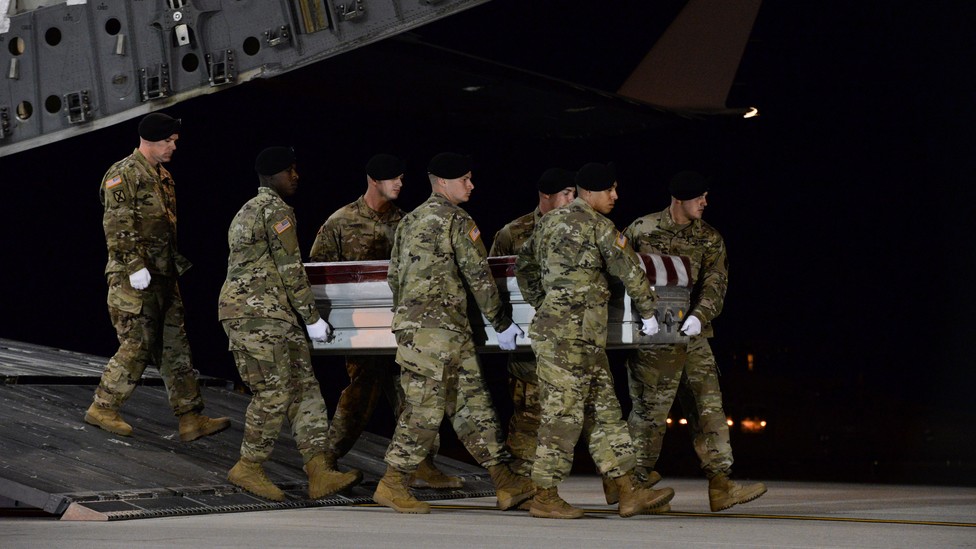 On October 4, a small group of U.S. troops were preparing to leave a meeting with community leaders near the small town of Tongo Tongo in Niger. They were close to the Malian border, traveling in unarmored pick-up trucks with limited weaponry and a few dozen of their Nigerien counterparts. Then they were ambushed.
By the time the more than 30-minute assault was over, three U.S. troops were confirmed dead and two more were gravely injured. Another, Sergeant La David Johnson, was missing and his body would not be recovered for another two days. French aircraft, called in for back-up, circled overhead as fire was exchanged below. They later helped to evacuate survivors.
This account, based on public statements from the Trump administration, interviews with U.S. Africa Command officials; former State Department and intelligence officials; and the man who almost served as the senior director for Africa on the National Security Council, along with additional reporting from other news outlets like CNN and The Washington Post, suggests a direct link between the fatal ambush and the absence of a clear strategy or perhaps even a cursory understanding of U.S. operations in Africa by the Trump administration.
This is the backdrop against which a series of difficult questions emerges. There is deep confusion over exactly what went wrong, including why U.S. troops were traveling in unarmored vehicles, how Johnson was separated from the group, how he died, and why it took so long to find him. As public scrutiny of the incident intensifies, so too do the many stories about what may have taken place. On social platforms like Twitter, people are sharing graphic details about the troops' final, brutal hours. But there's little clarity, and certainly sparse information from public officials about what actually happened.
An offshoot of the Islamic State has been named as a potential suspect in the attack, during which roughly 50 terrorists are believed to have assaulted the troops with grenades and machine guns. The Pentagon launched its own investigation into how the attack took place and why its troops—who were on a joint patrol with troops from Niger—were so unprepared for it. The FBI announced that it would launch its own investigation. Speaking on background, one intelligence expert said the presence of the FBI indicates that the servicemen were not in a combat situation, and that their deaths are being treated as a terrorism case.
The incident seems certain to make it harder for President Donald Trump to avoid discussing U.S. military engagement in Africa, a little-talked-about keystone in the global U.S. war on terrorism. It took the president 12 days to publicly acknowledge the deaths of the four U.S. troops, which he did only after a journalist pressed him on the issue.
The U.S. military has been training soldiers from Niger since the early 2000s. Their aim has largely been to improve the country's military capacity—to turn them into a force that can not only handle threats like terrorism on its own, but can also eventually train itself. But in recent years, the U.S. footprint in Niger has grown, mainly to meet the threat of extremists spilling into the country from neighboring Mali and Nigeria.
U.S. Africa Command spokesperson Patrick Barnes said in a phone call that the military relationship with Niger grew from trainings to regular rotations of U.S. troops in 2011, as well as "accompanying and assisting" instead of just running short-lived trainings. Now, there are roughly 800 U.S. servicemen and women assigned to Niger, including some special forces. In the northern town of Agadez, for example, Barnes said there are "a few hundred Air Force" personnel, and other Americans assisting in surveillance out of the capital of Niamey. As for this latest incident, he said AFRICOM is "going to let the investigation run its course."
"In the process of doing that, we'll see if there are things we could have done differently that will help us going forward," Barnes said.
To a large degree, this part of Africa has served as a backstage for the global theater of America's war on terrorism. The United States has quietly prepared troops there to handle counterterrorism operations, including against al-Qaeda in the Islamic Maghreb, the group that at one point temporarily took hold of northern Mali. Washington has also provided support to Niger and other countries fighting Boko Haram, a Nigeria-based group that has killed tens of thousands of people in the Lake Chad region. The United States now runs surveillance operations out of northern Cameroon to boost that effort.
Matthew Page, a Nigeria expert and former State Department analyst on the Africa desk, said that much of the intelligence community has been "surprised" by how quickly the operations in Niger have expanded over the past few years. That expansion, which Page referred to as "mission creep," may have even taken some top officials in the Trump administration by surprise when they were forced to grapple with the deaths of the four U.S. servicemen.
The deaths of U.S. troops anywhere would test an administration's public relations savvy. But the incident in Niger has turned into yet another publicity nightmare for Trump, who failed to even mention the ambush until nearly two weeks after it happened, and then defended the fact he had not yet called the families of the fallen soldiers. Sergeant Johnson was the last casualty to be identified after the ambush. Florida Congresswoman Frederica Wilson, a Democrat, who was reportedly in the car with his pregnant widow when Trump finally did call to express his condolences, claimed that the president's remarks were insensitive, and that he told her that her husband "knew what he was signing up for, but I guess it hurts anyway."
Perhaps Trump himself wasn't quite clear on what Johnson had signed up for in Niger. The president rarely mentions Africa, and continuously delayed high-level Africa appointments within his administration, including the National Security Council's senior director for Africa. Even now, the assistant secretary of state for African affairs post remains filled by a temporary appointment. Many of the key responsibilities of the administration's Africa team are now being managed by much more junior staff than would be considered normal in different circumstances, Page said.
"[His administration] probably hasn't even begun to think through or review or really even know the details of the U.S. military's footprint in a country like Niger. One could say that they've been distracted by other things, but those things are also of their own making," Page said. "I think what this illustrates backs up what a lot of us have been saying about Trump's Africa policy, which is that it's not even really half-baked. There's no one home when it comes to Africa policy."
More than two weeks after the attack, the how and why of what happened are largely fuzzy. The Pentagon's inquiry will try to answer a series of questions, including whether the soldiers were put in unnecessary danger and whether they could have been better armed or prepared for such an encounter. Defense Secretary James Mattis told reporters this week "in this specific case, contact [with terrorists] was considered unlikely … But there's a reason we have U.S. Army soldiers there and not the Peace Corps, because we carry guns," he said. "We do these kinds of campaigns by, with, and through allies. It is often dangerous; we recognize that."
Retired Air Force Lieutenant Colonel Rudy Atallah, the man Trump nearly hired as his National Security Council's' senior director for Africa, said that Niger is a difficult posting for U.S. service members due to the lack of communication between their camps, the Nigerien military, and the civilians they are purportedly there to help protect. "We don't have very good intelligence information on what the threat looks like or how it's growing and [U.S. troops] don't have the support of local population," Atallah said. "Our folks don't spend a lot of time gripping and grinning with the locals, and the locals don't know what our guys are doing."
Atallah was hesitant to suggest that the attack on the troops, which came immediately after a meeting with local leaders, was premeditated to specifically target them. While nailing down the motivation behind the assault will be difficult, he said he wouldn't be surprised if the attackers thought they were only attacking Nigerien troops.
Regardless, the Trump administration's policymakers may now be forced to reassess the U.S. presence in the Sahel, Page said, although what that reassessment would entail remains unclear. And the U.S. presence, Atallah pointed out, is deeply tied to goings-on in Libya, where ISIS wants to carve out new strongholds. Even if the attack on October 4 was actually carried out by al-Qaeda affiliates and ISIS just happens to be taking credit for it, Trump has made tremendous fanfare about wiping ISIS out wherever it lurks. "Anywhere ISIS goes, he's gonna go," Atallah said of Trump. "If these guys are gonna end up in Libya, he's gonna laser-beam on Libya."
Trump's administration seems to be half-blind when it comes to acknowledging the strategic importance of West Africa and the Sahel, especially when it comes to military alliances and the fight against terrorism, experts said. For example, Trump added the nation of Chad to his latest travel ban—a move that is likely to have both surprised and infuriated its government. A U.S. judge has already shot down the ban; U.S. officials later said Chad was added in large part due to its inability to produce adequate passport pages in time for consideration by the Trump administration. Still, the move came at a time when Chad was already withdrawing its troops from the fight against Boko Haram. At a crucial moment, the Trump administration has caused unnecessary friction with Chad, whose military is the strongest in the region.
In the case of Niger, the deaths of four servicemen still seem to be not enough for Trump to offer further transparency or accountability for U.S. military activities in the region.
"This isn't likely to cause some epiphany about the importance of Africa [in the White House]," Page said. "I don't think this administration is self-conscious and self-reflective enough. Their worldview is their worldview, and at the end of the day, it's a light nationalist foreign policy."