How the Burmese Military Endeared Itself to the World
Leaders in Europe and Asia falsely believed it was ready to turn the page on the an atrocity-filled past.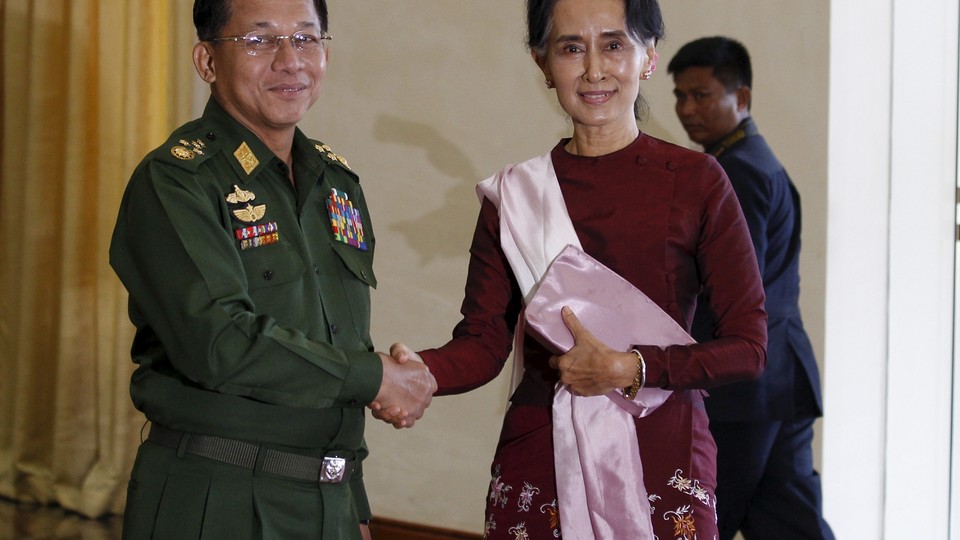 In recent weeks, nations around the world have laid into Burma's military, which has overseen a massive campaign of violence in Rakhine State against the Rohingya, a Muslim ethnic minority group. While the violence dates back to 2012, since August, over 500,000 Rohingya have reportedly fled into Bangladesh.
Chrystia Freeland, Canada's foreign minister, recently spoke to Senior General Min Aung Hlaing, the commander-in-chief of Burma's armed forces, to note Canadians' "extreme concern for human rights violations against [the] Rohingya." At a late-September UN Security Council briefing on Burma—the first such briefing in eight years, and the first to focus on Rakhine State—Britain's representative also called out Min Aung Hlaing for the violence. Earlier in the month, Senator John McCain had declared his intention to pull language in the annual defense authorization bill that would have boosted military-to-military ties with the Burmese army. At a meeting on Monday in Luxembourg, the foreign ministers of the European Union struck a relatively tough tone on the Burmese military. They pledged to suspend any existing invitations to its leaders, and to review any other defense cooperation with the country.
Tougher action against the country's military is certainly warranted—although any unified UN action is unlikely, given that its patron, China, sits on the Security Council. While Aung San Suu Kyi, the Nobel laureate and de facto leader of Burma, certainly bears moral responsibility for ignoring the Rakhine crisis, the country's military is directly responsible: It is the army's commander, not Suu Kyi, who controls the country's three security ministries. (Under the country's constitution, the commander-in-chief appoints the heads of the home, defense and border security ministries.) And it would be almost impossible for Suu Kyi to remove the army commander, whose forces have a decades-long record for brutality in ethnic-minority regions of the country.
But the emerging opposition to the leaders of Burma's army represents a sharp reversal. In the past five years, Min Aung Hlaing and other top military officials  have traveled the globe, rubbing elbows with leaders from rich democracies, delivering speeches, and even reportedly meeting with foreign defense companies. These welcomes may have contributed to the army's sense that it had come in from the cold, and that its actions would now receive much less international scrutiny. And they call into question why, for years, some of these nations pushed to normalize military ties, only to backtrack now.
Sure, back in the 1990s and early 2000s, when Burma's armed forces formally ran the country, democracies sanctioned them, turning them into a pariah. Yet as it inched toward civilian rule, many foreign countries seemed convinced that its military, which was still committing massive abuses, had already changed; foreign leaders were buying a new narrative that the country was inevitably on the path to democratization. They pushed for closer ties with its top generals—and welcomed Min Aung Hlaing, even as his forces continued committing atrocities. In so doing, they signaled to the Burmese military that the international community would likely do nothing about its actions.
Despite the mounting evidence of atrocities committed by Burma's military, European leaders—who had generally shunned the country's top generals, even after the end of junta rule in the early 2010s—hosted Min Aung Hlaing and his entourage several times this year. In April, Min Aung Hlaing reportedly met with top officials from the Austrian and German armed forces. (The Diplomat reported that the commander was given a "guard-of-honor welcome by Chief of Defense Staff of the Austrian Armed Forces General.") He wasn't traveling alone: He brought a whole retinue of other top army staff to Europe, too. During his time in Germany, Min Aung Hlaing also squeezed in a visit to a major German aerospace company, "where he and his party witnessed demonstrations of reconnaissance planes and aeronautical systems before heading home," according to the Associated Press.
European leaders seemed to have become so invested in the idea of Burma as a democratic success story that they ignored the seriousness of the festering crisis in Rakhine State, or fooled themselves into thinking that Burma's army, too, would quickly change. In part, some European nations may see the country as a potential arms client—if Europe lifts a longstanding arms embargo. Along with welcoming the leader of Burma's army, the EU dropped sanctions on the country in 2013, even as the Rakhine crisis was flaring up; the UN Security Council held no open forums on the country until September.
Even before Min Aung Hlaing's trips to Europe, Western officials seemed infatuated with him—perhaps in an effort to convince themselves that, now that they had gone down the road of rapprochement with Burma, its army was really changing. (To be sure, the country's politics and society were changing—it is much freer than it was a decade ago. But the army did not change.) Often, they praised the senior general as a kind of fair-minded deal-maker. "It was like speaking to a politician," one senior Western diplomat said of a recent meeting with the senior general in early 2016. "Not a soldier." Other diplomats and officials who dealt with Min Aung Hlaing offered similar praise. The general even set up a Facebook page—which now has over one million followers—that chronicles his meetings, travels, and other events. It shows an image of a benign but sober-minded politician.
This past August, closer to home, Min Aung Hlaing visited Japan, where Prime Minister Shinzo Abe discussed expanding ties with him. The Burmese army's top leaders also have relationships with Australia and India. Even now, as the situation in Rakhine State has devolved into what the UN human rights chief has called ethnic cleansing, Australia has chosen to continue training Burma's armed forces. In July, India went all-out to welcome Min Aung Hlaing, giving him a nationwide tour and meetings with Prime Minister Narendra Modi and most of the rest of the leadership in Delhi.
To be sure, there is some logic for boosting military-to-military ties with Burma. For nations in its near neighborhood like Japan and India, wary of an increasingly powerful China, it is strategically important. But the country is of much less strategic importance to Europe or the United States, which has two treaty allies in Southeast Asia and several other close partners, like Singapore and Vietnam.
There may also be an argument for boosting military ties as a country democratizes. Advocates of this view argue that only by boosting such links can developed democracies introduce officers in Burma to examples of civilian control of the armed forces and of armies upholding standards of human rights. They may be right. Yet studies of some U.S. training programs for foreign officers have at least suggested that such programs do not reduce the likelihood that they will intervene in politics back in their home countries.
For military-to-military ties to produce their desired effect, there has to be evidence that the armed forces receiving training or other types of cooperation are changing, as we have seen in Brazil, Chile, or Ghana, and respect civilian democracy. And even if an army is becoming more humane and controllable as part of their country's democratization process, such change takes years, even decades, as older officers who grew up in cultures of military impunity retire and younger officers come to the fore.
Even today, powers like the EU are very much hedging their bets. While EU officials did suspend visits by Burma's generals for now, they also declared that they were "ready to respond accordingly to positive developments" in the country—a signal that seriously undermined their message, according to many rights groups.
Meanwhile, during the same time period, the military continued to launch major attacks in the north of the country, where it had been fighting an ethnic Kachin insurgent group and other smaller insurgent armies, and the army has been accused of widespread atrocities there as well. Bertil Lintner, who has chronicled the country's frontier areas for decades, noted earlier this year that "the war in [Burma's] northern regions is now more intense than at any time since the 1980s." Apparently, honor guards and speeches have not changed the Burmese military's approach to fighting.