Why Jordan is Deporting Syrian Refugees
"Maybe if we were killed, it'd be easier"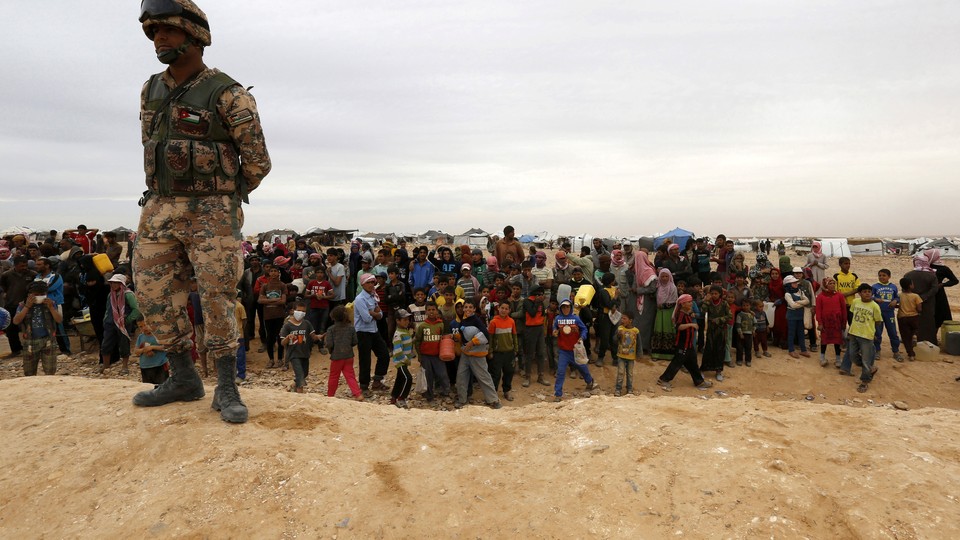 AMMAN—Rana's brother was supposed to be on his way to Canada. After four years as a refugee in Jordan, the 35-year-old Syrian had completed all his security checks and interviews with the UN refugee agency and resettlement services in preparation for his flight to his new home. His flight was set to depart around 9:00 p.m. on the night of January 29, 2016. Instead, by 8:00, he and his family were sitting in a Jordanian detention cell, their heartbeats racing against the passing seconds.
A 29-year-old mother of two, Rana had been living in Jordan since 2012. Several months earlier, her husband vanished into a Syrian government detention after being injured by a car bomb. She'd left Syria's southern province of Daraa, where the uprising against the regime of Bashar al-Assad first began, while her sister remained in a government-controlled area of the country. The women had censored themselves when they talked on the phone, fearing both Syrian and Jordanian surveillance. "All we said was, 'Hello, how are you, any news? Thank God, goodbye,'" Rana told me over WhatsApp.
For decades, Jordan has taken in millions of Palestinian, Iraqi, and Syrian refugees, earning it a reputation as an island of peace. Amman, its capital, is a humanitarian hub, with scores of international agencies, NGOs, and aid workers who cycle through every few months to manage crises in Syria, Iraq, Yemen, and Palestine. Jordan currently hosts more than 650,000 of the 5.2 million Syrian refugees spread across the region, according to the UN refugee agency; government figures put the number at 1.3 million. (UNHCR only counts registered refugees, whereas Amman includes Syrians who haven't received UN asylum.) Jordan hosts all these refugees because, as the general narrative goes, it is stable, secure, and generous, which is also why donor states like the United States should keep giving it money. Yet Jordan also deports and blocks aid access to refugees and asylum seekers, regularly violating basic humanitarian principles, all in the name of maintaining that same "security."
On the night Rana's brother was set to depart, Jordanian intelligence showed up at her door and detained all 17 members of her family, including seven children. As her brother's boarding time approached, Rana begged on his behalf. "We told them, 'My brother is going to Canada, just let him go, we'll go back to Syria,' but they said no," she said. "Then it was 9:00 and the plane left." The only explanation the Jordanians gave, Rana said, was that the Syrians "were talking to Daesh," the Arabic acronym for the Islamic State. In interviews with nine Syrian deportees, I heard many similar stories: Someone calls a relative back home, only to have her entire family suddenly swept up and deported; Jordanian security offers her little reason, or accuses her of talking to ISIS. Rana told me that she had only been making brief phone calls to her sister in a government-controlled part of Syria.
The next morning, Rana and her family were deported to southern Syria, a war zone without sufficient water, electricity, medical care, or any way out. When we spoke, she said she was staying in an uncle's house, because her old home had been razed in airstrikes. "They destroyed us," she said.
At the beginning of the Syrian war, Jordan allowed hundreds of thousands of refugees to cross its borders on foot, providing them safe haven under the auspices of the UN. But since 2012 Amman has also practiced a policy of "selective admission" for refugees in the Syrian crisis. Through the protracted crisis, maintaining security has been Jordan's rationale for blocking and deporting an increasing number of Syrians. In June 2016, it closed its border with its war-torn neighbor, after a suicide car bomb near a crossing killed six Jordanians. Earlier this month, Human Rights Watch reported that Jordan has been deporting an average of 400 Syrian refugees per month in 2017, an escalation in what is known as refoulement, or the forced return of a refugee to a place where her life is under threat. This phenomenon escalated after the Karak terror attack in December 2016, as part of a wider security crackdown across Jordan.
Non-refoulement is a rule of customary international law and the core principle of the 1951 Geneva Convention, which established the definition of refugees and obliged acceding states to provide them asylum. Jordan is not a signatory to the 1951 Geneva Convention, but it has a memorandum of understanding with UNHCR that, technically, holds it to the same standards. Despite Jordan's security concerns, its refugee deportations are a violation of international law, according to Human Rights Watch.
Jeff Crisp, a migration expert and former head of policy development and evaluation at the UN refugee agency, said that preventing forced return is a cornerstone of the refugee protection system established after the Holocaust. "Sadly, that principle is being increasingly violated by states, and the UN is powerless to stop them from doing so," Crisp said, adding that the risks for returnees in Syria are especially grave, given the ongoing violence and human-rights abuses there.
In the eyes of the world, Syria's war seems to be winding down. The opposition is fragmented, with global attention fixed on ISIS and the aftermath of its losing Raqqa​ rather than on Assad, whose regime is already making reconstruction deals with Iran, China, and other friendly countries. In July, Jordan, Russia, and the United States, announced a ceasefire in southwestern Syria, leading to reduced airstrikes on Daraa, Quneitra, and Suwayda. Jordanian authorities have discussed the prospect of reopening Nasib, once a key crossing for trade between Syria, Jordan, and Gulf countries, that was closed when opposition forces, including Jabhat al-Nusra, took it over in 2015. To inject life into Jordan's faltering economy, Amman has pledged to reopen the crossing only if Syria's government controls the other side—a plan that rebel groups oppose.
A small number of Syrians who fled the war are now voluntarily returning to Daraa: 1,830 people in July and August, according to the UN refugee agency, up from the 1,700 voluntary returnees from January to June combined. Syria-Jordan relations are going "in the right direction," with "stability" growing in southern Syria, Jordan's government spokesperson said in August. Talk of "de-escalation" and stability has increased among pundits, suggesting a sense of relief, recovery, and the potential return of refugees.
Yet to most displaced Syrians, talk of ceasefire and an end to the war rings hollow. In the southeast, where there is no ceasefire in effect, Syrian government forces are advancing, taking control of a string of border posts near the Jordanian and Iraqi borders, displacing thousands of civilians yet again. In opposition areas like Idlib, Syrian government and Russian planes continue bombing hospitals, as airstrikes hit areas supposedly protected under separate ceasefires, killing civilians in the rural areas around Damascus. According to the UN's regional relief coordinator for Syria's crisis, September was the deadliest month of this year for civilians. The vital question now is whether refugees can truly choose if and when they want to return, or if "stability" in southern Syria will prompt mass returns without allowing people agency over a choice that might be their last.
Amid the unyielding hostilities, tens of thousands of Syrians are huddled in desert camps in a no-man's-land at the Syria-Jordan border nicknamed the "berm," barred from entering Jordan but afraid to return to Syria. When Jordan closed the border, it also blocked direct humanitarian access to the berm, leaving the people there stranded with little food, water, or medical help. Humanitarian groups have tried everything from dropping food with cranes to sending relief via controversial tribal militias, who civilians have complained are exploiting them. Families who've chosen to return comprise less than 0.3 percent of the total Syrian refugee population in Jordan, according to aid officials. Hundreds of thousands more remain in Jordan, many of them afraid they'll be forced back into Syria before it's safe.
When Syrians talk about return, they use the verb "Qadhaf," which literally means to eject or shoot out, like a cannonball. For them, there is little difference between a forced or voluntary return. Even voluntary returnees tend to speak of return in passive tense, as if the choice isn't really theirs. "I came to Syria knowing it's not safe here, but to die on the soil of my homeland is better than to stay back there in humiliation," one refugee who'd been in Jordan since 2013 and chose to return in late September told me over the phone. He'd been working 12 hours a day for a daily salary of six Jordanian dinars (about $8.50), he said, nowhere near enough to pay rent or purchase his diabetes medication. "I lost everything already in Jordan. I came back to die."
The line between voluntary and forced return is often blurry. Some refugees are forcibly deported, and then their families, who follow them because they've lost their source of income, are registered as "voluntary" returnees. The UN refugee agency meets with voluntary returnees to advise them before they go back, and discourages Syrians from returning, according to Human Rights Watch. But some Syrians never even make contact with humanitarian agencies.
Abu Samir, a 30-year-old former Free Syrian Army fighter from Daraa, said he took his wife and six-month-old daughter to Jordan in May 2016, after their house was hit by airstrikes that injured all three of them. Jordan allowed them in for 10 days of treatment, but then deported them straight from the hospital before they'd healed, Abu Samir said. "They brought us to the Jordanian-Syrian border at 1 a.m. and left us while we were still injured ... I tried to beg them and say, 'Leave me, I'll die, that's fine—but I beg for my child, allah yarhamha, God bless her soul.'"
The family resettled in Daraa. Hospitals there did not have sufficient equipment to treat his daughter, Abu Samir said. Two months after being sent back, she died of internal bleeding in her head. "They just give painkillers for infections. The doctors were just medical students when the crisis started. They try to ease the suffering but it's not much. The injured go there to bleed until they die," he said. Better hospitals exist in Damascus, but he and his wife, both still injured, can't go there because of his background in the opposition.
Other returnees to southern Syria have found their old homes destroyed. They live in makeshift shelters alongside other displaced people who can't return to areas controlled by extremist groups or the government, with scarce access to water or electricity. "People are still living in fear and [are] not settled," Mohammad Saeed al-Migdad, a member of the Daraa Provincial Council, told me. "The situation is de-escalated, which gives comfort to some people. But most of the region still has destruction, and people don't have the capacity or materials to rebuild."
Return is a one-way choice. Jordanian officials and UN agencies have confirmed that those who go back to Syria will not be allowed back in. Yet it's a choice that many Syrians dream of, if only for some guarantee of safety.
"I'll just farm tomatoes," one Syrian from Daraa told me, shrugging when I asked how he planned to survive if he returned. He'd crossed the border into Jordan on foot in 2012, after two of his brothers vanished into government detention. He settled in Zarqa, an industrial city near Amman, where he survived by working in a convenience store. Later, he put his Master's in English literature to use by doing translation work for foreigners (including journalists, which is how we met).
"Going back is a wish that I ask God to make happen for us, five times a day at least. It's impossible to forget this dream," he said. His wife was newly pregnant then, and he told me how he wanted his son to grow up, like him, on Syrian soil, surrounded by family, with the scents and tastes of jasmine and olives and lemons picked from their own trees. I feared that I wouldn't see him again—a thought that crosses Syrian minds daily, when they speak with their family members spread across the world's length of sea journeys, closed borders, desert camps, homes turned into graves, and useless protection papers and monitored phone calls. Then, his wife miscarried, and their son died in birth. They chose to stay in Jordan.
For many Syrians, acceptance of "fate" has become the sole means of mental survival. "We say, 'Okay, this is what God has decided for us. This helps us to pass anything,'" my friend said when we met, months later. "Look what happened in Syria, and now we are laughing and having fun and continuing our lives. If we think deeply about what happened, it's worth committing suicide. If we thought deeply about what we lost, I could kill myself twice a day. But when I think this is something out of control, I say, alhamdullilah. We can accept it."
For others, especially those trapped in ongoing danger, despair is all that makes sense. Last month, one 40-year-old man stuck at the Syria-Jordan border told me about the thousands of newly displaced Syrians who'd just fled Hadalat camp for Rukban, the bigger of two border camps. "Maybe if we were killed, it'd be easier," he said when I asked what he thought of refugee return or resettlement. "If somebody asks, what has happened with the refugees? You say, 'Yes, we killed them,' and you solve the problem."
Years ago, this man was an ornithologist, he said. He'd worked at a reserve in the central Syrian Desert with more than a thousand Arabian gazelles and oryxes, specializing in tracking the bald ibis, a rare bird that once migrated between the Levant, the Gulf, and Central Africa. Then he had to flee from Palmyra to Raqqa to Rukban, where his six children and wife are living among at least 50,000 displaced people in tents and mud shelters. The bald ibis has since gone extinct in the Middle East.
"It was a very beautiful job," the ornithologist said. "And now I am like the prisoner, who has no title. I am a refugee. I'm just a number," he said.