Jalal Talabani: 'The Rare Politician Who Could Talk to Anybody'
Reflections on the life of Iraq's first post-Saddam president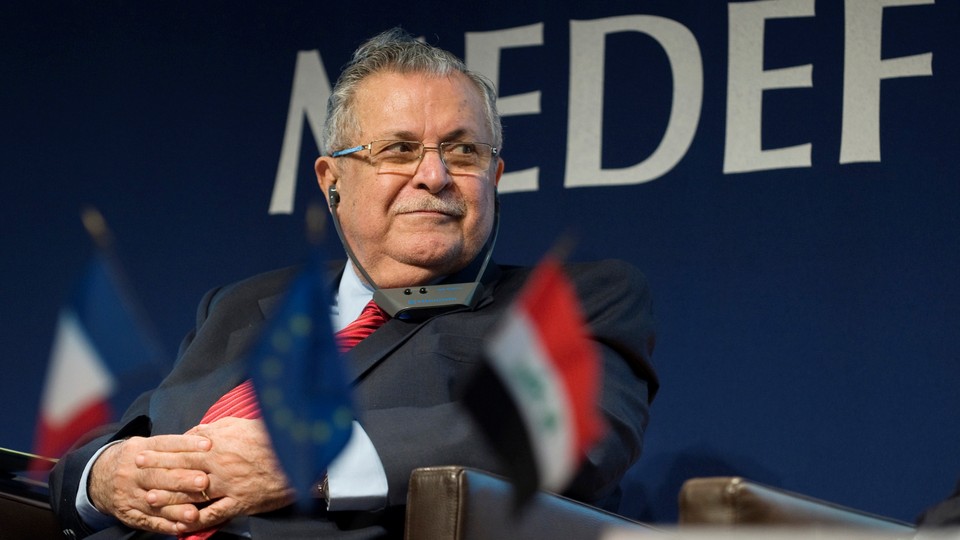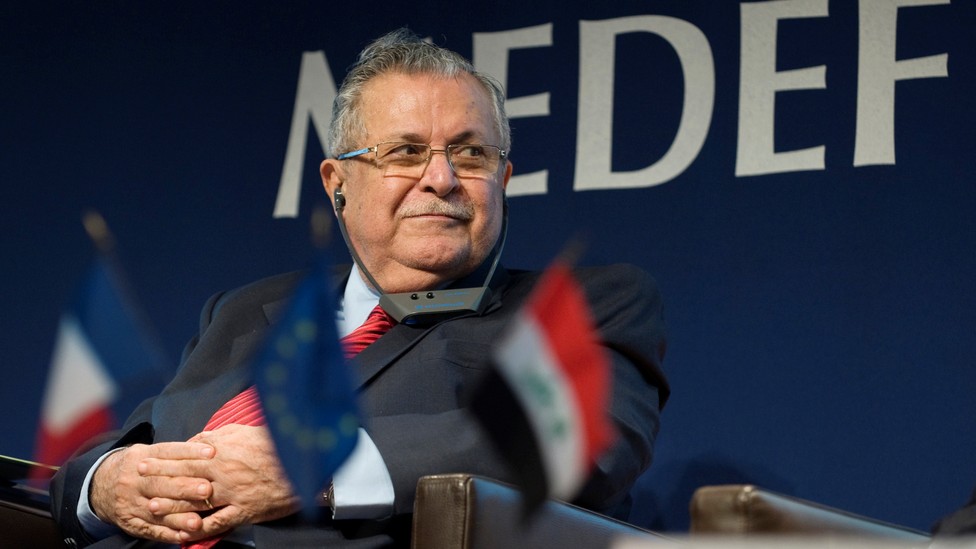 Jalal Talabani, who dominated Kurdish politics for decades, ascended to the Iraqi presidency in the post-Saddam Hussein era, and yet remained Mam ("uncle") Jalal to his people, has died in Berlin. He was 83.
No cause was given by Rudaw, the Kurdish news agency, but it said that Talabani had slipped into a coma earlier Tuesday. The former Iraqi president had been ailing since 2012 when he suffered a stroke that effectively removed him from daily Kurdish politics.
Over the years, Talabani embraced, sometimes literally, allies from across the political spectrum. He and his Patriotic Union of Kurdistan (PUK) made common cause with Saddam in the early 1980s when the Iraqi dictator tried to divide the Kurds during his war with Iran. (The PUK, which was most left wing, saw itself as distinct from Masoud Barzani's Kurdistan Democratic Party, which drew its support from the rural parts of Kurdish territory.) He sought refuge in Iran after Saddam gassed the Kurds in 1988. He was a close ally of the U.S., and especially the second Bush administration, whose invasion of Iraq in 2003 resulted in Saddam's ouster and saw Talabani's unlikely ascent to the presidency.
The Kurdish leader also embraced various left-wing ideologies—from Marxism when he was a young Kurdish separatist to Maoism later when he waged an insurgent war against the Iraqi state. Although he claimed until the end to be a socialist—he opposed Saddam's execution on ideological grounds—Talabani also embraced the kinds of policies that enabled the Kurdistan Regional Government, which retains autonomy within Iraq, to remain a relative oasis of stability amid the country's broader turmoil. All the while, though, he remained single-minded about one thing: the cause of his people, the Kurds.
That skill of political flexibility—which earned him the moniker "bellydancer" because he was perceived as being able to shift in any direction and talk to anybody—helped Iraq navigate the post-Saddam years as it lurched from crisis to crisis.
Ryan Crocker, the former U.S. ambassador to Iraq, first met Talabani in 2001 when Crocker was the deputy assistant secretary of state for Near East Affairs. He had traveled to Kurdistan from Turkey to meet with Talabani and Barzani. Crocker recalled a politician who was "always in good humor no matter what the external circumstance were." Crocker told me that following Saddam's ouster, the U.S. worked closely with both Talabani and Barzani on the Iraqi Governing Council.
"It was always negotiation with him, as it was with others, but it was somehow more fun with Mam Jalal," Crocker said.
Ben Van Heuvelen, the editor in chief of the Iraq Oil Report, a publication that is focused on energy issues in Iraq, said Talabani was "well-loved even by his rivals."
"Within the Iraqi political class, he functioned as the rare politician who could talk to anybody even in a heated crisis," Van Heuvelen said. "And this was as much related to his interpersonal charm as it was to his political savvy."
Talabani was born in 1933 to an influential Kurdish family in rural Kurdistan. He studied law at Baghdad University and was active in Kurdish youth politics as early as the 1950s. He waged a violent militant war against the Iraqi government as part of the Kurdistan Democratic Party, which is now headed by his longtime rival-turned-ally Barzani. (Barzani's father, the legendary Mustafa Barzani, founded the KDP in 1946.) Talabani split with the KDP in 1970s and eventually formed his own political party, the PUK, which was decidedly more left-wing in its ideology.
From that period to the 1990s, the history of the Kurds was the history of Jalal Talabani's rivalry with Mansour Barzani. The PUK and the KDP fought each other, with Iran backing Barzani's forces and Saddam Talabani's—though Talabani allied himself with Iran in recent years. That rivalry continued as Iraqi Kurdistan came under a no-fly zone established in the region following the first Gulf War. As NPR put it in 2006, the no-fly zone protected the Kurds "from Saddam—but not from each other." The U.S. brokered a peace between the two men in 1998, following which, past rivalries set aside, Talabani and Barzani worked toward gaining more power for their people and region.
The U.S.-led invasion of Iraq in 2003 helped in this regard. The Kurds, buffered from the rest of Iraq for more than a decade, were the only group with a semblance of political structure, civil society, and stability. The Kurdish region quickly became a magnet for foreign investment and a lonely poster child for the success of U.S. policy in the region. Talabani ascended to the Iraqi presidency in 2005, the first non-Arab to hold the post (it's now occupied by Fuad Masum, another Kurd) and continued in the largely ceremonial position to do what he was best known for: negotiating.
"Everybody knew that they were being played, that he was telling you a little bit of what you wanted to hear," Van Heuvelen said, "but he did it with enough charm that you didn't begrudge him for it."   
When Crocker returned to Iraq in 2007, as the U.S. ambassador, he said he and Talabani "picked up where we left off." The U.S. and Iraqi government moved through several challenges, including the surge of U.S. troops that pushed back the largely Sunni insurgency, negotiating agreements among Iraq's disparate interest groups, working with Nouri al-Maliki, the controversial Iraqi prime minister of the time, and negotiating the strategic framework agreement, which covered the U.S. relationship with Iraq.
"He would host meetings at his residence. Everybody would come. There really was not another figure that could do that, up to and including the prime minister," Crocker said. "It was invaluable to efforts to get at compromises on those agreements and on other things."
But the conditions, including its vast oil wealth, that made Kurdistan a success story also led to wariness among not only its fellow Iraqis, but also Iraq's neighbors in Turkey, Iran, and Syria, each with its own significant Kurdish populations. They feared that the KRG's success could embolden their own Kurdish populations to seek greater autonomy—or worse, independence. Talabani himself claimed to oppose Kurdish independence because, as he told Jon Lee Anderson, the New Yorker reporter, in 2007: "Let us imagine that Iraqi Kurdistan declared independence, and Iran, Syria, Turkey, and Iraq didn't fight it but just closed their borders. How could we live? Let us say, we've got our oil—how could we export it?" He went on, "And you can be sure that if Kurdistan declares independence Iran will attack, Turkey will attack, Syria will attack—and Iraq will not accept it. We cannot resist all these countries."
Crocker, who told me he'd never directly spoken to Talabani about Kurdish independence, explained the Kurdish leader's worldview in this way: "He was keenly aware that, while there could be some debate on what the worst of times was in the modern period—because the Kurds in Iraq had an awful lot of bad times—there was no question in his mind that the post-'03 situation was the best of times for the Kurds—and he wouldn't take action that would jeopardize it."
Talabani's prediction to the New Yorker a decade ago is now prophetic. The overwhelming Kurdish vote last month in favor of an independent homeland was met with equally overwhelming criticism not only from the countries Talabani mentioned, but also the United States, perhaps the Kurds' greatest ally. As regional powers take steps to punish the Kurds for their actions—the Iraqi central bank said Tuesday it would stop sending foreign currency to the KRG—the absence of a figure like Talabani will be felt. Van Heuvelen said the current political climate benefits both Arab and Kurdish hardliners and any moderating influence could be painted as weak.
"Talabani had such a larger-than-life persona, both privately, among other members of the political class, and publicly, beloved in Kurdistan, that he was in some ways immune to those concerns," Van Heuvelen told me. "In a situation like this, when you have Kurdish nationalism and Arab nationalism clashing ... he's a figure who would have been able to moderate the tense climate without sacrificing his own political stance."