The Fight for Abortions in Ireland
As the country prepares to hold a referendum on abortion, religiously-motivated opposition to it may be on the wane.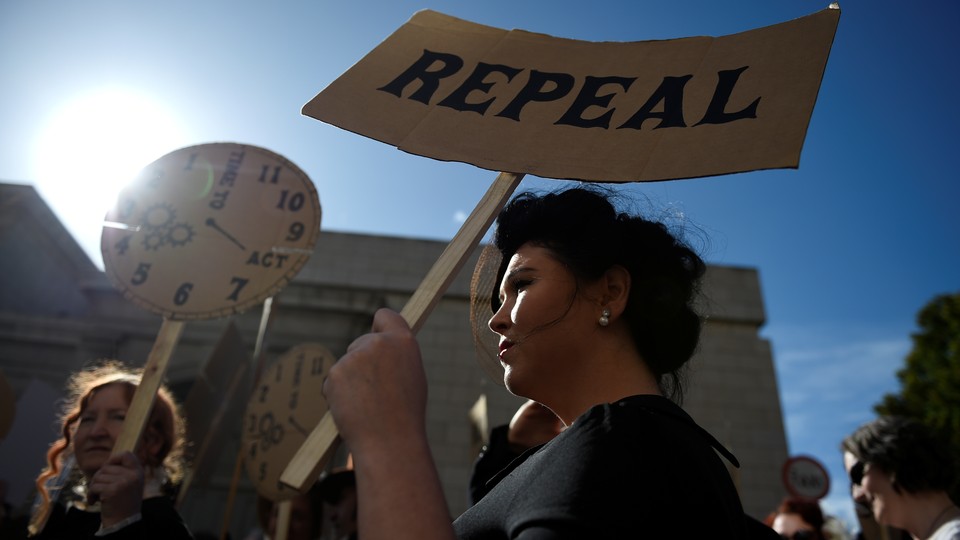 Tens of thousands of people gathered in Dublin Saturday for the annual March for Choice, a demonstration calling on Ireland's government to ease its near-total abortion ban. It was the first major rally organized by pro-choice advocates since the government announced an upcoming referendum: Next summer, the country will vote on whether it should change its abortion laws. The advocates told me that if the referendum works out in their favor, they may not have to organize any more marches.
But it's not yet clear how likely the laws are to change, or even what changes will be proposed. The exact wording of the vote is not expected to be determined before December.
Leo Varadkar, Ireland's Taoiseach, or prime minister, said the referendum would consider whether the country should amend its constitution, which, under its Eighth Amendment, gives an unborn child equal right to life to that of a pregnant woman. Though the amendment effectively outlaws abortion in all cases, a law passed in 2013 put into effect new rules allowing for abortion if the pregnancy poses a risk to the woman's life because she is physically ill or suicidal. Unlike most other European countries, Ireland does not allow abortion in the case of rape, incest, or severe or fatal fetal abnormality. But women are permitted to travel to other countries, like the United Kingdom, to access abortion services—without facing prosecution when they return home.
Pro-choice advocates like Clare Lanigan believe Ireland's laws are far too restrictive. A member of the Abortion Rights Campaign and one of the organizers behind Saturday's march, she wants the referendum to address repealing the Eighth Amendment. But Lanigan told me that outright repeal may not be what the government has in mind. "It's not yet clear what will be on the ballot," she said. "We're reserving judgment until we see what exactly is proposed, because if it's only going to allow abortion in extremely restrictive cases … it won't help the majority of people in Ireland who need abortions."
Anti-abortion activists in Ireland have advocated that the Eighth Amendment stand as is, arguing that any attempt to repeal it, partially or fully, would be a mistake. "Once you start changing the Eighth Amendment at all—if you start removing any part of it or changing any of the words—you are interfering with the right to life of a baby in the mother's womb," Cora Sherlock, a spokeswoman for the Pro Life Campaign, a non-denominational anti-abortion group, told me. "Over time it would lead us to a situation where we would have abortion on wide-ranging grounds. That is what has happened in every other country in the world, and there is no reason to think that Ireland would be any different."
Ireland's decision to hold a referendum comes months after a report was issued by the Citizens' Assembly, a 99-member group appointed by the government to advise it on some of the country's most divisive issues. After five months of deliberation, the group issued its recommendations calling for unrestricted abortion access. But it's unclear to what extent the government will adopt the Assembly's recommendations when it drafts the referendum. Several ministers within the ruling center-right Fine Gael party said they don't think the recommendations would pass muster in the country's parliament, let alone in a public referendum. This is presumed in part because abortion has long been taboo among the country's Roman Catholic majority.
But opposition to abortion, particularly on religious grounds, may be waning, Emer O'Toole, a writer and professor of Irish studies at Concordia University, told me. "There is no doubt that Ireland's Catholic history and the strength of the Catholic Church in Ireland right now has an influence on our relationship to things like women's reproductive rights," she said. "However, when people think about why they are opposed to abortion, I don't think their minds go to 'because the priest said so' anymore."
Sherlock said that some oppose abortion on religious grounds, but that certainly isn't the sole reason. "Generally what we find in Ireland more and more is that people are coming from the position that they want to keep the Eighth Amendment because they are aware of personal stories, because they know there are people out there who are alive because of the Eighth Amendment," she said, adding that "abortion isn't something that's normalized in Ireland. Because we don't have abortion clinics here, people have a bit of time to assess what that means for them."
Ireland remains a predominantly Catholic country. Although a 2016 census found that the total number of people identifying as Catholic fell by 132,200 between 2011 and 2016 (a decline that corresponds with the rise in those who identify as having no religion), an overwhelming 78.3 percent still identifies with the Church. But the extent to which the religion's beliefs and practices govern Irish society has, over the years, undergone a gradual shift—one that some attribute to the weakening of the Church's status following revelations of clerical child abuse in the 1990s. This shift was marked by a number of other milestones regarded as proof of Ireland's mounting progressivism, from its 2015 referendum legalizing same-sex marriage in 2015, to the election of Varadkar, the county's first openly gay premier, in June.
"For a lot of people, myself included, there was a great sense of hope after the marriage-equality referendum passed that finally the Eighth Amendment could be addressed head-on," Lanigan said. "There's definitely a sense that with progress comes other progress. … The vast majority of the Irish population voted for it, even though the majority of the Irish population still identifies as Catholic, so that shows that being Catholic and being progressive are not mutually exclusive."
Indeed, a March survey conducted by the Irish Times and pollster Ipsos MRBI found that an overwhelming majority of Irish people believe the country's constitutional ban needs reform to account for certain circumstances, though they still reject the idea of legalizing abortion outright. Twenty-eight percent of those surveyed said the Eighth Amendment should repealed, wheres 38 percent said it should instead be replaced with another amendment allowing for greater access. Sixteen percent said it should not be repealed at all.
Ailbhe Smyth, a co-founder and chair of the Coalition to Repeal the Eighth Amendment, told me pro-choice advocates regard repealing the amendment as the "crucial first step" to reforming abortion access in Ireland, noting that a failure to do so would force women to seek abortions by illegal means or by leaving the country—an option some 5,000 women avail themselves of every year. "What we actually say to women is, 'Abortion is wrong, thou shalt not have an abortion because it's a crime. However, we don't mind if you go to some other country and have an abortion, and you can come back to Ireland and we won't prosecute you for that," Smyth said. "We can pretend it doesn't happen here, but it does. It's just that we outsource the doing to another country."
She added: "We are really living in what can only be called a state of dishonesty. People say it's hypocritical, but it's a little bit worse than that."
I raised this point with Sherlock, who told me the Pro Life Campaign is opposed to "abortion anywhere," adding that: "We're not trying to stop anyone from traveling. That's not something we're doing in Ireland. … Just because something that we don't agree with in this country is legal elsewhere is not a reason for us to do it here."
Despite the changes in public opinion over the years, O'Toole, the Concordia professor, said the longstanding Irish taboo against abortion shouldn't be underestimated. "The reality at this point is that the vast majority of people in Ireland support some change to our current abortion regime … but they don't support the idea that women should be able to have an abortion on request, even in the first trimester of pregnancy," she said, adding that much of this sentiment is informed by the abortion education taught in schools, the vast majority of which are run by the Catholic Church. "I wasn't pro-choice on leaving school, because I couldn't have been. There's no way you could have left my secondary school in the west of Ireland and been pro-choice."
Though the outcome of the referendum will depend on what the government ultimately decides to put on the ballot—repeal versus reform, legalization versus increased access—Smyth said she's optimistic. "I've been involved since the end of the 1970s and ... I've never seen such a big and wide and deep social movement here for change on this issue," she said. "I wouldn't be doing this if I didn't believe we can win this, and we can win this. Whether we will or not is another day's work."