How Did UNESCO Get So Politicized?
The U.S. isn't the only country to criticize—and leave—the cultural organization.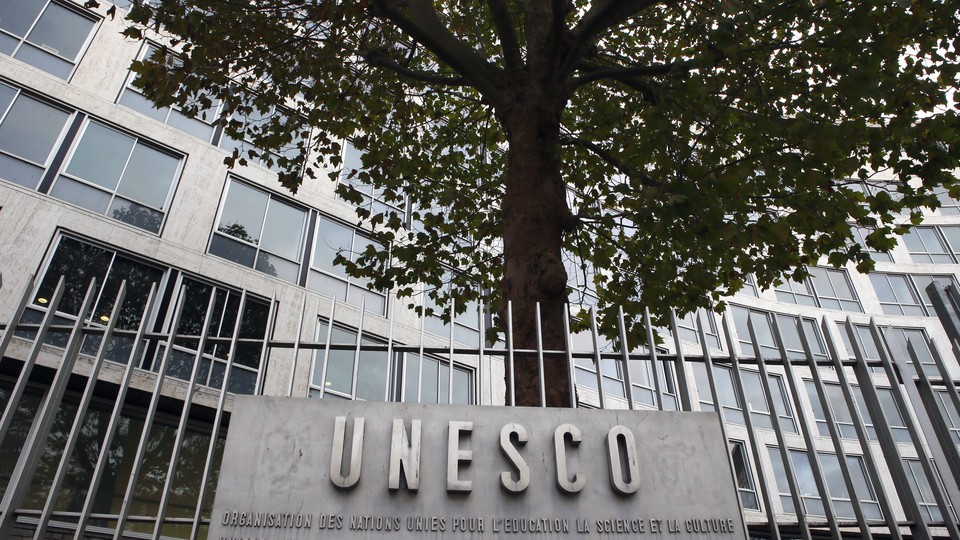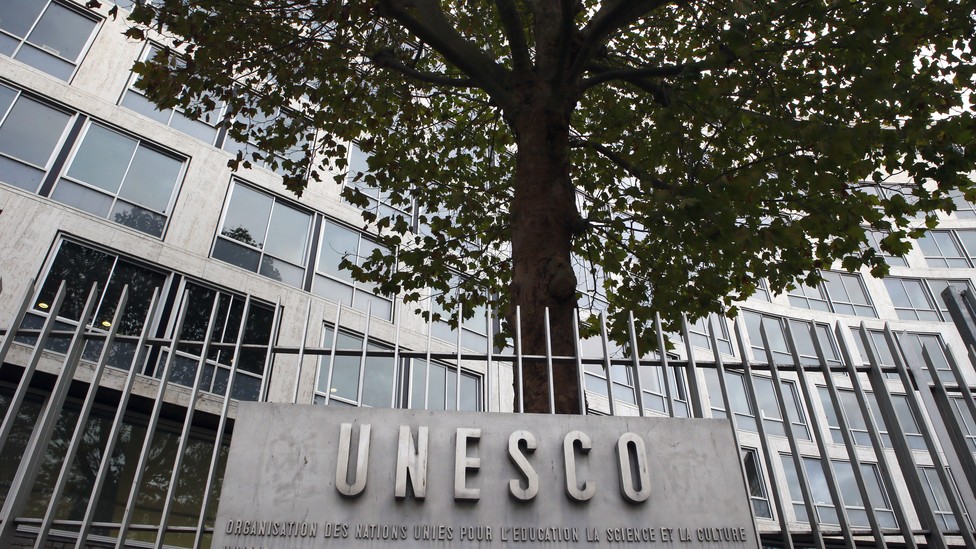 The United States will formally withdraw from UNESCO, the State Department announced Thursday, citing concerns over the UN cultural agency's perceived anti-Israel bias. State Department spokeswoman Heather Nauert also cited the U.S.'s mounting dues owed to UNESCO—now over $500 million—as reason for its departure. She said the decision "was not taken lightly" and that the U.S. would continue to offer its perspective as a non-member observer state.
The decision was met with "profound regret" by UNESCO Director-General Irina Bokova, who called the U.S. withdrawal from the agency known for its designation of world heritage sites "a loss to UNESCO. This is a loss to the United Nations family. This is a loss for multilateralism."
The move follows years of tensions between the cultural body and the U.S. over decisions involving Israel and Palestine. In 2011, the Obama administration slashed U.S. funding to UNESCO after it admitted Palestine as a full member. The relationship was further strained last year after Israel suspended its cooperation with UNESCO over its adoption of a resolution the Israeli government said denied Jewish ties to Jerusalem's holy sites. A resolution passed by the agency in July declaring the West Bank city of Hebron and its Tomb of the Patriarchs a Palestinian World Heritage Site caused similar ire.
But this isn't the first time the U.S. has been at odds with the cultural agency over political divisions. In fact, the U.S. withdrew from UNESCO in 1984, nearly four decades after it helped establish the body, over concerns of corruption and pro-Soviet leanings during the height of the Cold War. As noted by Alan D. Romberg, the State Department spokesman at the time, the U.S. alleged the body had "extraneously politicized virtually every subject it deals with, has exhibited hostility toward the basic institutions of a free society, especially a free market and a free press." The U.S. later rejoined UNESCO under President George W. Bush in 2003.
UNESCO was not originally envisioned as a political organization. Though established in 1945 by several allied countries in the aftermath of World War II with the mission of contributing "to the building of peace, the eradication of poverty, sustainable development, and intercultural dialogue through education, the sciences, culture, communication, and information," the organization later expanded to include Japan and Germany in 1951, and Spain in 1953.
Still, that hasn't stopped its members from quitting for political reasons. South Africa withdrew from the body in 1955 in protest of its anti-apartheid policies, and the U.K. and Singapore followed the U.S.'s lead to leave in the late 1980s, though all eventually returned.
While others could follow the U.S.'s decision to leave UNESCO—Israel also announced Thursday that it would quit the agency, which it joined a year after the country's founding in 1949—it's unclear what impact this will have on the agency, or how removed the U.S. will actually be once its membership ends in December 2018. In her statement, Nauert said the U.S. expressed to Bokova its desire to continue offering its "views, perspectives, and expertise on some of the important issues undertaken by the organization, including the protection of world heritage, advocating for press freedoms, and promoting scientific collaboration and education."