Europe's Tax Beef With American Tech Giants
The European Union's latest crackdown on Silicon Valley could cost Apple and Amazon millions.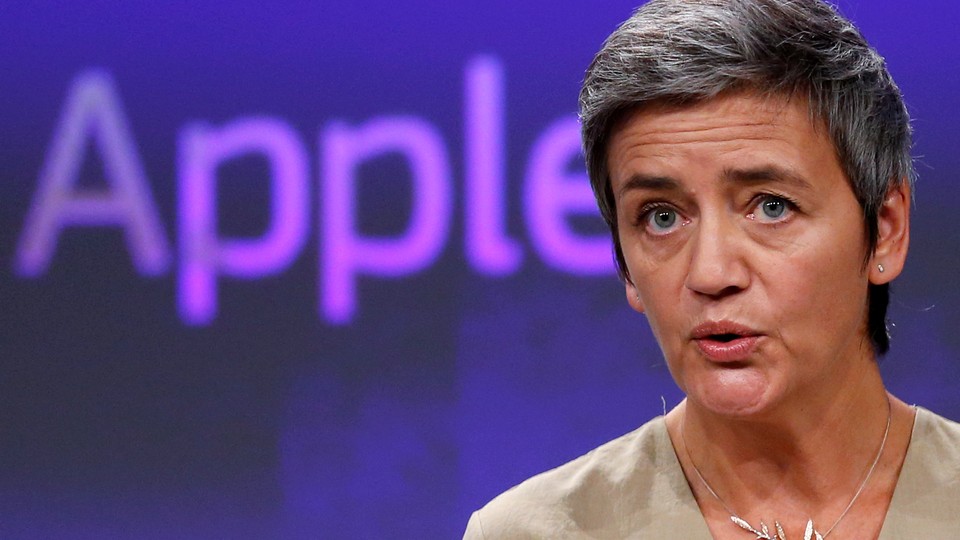 The European Union has accused U.S. tech giants Apple and Amazon of failing to pay corporate taxes totaling billions of dollars between the two—and now it wants both companies to pay up. Or rather, it wants the countries within which they operate to compel them to.
On Wednesday, the European Commission's head competition regulator Margrethe Vestager announced two decisions by the bloc. First, it will order Luxembourg to recover an estimated 250 million euros ($293 million) in back taxes from Amazon over tax benefits the bloc deemed illegal. Second, it will take Ireland to court over its failure to collect billions of dollars in back taxes from Apple, as ordered by the bloc last year for similar reasons.
"I hope that both decisions are seen as a message that companies must pay their fair share of taxes, as the huge majority of companies do," Vestager told reporters Wednesday, adding that "member states cannot give selective tax benefits to multinational groups that are not available to others."
The decision to go after two of the world's largest tech companies is hardly new—the EU has a long history of challenging Silicon Valley over issues ranging from Google's manipulation of its search engine results to Facebook's handling of user data. But this week's decisions come amid a new push by European leaders to compel tech giants like Apple and Amazon to pay more taxes. At present, the amount these companies are taxed depends on the EU country in which they're based, since the corporate tax rate is decided by each individual country. This allows for countries like Ireland and Luxembourg to boast lower tax rates than other EU member states like France and Germany. Proponents of changing this system, like French President Emmanuel Macron, argue that equalizing the corporate tax would amount to "tax justice."
John Cassels, the head of a competition, regulatory, and trade group at U.K.-based law firm Fieldfisher, told me that since the EU cannot set each member state's tax rate, it's choosing instead to treat this as an issue of unfair competition and state aid (in which taxpayer-funded resources are used to selectively advantage one organization in a way that distorts competition), where it does have jurisdiction. "The member states of course hate this," he said. "Ireland wants Apple to stay in Ireland and Luxembourg wants Amazon to stay in Luxembourg, so it's fair to say in every case the Commission has found against the member state, the member state in question has tried to appeal the decision to the European Court."
Indeed, both Ireland and Apple decided to appeal the bloc's 2016 ruling, and Luxembourg and Amazon could do the same. "We believe that Amazon did not receive any special treatment from Luxembourg and that we paid tax in full accordance with both Luxembourg and international tax law," the virtual retailer said in a statement. Luxembourg echoed this, adding that it would review the Commission's decision before deciding whether to appeal.
But in addition to gripes over violations of privacy and unwillingness to pay a fair share of taxes, Cassels said much of the EU's ire with American tech giants also has to do with perceived cultural invasion. "Silicon Valley has been exceptionally successful at growing very profitable and very successful technology companies, and that's something the Europeans have not managed to do," he said. "Part of the commentary about the European Union using competition and state-aid rules to attack comes from a perception that the U.S. has been much more successful than the European Union."
The Obama administration alluded to this in 2016, arguing that the EU's state-aid investigations unfairly targeted U.S. tech companies. Other critics, like Joe Kennedy, a senior fellow at the non-profit think tank Information Technology and Innovation Foundation, told me the investigations failed to take into account the U.S. taxes these companies are already paying. "All of these companies have to pay U.S. tax at a statutory rate of 35 percent when they repatriate the money, so if Ireland isn't taxing it, then the U.S. is," he said. That rate, however, could change under President Trump, whose administration has pushed for allowing U.S.-based companies to bring back foreign profits tax-free.
Though the Commission is unlikely to back down on its push to revamp the corporate tax rates of multinational companies, Cassels said the move could be self-defeating. "Europe has to be careful that it doesn't start being seen as a place where it is made difficult to do business," he said. "Technology is moving so fast and has the potential to bring so many consumer benefits … It's like trying to hold back the sea—they may be able to do it for a while, but it'll do more harm than good in many instances."