European Mayors Leading the Anti-Trump Charge
Unlike national leaders, mayors in Paris and Manchester have not minced words when criticizing the American president.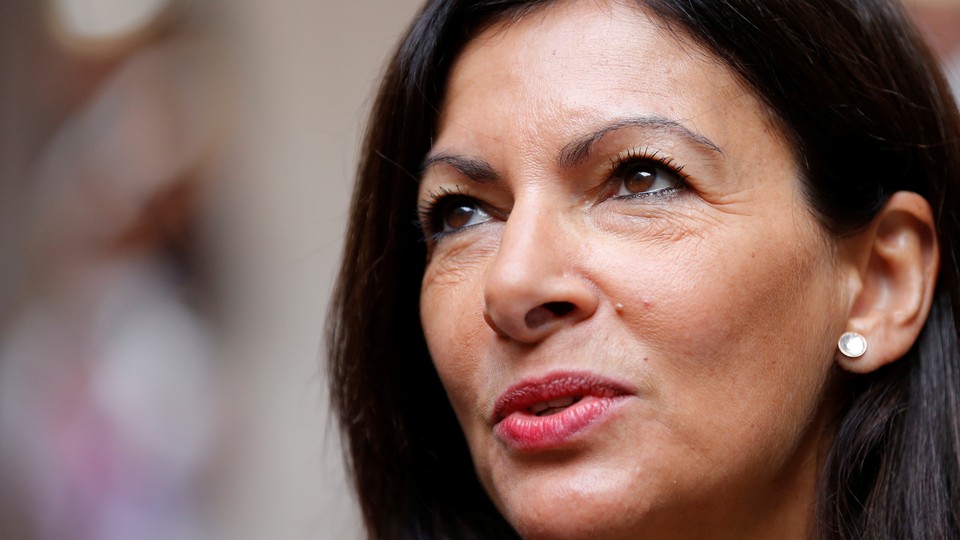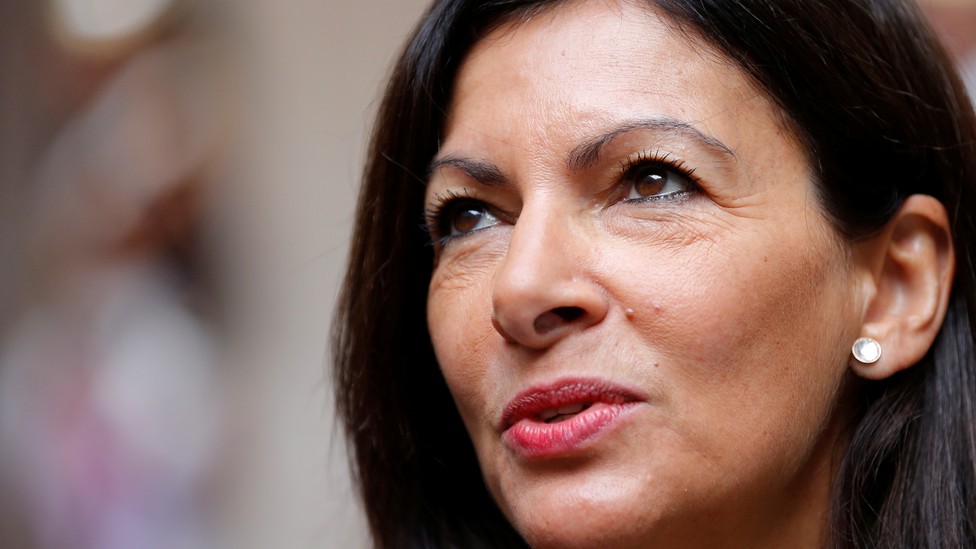 Mayors aren't usually as powerful as a national leader, but when it comes to lambasting a head of state, they've got the ability to be much more forceful. This week, President Trump got a taste of that force as mayors lobbed criticism at him from across the Atlantic.
At the opening plenary of the CityLab Paris summit Monday, Paris Mayor Anne Hidalgo praised world leaders committed to tackling climate change, and singled out those who aren't. "The retreat of Donald Trump from the Paris climate accord is a catastrophe, a major error," Hidalgo told The Atlantic's national correspondent and Europe editor James Fallows of Trump's June decision to withdraw the U.S. from the international agreement, making it one of only two countries (the other is Syria) not party to the accord.
Hidalgo wasn't the only leader to criticize Trump head-on during the annual gathering, which included mayors, innovators, and urban thinkers from dozens of capitals. During a discussion about governments' responses to terrorism, Andy Burnham, the mayor of Greater Manchester, condemned the American president's recent tweet erroneously linking an increase in U.K. crime with the spread of "radical Islamic terror"—a conflation the Labour leader called "deeply unhelpful."
"I just find it unbelievable. … I mean, what's wrong with this individual?" Burnham told The Atlantic's editor-in-chief Jeffrey Goldberg Monday, noting that the 13 percent increase in crime recorded by the U.K.'s Office for National Statistics (ONS) in England and Wales was "totally unconnected" to a rising threat from Islamist extremism. Indeed, the ONS report barely makes mention of terrorism, focusing instead on the uptick in offenses including gun and knife crime, sexual offenses, and harassment.
Hidalgo and Burnham are hardly the first European leaders to publicly spar with Trump, whose international favorability stands at just 22 percent (a ranking that, as the Pew Research Institute pointed out in its July survey, is particularly low in Western Europe). In fact, Trump's most notable European feud is with London Mayor Sadiq Khan, whose war of words was best encapsulated in the aftermath of the London Bridge attack last June (though, as my colleague Krishnadev Calamur noted, the feud goes back much further). In the day following that attack, in which seven people were killed and 48 others injured, Trump took to Twitter to criticize Khan's assurance that Londoners should not be alarmed by an increased police presence, tweeting, "At least 7 dead and 48 wounded in terror attack and Mayor of London says there is 'no reason to be alarmed!'"
Though Khan did not respond to Trump's remarks directly, his spokesperson did, noting that the mayor "has more important things to do than respond to Donald Trump's ill-informed tweet that deliberately takes out of context his remarks." This prompted four more tweets from Trump, including an endorsement of his proposed travel ban—another topic over which the two previously sparred.
It's not out of the norm for mayors to take positions against national leaders, including their own. Los Angeles Mayor Eric Garcetti has joined more than 300 other "Climate Mayors" in vowing to uphold the Paris agreement's commitment goals. San Juan Mayor Carmen Yulin Cruz dubbed Trump a "hater-in-chief" over his response to the devastation Hurricane Maria caused in Puerto Rico.
But international mayors play a different role—one that allows them to speak as representatives of their constituencies, and not of foreign governments tasked with diplomacy. Diplomatic tradition may discourage foreign leaders from overtly criticizing their allies in public, but city mayors are tied to no such decorum. While French President Emmanuel Macron could only voice muted disappointment over the U.S. withdrawal from the Paris agreement (albeit with a not-so-subtle appeal to "make our planet great again," in a pointed reference to Trump's campaign slogan), Hidalgo could call it a "catastrophe." Whereas U.K. Prime Minister Theresa May could offer muted criticism of Trump's tweets about attacks in London (she said it's "never helpful for anybody to speculate on what is an ongoing investigation"), Khan has been unequivocal.
"I'm a reluctant participant in this dialogue with Donald Trump, because I'm trying to be a full-time mayor doing my job," he told the Guardian in July. "I'm not sure what he and his son have against me, and why they are tweeting about me. We're not schoolchildren. He's the president of the United States, so I'm unclear what his beef is with me."