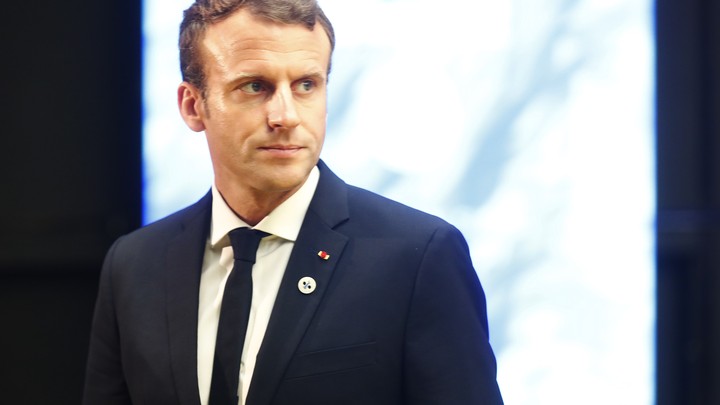 He's five months into his term, and French President Emmanuel Macron is wasting little time. Since his meteoric ascent to the Élysée Palace last summer, the 39-year-old leader has already pushed through an ambitious overhaul of the French labor code, honored his campaign pledge to scrap the country's wealth tax, and replaced France's two-year-old state of emergency with a permanent counterterrorism law. Among the other things on Macron's to-do list: Shake up the country's unemployment insurance and push for eurozone reform.
But the young president faces another urgent challenge: his image. In an unusual break from his policy of keeping the press at arms length, Macron ended his media silence this week to challenge the criticism that he is aloof and out of touch with the French people—a characterization Macron has often faulted the press for, arguing that the media is preoccupied with scrutinizing his communication style rather than the content of his message.
In an interview with the German magazine Der Spiegel published last Friday, Macron insisted: "I am not aloof," adding, "When I am with French people, I am not aloof because I belong to them. My view is that the French president belongs to the French people, because he emanates from them. What I do is this: I am putting an end to the cronyism between politics and the media. For a president, constantly speaking to journalists, constantly being surrounded by journalists, has nothing to do with closeness to the people."
Addressing the topic again during his first live televised interview Sunday, Macron told the French broadcaster TF1 that he has "the fullest respect" for French citizens and "I will continue to breathe the air, to exchange with our citizens, to say what I think."
But saying what he thinks hasn't always helped Macron. His characterization of his presidency as that of a "Jupiterian" leader who remains above the fray of day-to-day politics earned him criticism early on, with some detractors accusing him of being "pharaonic." Subsequent statements—such as dismissing those who disagree with his labor reforms as "slackers," suggesting his thoughts are "too complex" for journalists, and advising workers protesting layoffs at an auto-parts firm to look for jobs instead of "kicking up a bloody mess"—haven't helped either. And while Macron may not be deterred by these gaffes (he told CNN's Christiane Amanpour last month that he has no interest in chasing public approval because "at the very beginning of your mandate, you have political capital—you have to use it"), his popularity has proven less resilient. His popularity declined 22 points to 40 percent within the first three months of his term, making him less popular than his two predecessors, Nicolas Sarkozy and and François Hollande, at the same stage of their presidencies.
Meanwhile, he's pursuing his agenda. Despite opposition to his labor code overhaul (demonstrations drew some 220,000 people—a markedly lower attendance than similar protests held against labor reforms under Hollande), Macron still managed to push through the reforms using a presidential decree, and even opted to broadcast himself signing them with a special televised ceremony reminiscent of those held by President Trump.
While Macron's latest comments could be seen as an attempt to reframe his public perception ("I am not arrogant to the French—I am determined," he told Der Spiegel), Benoît Dillet, a teaching fellow at the University of Bath, told me it could be more for show than anything else. "[It] hasn't signaled any particular turn in the presidency, just the fact that he wanted to be a little more in the media and do some publicity for his policies," he said.
Rainbow Murray, a professor of politics at Queen Mary University of London, came to a similar conclusion. "This is still a Jupiterian, 'rise-above' mentality," she told me in an email, noting that Macron's continued insistence that he won't bend to public opinion suggests "he is subtly contrasting himself here with his predecessors, especially Hollande, who craved public approval and allowed this to dictate their policies and behavior. In contrast, he is willing to take a hard line, to remain aloof, in order to do what he considers to be in the best interests of the people rather than his own political best interests."
His popularity aside, Macron hasn't faced much in the way of parliamentary opposition—he holds a legislative mandate that, paired with fragmented opposition parties on the left and the right, has put few barriers in his way. While it certainly isn't a political calculus Macron can take for granted forever, it's one he appears more than willing to exploit now—regardless of the costs. "He's been elected and he's on a mandate to introduce meaningful economic reform, and that reform is going to be unpopular," David Lees, a researcher on French politics at Warwick University, told me. "If he wants to achieve that kind of reform, then ultimately he will have to be unpopular, and therefore I doubt very much he will be changing tack in any real way."
We want to hear what you think about this article. Submit a letter to the editor or write to letters@theatlantic.com.