China vs. America in a Financial Game of 'Risk'
The U.S. blasts China's "predatory economics"—but the money keeps flowing.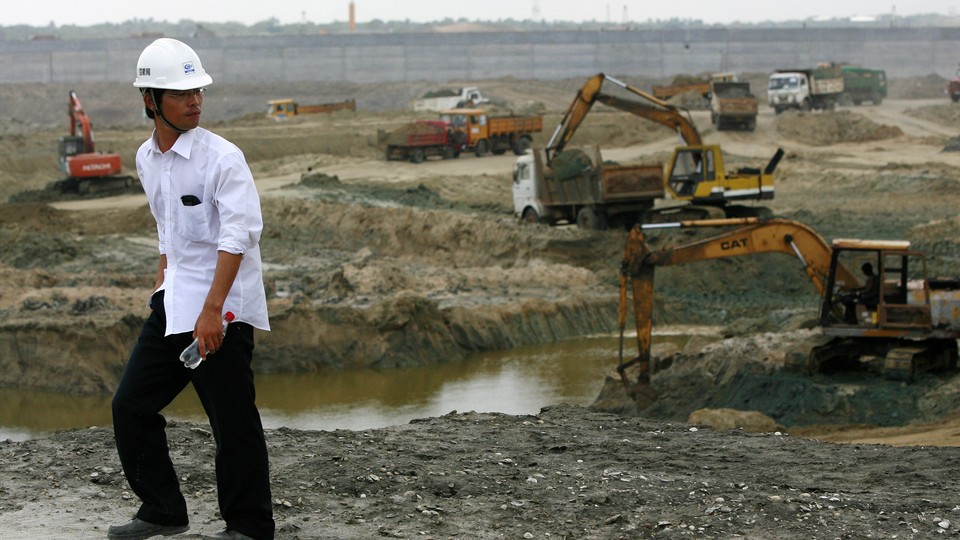 In late 2010, Sri Lanka inaugurated a new $1.3 billion deep-sea port in Hambantota, on the Indian Ocean island nation's southern coast. More than 80 percent of financing for the project came from China, as part of its Belt and Road Initiative, a massive infrastructure initiative that aims to connect the world's second-largest economy to its Asian neighbors.
For China, Hambantota offered an important port that would bring raw material, such as minerals and metals from Africa and oil from the Middle East, via the Indian Ocean to China's own ports. For Sri Lanka, whose economy is still struggling to recover from a devastating decades-long civil war, not to mention the impact of the 2004 Indian Ocean tsunami, the Chinese money offered an important financial lifeline—until it didn't. The port didn't get the traffic it had hoped for, didn't get the cargo that was expected, and didn't create the jobs that were promised. Sri Lanka still had to repay its loans, though—and not just to China. Almost all of the revenue that Sri Lanka's government generates goes toward servicing its massive debt. The only solution that Sri Lanka could come up with was to lease the port back to China for 99 years and repay China with money from the lease.
China closely guards how much money it invests overseas—and so independent Western estimates vary. According to AidData, a project of the College of William and Mary, China spent $12.7 billion in Sri Lanka from 2000 to 2014. (The number given by the American Enterprise Institute's China Global Investment Tracker is $14.86 billion from 2005 to 2017.) AidData's figures, which were released earlier this month, also note China's overseas commitments in 2014, the last year for which data were available, were $37.3 billion, slightly higher than the $29.4 billion spent by the U.S. in 2014.
China views its actions through its own national-security prism. It goes to countries in Africa, Asia, and Latin America that have a hard time securing international financing; offers them easy terms; builds desperately needed roads, railways, and ports; and uses the newly built facilities to transport raw material to feed its growing economy and population. There are advantages from the perspectives of both China and the countries receiving the loans. For one thing, Brad Parks, executive director of AidData, said in an email that factors that make China an attractive investor include its "policy of non-interference in the domestic affairs of its partner countries."
"Its grants and loans are therefore provided without any domestic policy 'strings attached,'" he said. Parks added: "Chinese-funded projects are also more attractive to some developing world leaders because of the speed with which Chinese firms can implement the projects."
But the U.S. and its allies in the region, primarily India and Japan, worry that projects like Hambantota in Sri Lanka and the seemingly easy terms of China's loans put regional economies at a distinct disadvantage—not to mention putting the U.S. and its allies at a strategic disadvantage. Speaking Wednesday at the Center for Strategic and International Studies in Washington, Rex Tillerson, the U.S. secretary of state, warned that the Indo-Pacific region could fall victim to China's "predatory economics." He said China's actions "result in saddling them [the countries in the region] with enormous amounts of debt."
The remarks are the most coherent criticism of the Chinese development model yet ventured in public by the Trump administration. President Trump, who is visiting China in November, has called China an unfair trade partner and railed against its policies on Twitter and elsewhere. Tillerson offered a more pointed critique at what he believed is wrong with the Chinese model of investment.
"This is not a structure that supports the future growth of these countries," he said. "We think it's important that we begin to develop some means of countering that with alternative financing measures, financing structures."
Tillerson said the U.S. had begun "quiet conversation in a multilateral way" to create what he called "alternative financing mechanisms." The secretary was quick to acknowledge the U.S. "will not be able to compete with the kind of terms that China offers. But countries have to decide what are they willing to pay to secure their sovereignty and their future control of their economies." Indeed, there is a profound asymmetry between how the U.S. and China offer financing to third countries. U.S. companies that want to raise capital for a project must, in most cases, raise funds from the public market. Many of the Chinese firms that are competing for the same projects, on the other hand, are state-owned enterprises that can get no-interest loans or grants from the central bank.
Tillerson said it's "hard to compete with someone who's offering something on financial terms that are worth a few points on the lending side, but we have to help them put that in perspective of the longer-term ability to control their country, control the future of their country, control the development of their economy in a rules-based system. And that's really what we're promoting: You retain your sovereignty. You retain your commitment to a rules-based order. We will come with other options for you."
John Campbell, a former U.S. ambassador to Nigeria who is now at the Council on Foreign Relations, told me in August that worries about Chinese investment in the developing world—especially in Africa where it has invested heavily—come at the cost of U.S. strategic interests could be overblown.
"The thing about infrastructure investments is once the bridge is built, there the bridge is no matter what happens in the future," he said. Campbell pointed to the kinds of infrastructure investments undertaken by the Soviet Union across the developing world until its collapse in 1991. It "was building these massive projects in India, for example," he said, referring to New Delhi's close relations with Moscow in that era. "What was the long-term impact of that?"
Tillerson, who is visiting New Delhi next week, had an answer on Wednesday: "It is," he said, "indeed time to double down on a democratic partner that is still rising—and rising responsibly—for the next 100 years."