China's Plan to Buy Influence and Undermine Democracy
By lavishing infrastructure dollars on illiberal governments, Beijing is supplanting American soft power.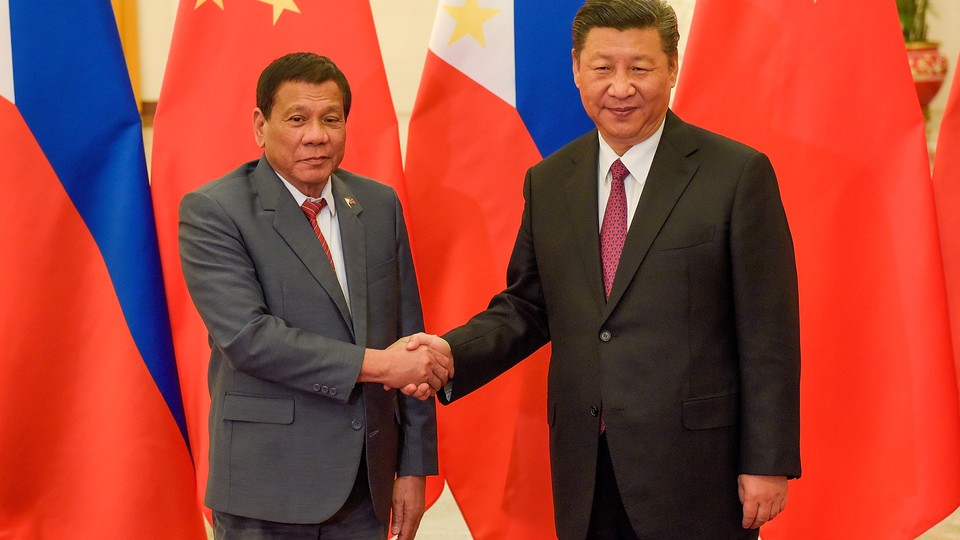 Along a major tributary of the Mekong River in northeastern Cambodia sits the newly opened Lower Sesan II Dam hydropower plant. The 400-megawatt dam will produce badly needed electricity for the country, but at the cost of potential major ecological damage and the eviction of some 5,000 families from the area. Such consequences are unlikely to sink the fortunes of Hun Sen, Cambodia's strongman leader who, for 32 years, has relied on the largesse of foreign governments to fund infrastructure projects: For this latest venture, he has China to thank for footing the more than $800-million bill.
In the past, Southeast Asian nations largely turned to the United States and its Western partners to finance such undertakings; in exchange, several of them would maintain the trappings of a democratic society. But under President Donald Trump, America's waning regional influence is opening the door for China to expand its footprint in the region, even if that means Beijing must deal with illiberal, repressive autocrats seemingly determined to remain in power forever. "I believe I can live at least 30 more years, therefore I can continue as prime minister for 10 more years. It is not difficult for me," the 65-year-old Hun Sen remarked at the inauguration for the dam last month.
To enhance its economic and political clout, China has made substantial inroads across Southeast Asia on the back of multi-billion-dollar infrastructure and investment deals like the one in Cambodia. This is how China will engage with the world for the foreseeable future. At the 19th National Congress of the Communist Party of China on Wednesday, a political conclave held once every five years to present the leadership's governing agenda, Xi Jinping, arguably China's strongest ruler in decades, will solidify his rule and reinforce an expansive foreign economic platform that will shape the region for years to come.
Such future dealings abroad are unlikely to come with any pledges toward democratization attached. In Cambodia, for example, China hasn't slowed its investments despite Hun Sen's crackdown on democracy and basic freedom. Facing vocal challenges from opposition groups ahead of next year's general elections, he has begun actively silencing pro-democracy institutions, expelling the U.S.-funded National Democratic Institute, forcing Radio Free Asia to close its Phnom Penh office, shuttering the The Cambodia Daily, jailing opposition party leader Kem Sokha on allegedly phony charges of treason and collusion with the United States, and calling for the withdrawal of Peace Corps volunteers. On Monday the National Assembly moved to redistribute all of the main opposition party's legislative seats.
"At one time, Hun Sen had to care about what the U.S. and the EU said because he was getting critical aid from them and now he is able to get all of it from China," Murray Hiebert, senior adviser and deputy director of the Southeast Asia program at the Center for Strategic and International Studies, told me. With China intent to take America's place, "it is interesting that there is considerably less focus on democracy and rights issues."
Hun Sen's recent moves represent an accelerated attack on fundamental rights and a blow to Cambodia's fragile democracy. They are also a piece of a larger transformation across Southeast Asia. Najib Razak, the prime minister of Malaysia, continues to crack down on dissent, while Thailand's military has maintained firm control of the government since a 2014 coup, repressing opposition figures and activists in the process. As the military government of Burma continues its bloody persecution of the Rohingya in Rakhine State, the country's much-lauded democratic transition under Aung San Suu Kyi has failed to live up to expectations. Meanwhile, in the Philippines, Rodrigo Duterte continues his brutal drug war, which has claimed between 7,000 and 13,000 lives.
While these shifts towards autocracy began before last November, they have accelerated since the election of Donald Trump, who has largely offered only subdued responses to foreign crises. This is a far cry from the Obama administration's attempted rebalancing strategy in Asia, which addressed rights concerns with vigor, encouraged the democratic transition in Burma, and spearheaded the Trans-Pacific Partnership, which President Trump withdrew from in January. That withdrawal, along with Trump's distaste for multilateralism, "has set back U.S. economic interests in the region for the immediate future—a glaring development in light of the substantive advances in Chinese economic engagement," the Sydney-based Lowy Institute published in an August report on U.S.-Sino relations in Southeast Asia.
China's aggressive economic approach abroad has been a hallmark of China's "Go Out" policy, which Xi Jinping has pursued vigorously since he became the leader of China in November 2012. Since the days of Mao Zedong, China has sought to deconstruct what it views as an illegitimate international order led by the West. But it lacked the political stature and resources to do so, until an economic revival starting in 1989 saw an injection of trillions of dollars on near double-digit annual GDP growth. Under Xi, the country pursued a national renaissance and sought to expand its influence abroad through a gradual buildup of soft power. Case in point: China's mammoth $1-trillion economic corridor through Eurasia unveiled in 2013.
Closer to home, Chinese foreign direct investment in the six largest economies in the Association of Southeast Asian Nations (ASEAN) was expected to reach about $16 billion in 2016, according to Swiss bank Credit Suisse. China already accounts for 30 percent of all FDI into Thailand, and 20 percent into Malaysia, and is poised to supplant the United States as the largest investor in the Philippines this year. China has also used the new Asian Infrastructure Investment Bank—a rival to the U.S.-backed World Bank and International Finance Corporation—to extend an additional $1.73 billion in loans in the Asia-Pacific last year alone.
Such deals boost economic conditions throughout the region, and help its leaders solidify their political footing, while buying Beijing influence. They also help smooth over larger conflicts. After visiting China in October 2016, Duterte returned home with $24 billion in funding and investment pledges; afterwards, diplomatic relations were restored, following longstanding territory disputes in the South China Sea. The case for growing Chinese influence in Cambodia is even more clear. Between 1994 and 2014, China accounted for up to 44 percent of the $19.2 billion in FDI Cambodia received, according to official data. Last year, Cambodia blocked ASEAN from unilaterally condemning China over its territorial claims in the South China Sea dispute.
Even Burma has once again become a base for Chinese private investment, including in a $7.3-billion deep-water port and a $2.3-billion oil and gas pipeline in crisis-hit Rakhine State. This is a sharp reversal for a country that, since it embarked on democratic reforms in 2010, has exercised caution when engaging with China.
The rise of China's economic influence in the region, paired with diminished U.S. criticism on human-rights issues, has helped pave the way for a hardline agenda among regional governments, who also now stand to benefit from playing two of the world's major superpowers off each other. For example: Following brash anti-U.S. rhetoric, Duterte ran a successful campaign to draw financial incentives from Beijing. But he has since dismissed his disdain as "water under the bridge," earning him a meeting with President Trump in November.
Despite the near-universal condemnation of the extrajudicial killings carried out on Duterte's watch, in May, China praised him for his "remarkable achievements" in promoting "human rights" and urged the world to support his government's sovereignty—which, for Xi, seems to indicate his government's willingness to tolerate such atrocities so long as it can rack up political points.
China has also repeatedly offered similar support to the Burmese government, saying last month at the UN that it "understands and supports" its efforts to protect its national security in Rakhine State. Meanwhile, harsh criticism from members of the international community could actually be driving Burma back into China's arms after the Obama administration worked to cultivate influence there. "Such criticism from the West must be music to the ears of Chinese security planners, who are rattled by Burma's recent drift from a close relationship with China toward improved ties with the West," Burma expert Bertil Lintner wrote for YaleGlobal University online last month. By contrast, Trump has yet to make any direct public statements on the Rohingya crisis.
Trump has also sent mixed signals on his tolerance for allegedly corruptible players after separately hosting Thai Prime Minister Prayut Chan-ocha and Najib Razak at the White House. The Malaysian prime minister is currently under investigation by the U.S. Department of Justice for diverting $3.5 billion in state funds.
But while China is expected to further solidify Xi's foreign policy approach at the national congress, it is worth noting how such deals have come to fruition. Much like the Lower Sesan II Dam in Cambodia, other deals abroad have been repeatedly criticized for their blatant disregard of human rights, their opacity, and for their tendency towards unsavory partnerships—in this case, 45 percent of the dam project is owned by Cambodia's Royal Group, which is headed by notorious tycoon Kith Meng. Many of those infrastructure deals have also been criticized for entailing lofty demands that include major land concessions, multi-decade build-operate-transfer contracts, and guarantees for Chinese contractors.
"China's propensity for coopting, pressuring, and even bullying Southeast Asia's rulers is creating potentially double-edged swords for Beijing," Donald Emmerson, director of the Southeast Asia Forum at the Shorenstein Asia-Pacific Research Center at Stanford University, told me. "A corrupt, entrenched local elite can be bought into alignment with China, as has happened in Cambodia. But, such cronyism can prompt opposition from civil society actors who are thereby more likely to blame China for local exploitation and repression, as has happened in Myanmar."