Confusion in Catalonia
Catalan President Carles Puigdemont's on again, off again, not-quite-official bid for independence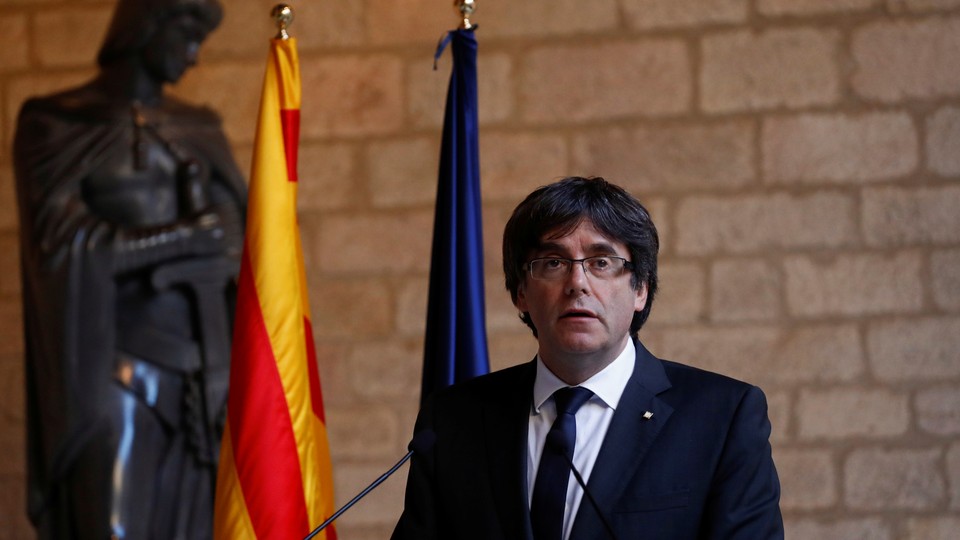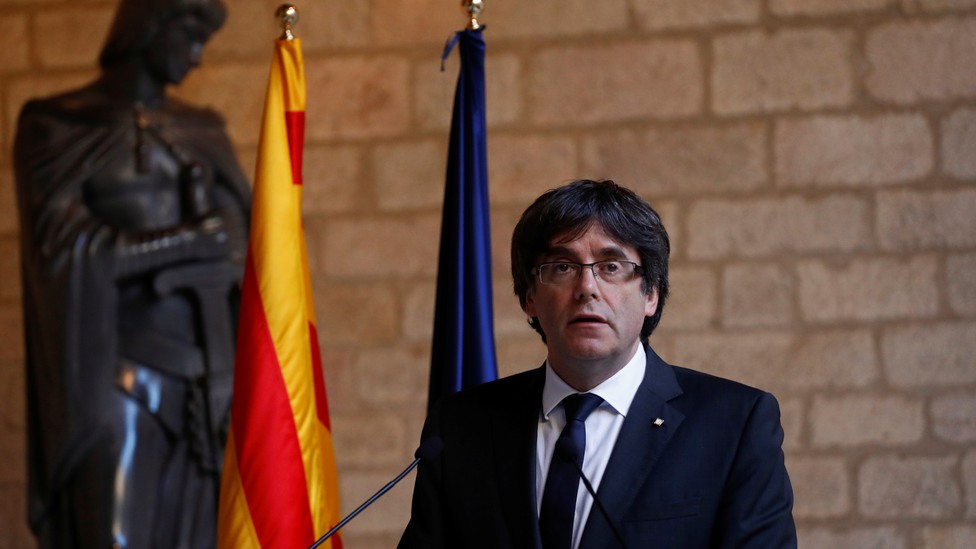 If anyone was expecting clarity on the fate of Catalonia's independence bid from the Catalan president's scheduled address on Thursday—or indeed clarity on the direction of Spain's 40-year-old democracy—they didn't get it. But by this point in the drama, which is stretching into the fourth week since the Spanish region held and passed an independence referendum declared unconstitutional, inconsistency has become the consistent theme. In Thursday's installment, Catalan President Carles Puigdemont announced that he would neither unilaterally declare Catalan independence from Spain nor call for new elections in the region, opting instead to leave the fate of the secessionist bid to its regional lawmakers. "It is up to the [Catalan regional] parliament to proceed with what the majority determines," he said.
The move fell somewhere between a severe confrontation (which is how Madrid would see an independence declaration) and a conciliatory climbdown (given that Madrid insisted on new elections in the region). For its part, Madrid has said it could formally suspend Catalonia's existing autonomy as soon as Friday with or without a new regional election if Puigdemont does not formally renounce the region's bid for independence. Though Puigdemont was expected to address this possibility on Thursday, the Catalan leader's speech was inexplicably postponed, cancelled, and then rescheduled. By the time he was due to speak at 5 p.m. local time, the Barcelona-based newspaper La Vanguardia reported the Catalan president was preparing to dissolve the regional parliament and call for snap elections, in an apparent bid to preempt the Spanish government's use of Article 155, the part of the constitution that allows Madrid to suspend a region's autonomy. But ultimately, no such announcement ever came.
Though Puigdemont acknowledged he was considering calling for a snap election, he said he could not obtain "guarantees" that Madrid would walk back its decision to invoke Article 155 and impose direct rule over Catalonia. Puigdemont's government has thus far refused to disown its bid for independence as Madrid has demanded.
But for all the political grandstanding by leaders in both Madrid and Barcelona over the past few weeks, there has also been considerable flip-flopping. While the Catalan government originally committed to issuing a unilateral declaration of independence within 48 hours of a "Yes" majority vote in the referendum (which, with a low turnout of around 40 percent, yielded some 90 percent of those voters in favor of independence), Puigdemont waited more than two weeks before he appeared to make such a declaration—only to suspend the move seconds later. "I assume the mandate of the people of Catalonia to become an independent state in the shape of a republic," Puigdemont told regional lawmakers on October 10, before asking that the parliament "suspend the effects of the declaration of independence so that in the coming weeks we can undertake a dialogue."
But even after Madrid rejected dialogue (Spanish Prime Minister Mariano Rajoy said talks could not take place so long as independence was on the table), Catalonia's position did not become any clearer. After Madrid announced its unprecedented decision to invoke Article 155 this week, Puigdemont condemned the move as "the worst attack against institutions and the people of Catalonia since the military dictatorship of Francisco Franco," before calling on the regional government to convene to form a response. Significantly, Puigdemont did not reaffirm Catalonia's right to declare independence during his Thursday address, though several pro-independence protesters who gathered outside the Catalan government's offices did.
With the Spanish senate due to decide on the government's plans to impose direct rule on Catalonia Friday (in a vote that is widely expected to pass), Puigdemont's government doesn't have much time to determine its next move. By the time they do, it could be too late.