A Harsh Wake-Up Call for Some Brexiteers
"I would go out and knock at doors in search of a second referendum."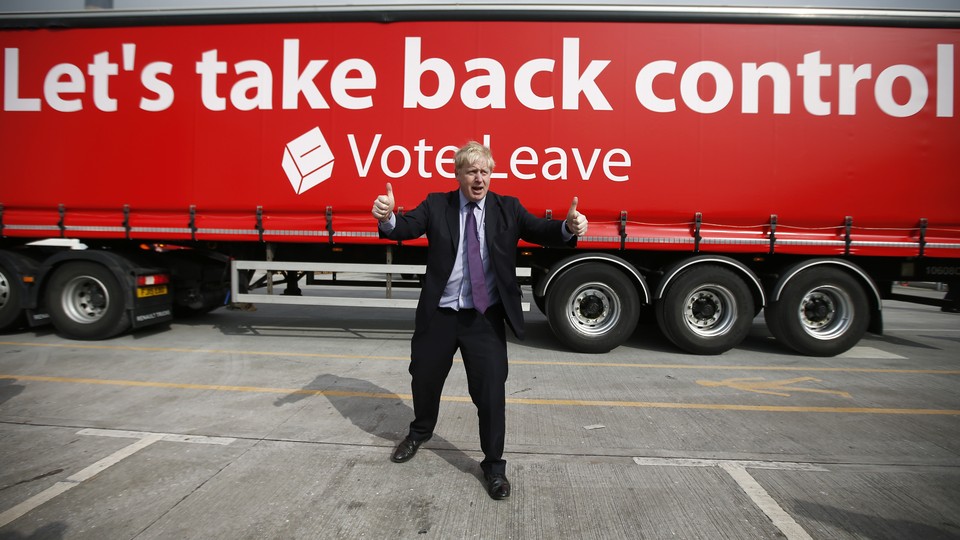 On June 23 of last year, 54-year old Sandra Pengelley walked into her local polling office in the Tory constituency of Mid Bedfordshire to cast her vote on the Brexit referendum.* Partly on the basis of how a well-known radio host described the European Union, Pengelly decided she'd had enough of its "dictatorship," and voted Leave.
"But then I started to have a sinking feeling," she said. When, exactly? "When the results came out. The next day." Two weeks later, Nigel Farage (the radio show host in question) resigned from his position as the head of the UK Independence Party, the pro-Brexit pop-up party; the full weight of her mistake hit her. "It turned my stomach," she said. "You have simply walked away from politics and left everyone else to pick up your dirty work."
Over the past 15 months, Britain has made negligible progress in negotiations over its departure from the EU. On September 22, Prime Minister Theresa May delivered a keynote speech in Florence in which she called vaguely for a transition period of "about" two years (a post-Brexit negotiating platform which EU negotiators had already ruled out as an option). This week's disastrous Conservative party conference has done nothing to calm the uncertainty clouding Brexit. In fact, it has only intensified the anxiety for Pengelly, a lifelong Tory who quit the party last autumn. The decision of whether or not to stay in the EU should never have been left to what Pengelly viewed as a well-meaning but politically uneducated, naive public, she said—a public largely ignorant of, say, the existence of the 759 treaties that Britain will now have to renegotiate with 168 countries (including the EU's 27 member states). The rousing one-word clarion call of the Leave campaign, she said, glossed over those complexities. Now, "I would go out and speak, knock at doors in search of a second referendum," she said.
A poll by YouGov in March found that 44 percent of Britons thought Britain was right to vote for Brexit, while 43 percent thought it was wrong (13 percent said they didn't know). But among those who voted Leave, 7 percent are "Bregretters" like Pengelley—they now say they would swap their vote, according to an August poll by Opinium. That's about 1.2 million people. Perhaps this isn't too surprising: One in four voters, the equivalent of 4.3 million people, feel they were misled by the Leave campaign (whether or not they still consider themselves Leavers). In a hypothetical second referendum, Remain would win outright—a powerful incentive, one imagines, for Remainers to push for a second referendum to reverse Brexit.
And yet Remainers are puzzlingly fatalistic. Two-thirds of the British population think the country has a duty to accept last June's result. In part, that's because there's no one to spearhead a reversal. While Sadiq Khan, the mayor of London, has suggested that his Labour party may support another referendum, Jeremy Corbyn, lifelong euroskeptic and head of the party, accepted the Leave result without explanation. So, even if Bregretting gains momentum, perhaps any hope for a reversal is pointless.
Bregretters are reluctant to go on the record, for understandable reasons: A Bregetter is as much a fool to Remainers as a traitor to Leavers. And yet it would be foolish to discount the 7 percent, given their pivotal role in the referendum's outcome.
"I never in a million years thought we would actually leave," Oli Hiscocks, a 38-year-old Bregretter from South London, told me. He cast his vote as "a kicking" for former prime minister David Cameron, who called for the referendum to appease right-wing Brexiteers in his Conservative party. Perhaps Hiscocks, who wanted to stay in the EU, simply took a stupid risk. But he based his choice on widely accepted predictions that Remain would win. Then the results came in. "I felt physically sick. ... What the hell had we done?"
The rationale for Hiscocks's vote helped explain the mentality of the protest-vote crowd.** Austerity measures introduced by George Osborne, the former chancellor of the exchequer, gutted public services. Those affected wanted to
voice their displeasure with an EU machine that still requires MEPs to commute once a month between Strasbourg and Brussels at a cost of over $150 million a year. If Cameron took a proper thrashing at the polls, Hiscocks hoped, perhaps it would force the EU and its privileged elites to reform their ways.
Like many Britons, Hiscocks also felt overwhelmed by changes in his home of Croydon, London's second-most populous borough. Croydon is home to Lunar House, which houses the headquarters of Britain's visa and immigration offices. It also handles processing for asylum-seekers. Though the number of foreign-born inhabitants moving to Croydon has actually
fallen
since 2002, it still comes out
at a net of 2,000 people each year (4,000 people arriving, o
ffset by 2,000 leaving—with non-EU-born newcomers still outnumbering those from the continent). Hiscocks said that he loved London's diversity, but argued that belt-tightening has prevented Croydon from investing in integrating migrants into the city. "If you come to live here you should do a short course or get a welcome from someone who explains British life … These newcomers just want to operate a version of their own country here. I just feel this has all happened very suddenly and I don't get a sense that any thought has gone into it. We've just been left to figure it out."
While it's hard to feel sorry for Bregretters, it's worth considering how everything that's transpired since the referendum—Cameron's resignation, Boris Johnson's last-minute duck-out from the leadership candidature, the spike in hate crime after the vote, May's disastrous general election (for her Conservatives, anyway), her expensive deal with the Democratic Unionist Party to keep the Tories in power, broken promises about a supposed £350-million rebate for the National Health Service, and the strain to the country's "special relationship" with an America under President Donald Trump—have ramped up their uncertainty over the future into outright fear.
It came as a shock several weeks ago, for instance, when May's government indicated that Britain may leave the Single Market and the European Customs Union. While this fulfills one of Brexit's four pillars—ending freedom of movement of people between Britain and the EU—it also abandons the friction-, tariff-, barrier-free trade in goods and services that Britain currently enjoys with EU member states. This has incentivized Frankfurt, Berlin, Paris, and Dublin, to redouble their efforts to lure British businesses, and the jobs that go with them. Will London remain Europe's financial hub if Britain departs from the single market and, as a result, an estimated 10,000 financial jobs are shifted out of the country or are created overseas?
In addition to the possibility of major economic damage caused by Brexit—a danger that some politicians, financiers, and economists, claim has been exaggerated—it's disconcerting for voters across the board when even the lynchpins of Brexit appear to be touched by Bregret. Dismayed by how May is proceeding with his bold vision of Brexit, Dominic Cummins, the architect of Vote Leave and an ally of Boris Johnson, recently described the Leave project as in "shambles." In a series of passionate tweets, he said that triggering Article 50, the part of the Treaty of Lisbon that gives any EU member the right to quit unilaterally, was a "historic, unforgivable blunder," and that Brexit Secretary David Davis and his team had "listened to bullshit legal advice & led like lambs to slaughter."
If, for Leavers, cracking down on immigration was Brexit's chief selling point, the economic logic of doing so does not necessarily stand up to scrutiny. In fact, such a crack down may jeopardize the country's economic well-being. On September 5, The Guardian reported the details of the government's plans to deter migrants. The scheme included permits for EU workers lasting a maximum of two years and the prioritization of British workers. Sadiq Khan described this as "a blueprint for how to strangle our economy," while members of May's own cabinet have denounced the plans as "toxic."
Later that day, Vince Cable, the head of the Liberal Democrat Party, alleged that when he was working with May during the Conservative-Liberal Democrat coalition as business secretary, she, then Home Office minister, suppressed up to nine "inconvenient" reports showing immigration had little effect on wages—implying that she'd buried official government reports undermining the Leaver case.
With virulent anti-immigrant sentiments now seemingly more mainstream, it's little surprise that a cohort of extremist social conservatives are now ascendant. Graeme Webb, 55, became a Bregretter six months after voting Leave, when the government allegedly struck a sweetheart deal offering state assistance to Nissan to dissuade it from pulling a factory out of Sunderland. He'd never imagined that leaving the EU would make Britain so unattractive to foreign businesses. He also never imagined it would embolden Conservatives MPs like Jacob Rees-Mogg, who opposes same-sex marriage and advocates for a crackdown on abortion laws, seeking to ban the procedure even among women who are raped. Rees-Mogg is now seen as a potential future leader of the Conservative party by grass roots conservatives spreading "Moggmentum" across the web. What has unfolded over the last 15 months, Webb said, is "almost like a horror story."
Many retirees like Devon resident Julian Black voted Leave without considering its implications for future generations. A father of two who recently retired from his own manufacturing business, he voted for Britain to join the EU in 1973, but began losing faith in the bloc over its "unelected nature and size" and unchecked expansion. When talk of leaving the European common market surfaced, his business instincts told him he'd made a big mistake. Britain has a population of 63.7 million, of which 6 million are non-British; 2.9 million of them come from Europe. But an estimated 1.2 million British nationals live elsewhere in the EU. Now, Black grasps that Brexit might prevent his children from working in the rest of Europe. Indeed, in the EU, British voters aren't regarded as victims of a dishonest Leave campaign. This fact pains Bregretters: They claim they were manipulated by a slanted media campaign that helped determine the outcome of the referendum. Well-informed financial analysts, for instance, found it difficult to dig up the actual facts surrounding the referendum, obscured as they were by the euroskeptic press's one-sided nationalism.
Some have sought to correct the record, either through social media—there are popular Twitter accounts devoted to this undertaking—or through other forms of advocacy. "There's no point in vilifying Bregretters," Mike Galsworthy, a scientist who founded the prominent anti-Brexit groups Scientists for EU and Healthier in the EU, told me. "Bregretters do have to accept some responsibility for this mess we're now in, but blame also clearly lies both with Cameron for calling a referendum in the first place, and the 40-year dominance of euroskeptic media," including Brexit-friendly outlets like The Daily Mail, The Telegraph, and, from Rupert Murdoch's media portfolio, The Sun and The Sunday Times. "When Murdoch was asked why he was so anti-Europe he said: 'That's easy—when I go to Downing Street they do as I say; when I go to Brussels they take no notice,'" Galsworthy told me. These outlets are rife with Euromyths. (Perhaps the most legendary example is the bendy banana euromyth, which claimed that EU regulators banned imports into Britain of bananas that were bent out of shape. This turned out to be false—EU regulations simply stated that the pricing of bananas should be different according to their shape—but it may have had an impact on some people's decisions to vote Leave, like the infamous Banana Lady.)
Unlike hardline Remainers, Galsworthy was somewhat relieved when May, in her Florence speech, "at least removed her previous threats to undercut the UK's neighbors and explained the motivations behind the Brexit vote to an external audience that just thinks we're nuts."
To those observing Britain from abroad, the country's political situation may be incomprehensible to the point of ludicrousness, as Michel Barnier, the European Commission's chief Brexit negotiator, has now repeatedly implied. There's something, "uniquely British about all this," Webb contended. As evidence, he cited the fact that searches for "What is the EU" began trending on Google UK after, not before, the referendum. It was a vote driven, he said, by a very British euphoria of misplaced patriotism and rose-tinted nostalgia—the notion that Britain should reclaim its Imperial past drove the Leave vote. "British people don't like Europe because we don't own it. It's not 'ours.'" Hiscocks agreed with that sentiment. "The whole thing started because of a sad British sense of superiority—that our sovereignty was being eroded by foreign standards ... I now know that whether we're in the EU or not we'll always be subject to international standards. Just like every country is. We'll just have less say in shaping them."
Some may conclude the way the Bregretters voted was a bizarre act of deliberate self-harm, their misgivings masochistic as well as pointless. Is there hope for them?
Yes, Webb said, with a surprisingly fond chuckle. "Britain shooting itself in the foot and making a fudge of it later is so British. It's Monty Python." He held out hope for a classically British best-case scenario, where "negotiations go incredibly badly and we are taken back by Europe as a kind of prodigal son." A fiery Pengelley said she would call up Emmanuel Macron, the president of France, if she could. "'Please can we change our mind?'" Hiscocks is more morose. "There may even be some positives at some point down the line. But only in the same way there were eventually some positives to World War II."
Still, it felt good to be listened to for once, Hiscocks said. Cathartic, even. "All we want is to be heard."
---
* This article originally misstated the date of the Brexit referendum as June 26.
** This article originally misspelled former Chancellor Osborne's name. We regret the errors.