Battling for Catalonia and Greening Dubai: The Week in Global-Affairs Writing
The highlights from seven days of reading about the world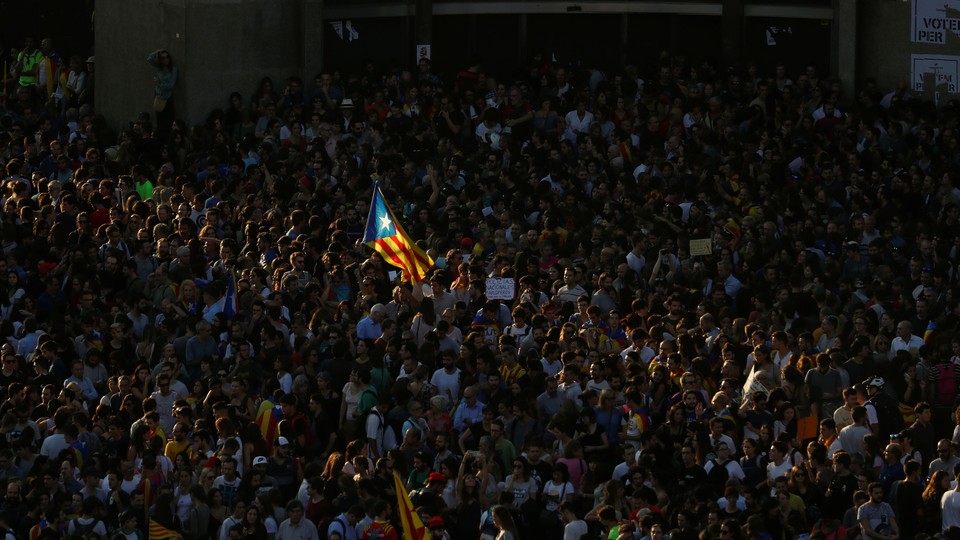 The Battle for Catalonia
Matt Goulding | Roads & Kingdoms
"The issue of Catalan independence has become as much a PR question as a political one. Knowing that Spain would never allow a clean break, the separatists' primary hope has been to garner enough international support to pressure the Spanish government into allowing a binding referendum. In 12 hours of boot-stomps and nightsticks, Madrid did more to legitimize a call for independence than anything the Catalan politicians have done in recent years. By the end of the day, everyone from Belgium's Charles Michel to Angela Merkel, politicians who had maintained a studied neutrality in the run-up to Sunday, released statements in support of the Catalans (if not yet their separatist ambitions)."
* * *
The World's Most Improbable Green City
Robert Kunzig | National Geographic
"For centuries Dubai was a fishing village and trading port, small and poor. Then oil and a wild real estate boom transformed it into a city that sports the world's tallest building, one of its densest collections of skyscrapers, and its third busiest airport. 'From the point of view of sustainability you probably wouldn't have done it here,' says Janus Rostock, a prominent architect transplanted from Copenhagen.
And yet a sustainable city is precisely what Dubai's government says it aims to create."
* * *
Where to East Kosher in Mexico City
Alan Grabinsky | Roads & Kingdoms
"Celia (she won't tell me her surname; it's unclear why) isn't Jewish, but 90 percent of her customers in this wealthy suburban enclave are, and Friday evening is Shabbat. Like any good businessperson, Celia makes her clients' habits her own.
Since she first started selling quesadillas 58 years ago, La Muertita has followed Mexico City's 40,000-strong Jewish community in its gradual migration across the city, from Polanco, near the city center, to Tecamachalco, just over the city line into the neighboring State of Mexico, and finally to the wooded suburbs of Interlomas and Bosques de Reforma. In its drift to the west, the Jewish community has left behind a constellation of eateries scattered along an eight-mile swath of Mexico City's vast urban landscape, some now serving their third and fourth generations of customers."
***
How Mexico Deals With Trump
Jon Lee Anderson | New Yorker
"Since his election, in 2012, Peña Nieto has fumbled his way through a series of scandals. He campaigned on promises to curb crime and improve security; instead, during his time in office, more than 90,000 Mexicans have fallen victim to homicide. His government has been lambasted for a lackluster investigation into the disappearance and presumed mass murder of 43 teacher trainees, a crime that involved state police and, allegedly, local politicians, the military, and a drug cartel. He supported a series of exceedingly corrupt state governors, including several who became fugitives from the law. His wife struck a deal with a government building contractor to buy a multimillion-dollar house on unusually favorable terms. In 2015, the notorious drug kingpin Joaquín (El Chapo) Guzmán tunneled his way out of a maximum-security prison, with evident official complicity. And, this summer, the Administration was accused of using spyware to target government critics.
On top of everything else, Peña Nieto made the calamitous decision, in August, 2016, to invite Trump to Mexico. On that visit, Trump, still a candidate, was treated with the pomp normally reserved for visiting heads of state. It was a victory for Trump, who seemed, at least to his supporters, suddenly Presidential. But, immediately after returning home, he humiliated his host by promising at a rally that he still planned to build the wall and to have Mexico pay for it."
* * *
America Never Deserved Puerto Rico
Joshua Rivera | GQ Magazine
"One recent survey suggests that about half of all Americans don't know Puerto Ricans are U.S. citizens. It's an ignorance we accommodate, gently reminding people of this fact when we do something as mundane as recommend the best places to eat and drink when they vacation, telling would-be tourists to not be surprised that Puerto Ricans know English. But that citizenship is a half-truth, anyway. Puerto Rico is a colony in a world where colonies don't really exist anymore, where the concept is so foreign that no one can properly grasp how perverse it is that a population lives under the farce we call a commonwealth, even when John Oliver teams up with white liberals' favorite Puerto Rican, Lin-Manuel Miranda, to explain how Puerto Ricans can't vote for president, how laws were introduced that incentivized corporations to exploit it for profit while exempting them from responsibility, and the Puerto Rican government from any form of recourse in its debt crisis that came to a head this summer.
So we tell you that Puerto Ricans are citizens, and therefore require your attention and action, because to white Americans the suffering of a brown person in some other country may as well not exist. It's actively discounted and denied within these 50 states—in Flint and Ferguson, St. Louis and Charlottesville, Arizona and St. Paul. This is a nation where people are enraged at the very sound of a language that isn't English, where even the temerity to look like you might utter a word of Spanish in a white person's presence makes you a target. It does not matter if you are a citizen or not. Their president is going to build a wall because America is not for us. Our citizenship is mutable."