A New Right-Wing Movement Rises in Austria
By turning the People's Party into a vocal anti-immigrant force, Sebastian Kurz remade it in his own image.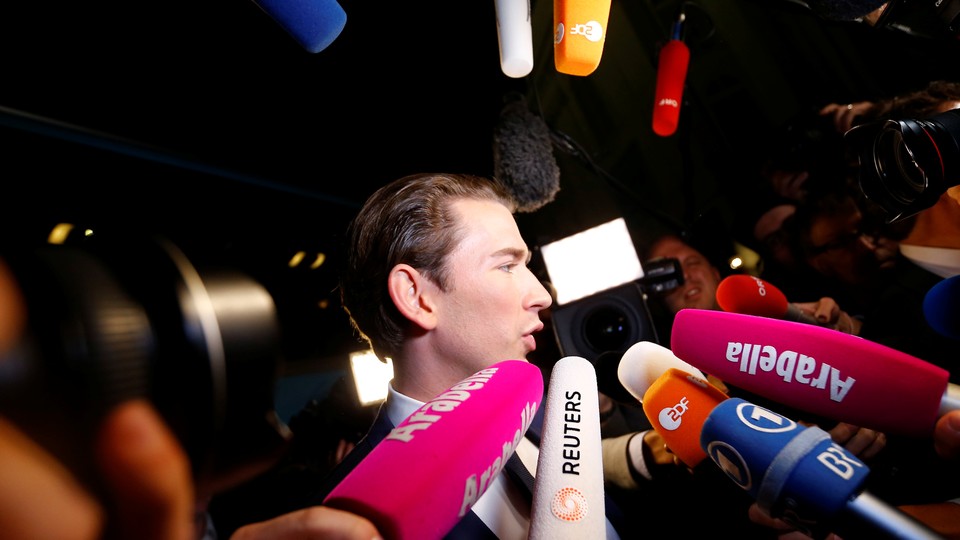 Three days before Austrians went to the polls to elect a new parliament and a new chancellor, several-hundred members and campaign volunteers of the Austrian People's Party (ÖVP) gathered at the party's political academy, where it trains young members and potential future candidates, to watch the final debate of the campaign. Surrounded by the old building's dark, wood-paneled walls, many wore black and gray suit jackets. But sprinkled in amid the staid, conservative tones, were countless splashes of bright turquoise—the new color selected by the traditionally center-right party for its new candidate and now-expected chancellor-elect, the 31-year-old Sebastian Kurz. The younger members wore turquoise-colored "Team Kurz" jackets and leather bracelets with the letter "K" branded onto them; they drank beer out of plastic cups emblazoned with Kurz 2017 and, in turquoise print: Refreshing. Different.
Kurz and his message of change were victorious on Sunday night, with his ÖVP winning more than 31 percent of the vote. This result is expected to usher a rightward turn for Austria's government, with Kurz at the helm as chancellor, in a likely coalition with the far-right Freedom Party (FPÖ). "We have built a movement," Kurz told supporters Sunday night at an election celebration in Vienna. "We have made the impossible possible … this is our chance for real change in this country."
It is no coincidence that Kurz, a political wunderkind who is expected to become the youngest head of government in Europe, emphasizes the word "movement" to describe the new manifestation of his decades-old political party. If elections across Europe this year have yielded any broad, overarching trend, it's that conventional political parties are out and movements are in: One need only look at France's Emmanuel Macron, who built his En Marche movement from scratch and won both the presidency and majorities in the French parliament this spring, to see that voters are increasingly disillusioned with existing government systems.
Through Kurz's victory, that disillusionment is exactly what he and his party capitalized on. Since taking over as leader of the ÖVP barely five months ago, he worked to invest it with new ideas that will bring about change—a tall order for a party that has served in government for decades. Part of that rebranding has been literal: the turquoise and the modern fonts, the renaming of the People's Party as the "Sebastian Kurz List" and "the New People's Party," and slogans such as It's Time and Now. Or Never! Kurz's changes, though, aren't merely superficial: By dragging the ÖVP sharply to the right on immigration and migration, his signature issue, he seeks to co-opt the political space previously monopolized by the Freedom Party.
As traditional centrist political parties across Europe reel from historic losses, Kurz's strategy in Austria seems to have paid off. With his victory, he'll no doubt serve as an example for other ambitious young center-right leaders looking to rebuild support and come out ahead of their right-wing populist challengers. As a polished, anti-immigration millennial who successfully worked to remake his party, Kurz could be a sign of what's to come from the next generation of European leaders—one that is running and governing in a time of turbulent political change across the continent.
Key to Kurz's success, and in stark contrast to Macron's strategy, is the rightward turn he's taken for his party on immigration and refugee politics. As foreign minister, Kurz argued for closing the Balkan route, the path refugees have taken to get into Europe via Greece and several countries in the Balkan region, and limiting refugee arrivals in Austria; during his campaign, he kept his focus on these issues, supporting a burqa ban and arguing that immigrants should receive less state support for children than native-born Austrians. On these issues, he's so blatantly parroted the far-right Freedom Party that its leader, H.C. Strache, accused him and the People's Party of stealing. In fact, Kurz's critics in Austria argue that, as chancellor, he would lead a government that is "Freedom Party-lite"—indistinguishable from its far-right counterpart on at least this issue.
Kurz has good reason to highlight his views on immigration. As evinced by Sunday night's vote, anti-refugee sentiment in Austria has contributed to a Freedom Party resurgence in recent years. In last year's presidential election, Freedom Party candidate Norbert Hofer advanced to the second round, winning 46 percent of the vote; earlier this year, before Kurz took over leadership of the ÖVP, the Freedom Party led national election polling with support as high as 34 percent. And unlike in other western European countries, where the idea of including a far-right populist party in government is still taboo, the Freedom Party served in a government coalition with the People's Party from 2000 to 2005.
In the days before the election in Vienna, the ÖVP's distinct advertising was ubiquitous: everywhere you turned, there was Kurz's pensive visage and slicked-back hair. "The new People's Party," each campaign poster read, again calling it a "Movement for Austria!" Gone was the well-known logo and any other identifying features linking the advertising to the ÖVP's previous campaigns. "When you see his election ads, you wouldn't immediately know, actually, that it's the same party," Jakob-Moritz Eberl, a researcher at the University of Vienna and a member of the Austrian National Election Study, told me. "It's completely focused on him as a person."
This kind of cult of personality is only possible because of Kurz, who occupies a rare space in Austrian politics. He is well-respected in political and media circles, and popular among Austrian voters. According to exit polling, this personality-driven strategy worked: 42 percent of People's Party voters said they voted for the party because of Kurz (compared with just 7 percent who voted for the Freedom Party because of Strache, or 20 percent who chose the Social Democrats because of Chancellor Christian Kern).
Long active in the youth wing of the ÖVP, Kurz joined the government at age 24 and became the world's youngest foreign minister at 27. Political types both within and outside the People's Party have long believed he would be the party's next chancellor candidate. "We all take him seriously now," Christian Rainer, editor-in-chief of the Austrian news magazine Profil, told me. "When he got into politics at 24, we journalists and everyone else just made fun of him for about three months—but then we saw, 'Oh, we were wrong.'" While many politicians are either skilled at substance or have a flare for political style and strategy, Rainer said Kurz "has both—that's why he's so interesting."
When Kurz took over party leadership in May, it was with the understanding that he would immediately call for new elections, which advisers said gave him license to argue that he is not part of the current system but a representation of "change." It also helps Kurz's case for a "new style" in politics that the center-left Social Democrats (SPÖ), headed by current Chancellor Christian Kern, is embroiled in a scandal over a series of social media pages attacking Kurz. The young People's Party leader and his advisers coupled the new branding with several structural changes that gave him more power—to choose some of the candidates himself included on the national party lists, and to streamline a party system that had long been complicated by its very federal structure. All of this combines to send the impression that, vastly different politics aside, Kurz is the head of a Macron-esque political movement in Austria.
But despite the new look, the ÖVP is, in fact, still the same party. Unlike Macron, who broke with France's Socialists to found something completely separate, Kurz and his team have continued to rely on the party's ingrained party infrastructure—and the public campaign financing it receives as an established party. But as Liste Sebastian Kurz, the People's Party at least gives the impression that it's different than it was before.
"Sebastian Kurz tried to position himself as bridge to both 'worlds': the world of the traditional ÖVP, taking advantage of the financial and structural assets, and the world of a new movement, as we know it from Emmanuel Macron in France offering new forms of participation," Markus Keschmann, the People's Party's former director for marketing and campaigning who now works as an outside consultant, told me. He added: "The brand 'Sebastian Kurz' is stronger than the brand 'ÖVP,' and is able to reach more voters than the old ÖVP could."
People's Party General Secretary Elisabeth Köstinger told me immigration is important to Kurz's campaign; it's a big reason why Austrian voters are disillusioned with their politicians, she argued. "Since 2015, where we had to deal with the migration and refugee crisis, a lot of people lost their trust in the government and the existing system," she said, including political parties. Kurz "is very talented in telling people how the situation is and delivering solutions, so people trust him, that he has the power and also the courage to change something."
And the message seems to resonate with young People's Party supporters. In conversations with a handful of young voters and volunteers after Kurz spoke outside the party headquarters in Vienna on Friday, all said immigration is an important part of why they're supporting him. "Sometimes it's hard to say, 'Yeah, you have to go,'" Christoph Flick, 21, said. "But we have just a place for [so many refugees]. I think it's a good way—in some ways it's a hard way, but it's a good policy."
Whether Kurz's strategy of creating a movement-style transformation will carry him beyond this election, though, remains to be seen. "It can be effective, but probably only in the short term," Cas Mudde, an associate professor at the University of Georgia's School of Public and International Affairs, told me. "While it liberates the candidate from an established structure and, therefore, legacy, it also means that their support base is looser and more contextual, based on personality and success rather than shared identity and interest."