A Freelance Diplomat Takes Scandinavia
Ex-Ambassador Rufus Gifford is still big in Denmark. But can he bring his political appeal back home?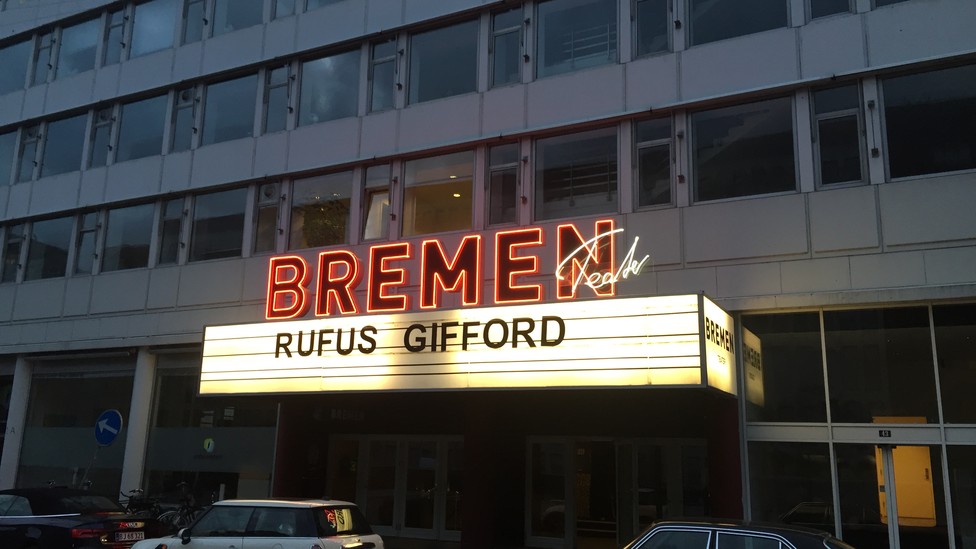 COPENHAGEN—On a Tuesday evening this summer, 600 people took their seats in a sold-out theater in Copenhagen. Their mood was electric. The applause and laughter came in generous portions—which was surprising, considering that they were there to see an American ex-diplomat giving, essentially, a PowerPoint presentation about the United States' role in the world.
That Danes would give this kind of adoring treatment to a mid-level government official—and a former one at that—says something about America's enduring role in the world at a time when the U.S. is attempting to limit its overseas commitments. In this case, it also says a lot about the object of this audience's affection, the former U.S. ambassador to Denmark Rufus Gifford. These Danes were concerned about the future of American democracy and foreign relations, but, perhaps more than that, they were enamored of this particular representative of American values. And in 2017, for better or worse, the fate of those values is bound, at least in part, to the resilience of one American export—celebrity culture.
Indeed, Rufus Gifford's route to a packed theater that Tuesday night in some ways resembles Donald Trump's path to the presidency, though the former ambassador differs from the current U.S. president in almost every substantive way. Where Trump is famously nativist, Gifford is internationalist and cosmopolitan. Where Trump spent his adult life straining to transcend his outer-borough roots by conquering Manhattan, Gifford—who was born to a patrician New England family and arrived in Washington via Hollywood—is the archetypal insider. Trump has positioned himself as Obama's opposite; Gifford raised $1 billion as finance director for Obama's reelection campaign. What they have in common is improbable political clout launched by Twitter and reality TV.
In his three and a half years as ambassador, Gifford's charisma, transparency, and earnest, self-deprecating attempts to speak Danish won him a large following. And, as I wrote last year in The Atlantic, Gifford found his way into the public eye more than the average diplomat, through his Danish television show Jeg er ambassadøren fra Amerika (I Am the Ambassador From America) and his frequent guest appearances on news shows. Last year, I spoke with Abdel Aziz Mahmoud, a Danish journalist and TV personality who had hosted a special on the Fourth of July party Gifford hosted at the American ambassador's residence. In a small country like Denmark, Mahmoud explained, so many of the most popular "series and dramas and movies and pop stars" are American. With Gifford, he said, Danes feel like "we finally found an American that seems like a superstar"; better yet, he's a superstar who loves his Danish fans back.
It was precisely because of Gifford's image as an all-American nice guy that DR, the Danish public broadcasting corporation, first approached the new ambassador after seeing a short 2013 State Department video meant to introduce him to Danes. "They told me this afterwards," Gifford confided to the audience at his talk this summer, "that [the video] was so annoyingly American, super cheerful," such an "over-the-top presentation where you're smiling all the time," that they had to get in touch. By the time he left Denmark in 2017, Gifford had become a kind of avatar of American optimism.
Like politics, diplomacy is largely about cultivating relationships and wielding influence. Until January 20, Gifford was making speeches and taking selfies on behalf of the Obama administration. As ambassador, he traveled to Greenland (part of the Kingdom of Denmark) for bilateral meetings on climate change, promoted counterextremism initiatives and Danish–American trade, and worked to maintain Danish military support in Iraq and Afghanistan. Some of these efforts lent themselves to TV cameras more readily than others. In 2016, he accompanied then–Secretary of Transportation Anthony Foxx and several U.S. mayors on a bike ride around Copenhagen to showcase its success as a cyclist-friendly city.
Now Gifford is a kind of freelance diplomat (riding around, these days, on a loaner bike from his hotel) at a time when dozens of ambassadorships—including the one to Denmark—remain vacant, and America's traditional allies are seeking reassurance. "A number of senators have formed a kind of parallel operation to the State Department by visiting allies to assure them of America's commitments," The New York Times reported in June. In October, Republican Senator Jeff Flake of Arizona made international headlines when he launched a spirited defense of American values from the Senate floor—in an explicit rebuke to a president of his own party. Diplomats, meanwhile, have grappled with the challenges of adjusting their messages to the Trump era. After Trump fired FBI Director James Comey in May, Dana Shell Smith, then the U.S. ambassador to Qatar, tweeted: "Increasingly difficult to wake up overseas to news from home, knowing I will spend today explaining our democracy and institutions." In June, she quit. David Rank, the chargé d'affaires at the American Embassy in Beijing, resigned over Trump's withdrawal from the Paris agreement.
Denmark, though, has something the other countries don't—an unemployed, unattached, unofficial diplomat on a paid speaking tour to explain American democracy and institutions to anyone who will listen. (Tickets to Gifford's paid speeches cost upwards of $45; Gifford is paid by a Danish events company.)
For Gifford, these speeches are an all-expenses-paid chance to try to defend the legacy of the president he spent nearly a decade serving, to reconnect with friends in a country he loves, to reassure his audiences and himself that all is not lost, at least not the good feelings. But as the new administration becomes less new and Gifford's own domestic political ambitions take shape, the question of what he's explaining, and why, gets harder to evaluate. Who exactly is he speaking for, and why should people listen?
While Gifford has yet to declare his candidacy, he is likely preparing to run for Congress in Massachusetts's third district. The speeches he has given in Denmark this month may be his last there, at least in his current capacity. Even now, they cross into the realm of policy and advocacy—pro-Obamacare, pro–Paris agreement, pro-NATO—rather than sticking exclusively to more general statements of American values, broadly defined.
But what "values" aren't political at this point? As the American president downplays so much of what Gifford is claiming as proud American tradition—welcoming immigrants and celebrating diversity, for instance, and positioning the United States as a global leader in diplomacy—these speeches may end up revealing more about Gifford's outlook and his values than they do about the country's at large.
* * *
The night before his first summer speech, sitting at a casual Italian restaurant in central Copenhagen, Gifford told me he was nervous. This was not his first time back in Denmark since his appointment as ambassador ended in January, but his February visit was mostly a goodbye tour, and in April he was there just for a layover en route to Greenland. "It feels like my first trip really back as a former ambassador," he said, and he'd spent a good deal of time reflecting on what these new circumstances might mean for his public role here.
Now, he said, instead of speaking for the United States, "I'm speaking for myself."
Before he was ambassador, he told me, the term American greatness was one that "in my liberal progressive American head I would've bristled at." He now believes that the concept was "epitomized by the Marshall Plan" and the notion "that we had a responsibility to help people outside of our borders, and that with great power comes great responsibility and with great wealth comes great responsibility, and we had both. So this idea that we pull back from the world stage, we spend less money, we give less aid—" he paused. Trump's "speech about [pulling out of the Paris agreement] was just the most defeated, miserable speech I've ever heard."
The Paris announcement had happened less than two weeks before we met; it was clearly preoccupying him. "For us to cynically say, 'We don't wanna do this anymore, we're just gonna open up the coal mines again,'" he said, "I just think it's depressing."
In August, Trump's equivocal response to the white-supremacist violence in Charlottesville, Virginia, would present another opportunity for Gifford to speak about values. "Watching the scenes in Charlottesville yesterday and The President's appalling response," he wrote on Facebook, "as my emotions shifted from anger to sadness and back again, it became clearer than ever that we all have to step up." He incorporated remarks about Charlottesville into his Danish speeches in August, displaying the covers of the New York Post and the Daily News side by side to show that the president's response disappointed observers across the political spectrum. But Danes, he says, have come to expect racial strife as a given in American life, and didn't spend much of their Q&A time with him asking about the events or their aftermath. "Whether we like it or not, most people understand that real racism exists in the United States," Gifford told me in September.
If Gifford tries to shun cynicism, he also knows it is a potent force—and that Danes, aware that Trump is upending norms of American foreign policy, are not immune to its geopolitical implications. "The American brand," he said, "has been dragged through the mud in the last four or five months. You just see the difference." That brand, he told me, citing comments on his Facebook page and newspaper headlines as evidence of the shift in public opinion, always suffers somewhat in Europe when a Republican is in the Oval Office. But the negative response he sees now is about more than "that left-versus-right divide."
"This is different," he said. "This is, like, real fear about the direction of the world."
If anything, this fear has reinforced Gifford's own popularity among Danes. Maybe it's his history as a political fund-raiser showing—when Gifford talks about diplomacy, marketing jargon has a way of creeping in. He referred to the "American brand" more than once, spoke of "building an audience" as ambassador, and frequently used message as a verb. (On Trump's travel ban: "There's no way" the American Embassy could hope to "message that to the Danes effectively.") One of the goals of his ambassadorship's "aggressive media strategy," he said, was to "talk to people in a way they hadn't been spoken to before."
The idea of communication is integral to Gifford's worldview—it's present in his description of his own political goals, and in the way he explains Trump's success, and Obama's. Good PR may not solve America's problems in the world, but he seems to believe that America can't solve its problems without it. Yet no matter how skilled the practitioner, there is inevitably a limit to what even the best-crafted message can achieve. At some point, America's actions in the world matter more than its messaging. Even under Obama, Gifford had to answer to Danes who challenged him on the United States' treatment of prisoners, its surveillance programs, and its requests that European NATO allies increase their military budgets—not to mention the aesthetics of its fortress-like embassy in Copenhagen.
And then there's the diplomat's other dilemma in using an overseas tour to condemn an American president: "Can I actually try to be anti-Trump and pro-American at the same time?"
* * *
In the green room at the theater, as Gifford checked his phone and nursed a pre-show beer, I spoke with his husband, Stephen DeVincent. Though Gifford had warned me that "Stephen is much more of a glass-half-empty guy than I am," DeVincent nonetheless had a lofty vision for the evening's diplomatic experiment. "People still want to believe in the United States," DeVincent said. Outside, there was a line down the block.
Onstage, Gifford was introduced as "the former U.S. ambassador of Denmark and maybe the next president." (The Dane who introduced him meant president of the U.S.—Denmark has a prime minister.) The whooping applause lasted for a full 30 seconds.
"Det er dejligt at være tilbage," Gifford told the audience. "It's good to be back." iPhones were out, pictures and videos being snapped.
His PowerPoint started with an illustrated recap of Danish–American cultural stereotypes and misunderstandings (Americans see Danes as "beautiful blond people"; Danes see Americans as "rich, obnoxious people"). "I've spent the last three and a half years in Denmark trying to reassure [Danes] that their stereotype of the United States is not real … And then we elected that guy as president," he said, pointing to a slide of Trump.
He pivoted to a discussion of the U.S. electoral map ("I've always lived in these blue parts. … The rest of this, a lot of times, gets to make the decisions") and a description of the checks and balances built into the U.S. government. The system has worked, in his description: the Trump administration's ambitions on health-care, climate, and immigration policy have been tempered by courts, Congress, or citizens. Audience questions ranged in topic from Citizens United to how Gifford's dog is doing. ("He's been happier," said DeVincent, a veterinarian, who had joined his husband onstage for the second half of the program.)
"Maybe this is what people needed, in some ways," Gifford said of the election. He was referring to Americans, though he sees the rejection of right-wing populism in recent western-European elections as another sign of the 2016 wake-up call's force.  "Maybe we can take this election and do something, go somewhere big, go somewhere bold, and maybe, maybe, maybe change the world in a way that no one expected."
After the speech was over, Gifford and DeVincent took pictures with the hundreds of people waiting in a receiving line to meet them.
To the extent that diplomacy is about showing up and listening, Gifford's lack of a job title doesn't seem like much of an obstacle to doing the job. Charlotte and Tobias Rasmussen, a young couple who sat in the front row, told me they had traveled and hour and a half to see Gifford in person and get a break from Trump-dominated Danish media coverage of American politics. "Even though the title of the lecture is 'I Was the Ambassador,' he's doing a great job still promoting this relationship between America and Denmark," Charlotte told me.
It remains to be seen whether Gifford will be able to evoke the same kind of enthusiasm in Massachusetts—where, after all, before this year he hadn't lived for two decades. The district he's set his sights on is home to family and friends, and prides itself on its military tradition and its status as a clean-energy hub—two of Gifford's interest areas as ambassador. The state, of course, consistently votes Democratic by a wide margin. Still, the ideas he articulated in Denmark to an audience broadly sold on ideas like the welfare state and free movement of people might need some reframing before he brings it to small-town New England.
He will not, he insists, "try to be somebody I'm not or run away from my résumé." He knows he'll be seen as an outsider in the state. But as with diplomacy, Gifford believes earning people's trust is at base about communicating with them. "My belief fundamentally," he said, "is that human beings respond to the same kinds of messaging whether you're Danish, American, or whatever." Massachusetts voters may soon get the chance to put this theory to the test.