The Ominous, Massive Military Exercises in Eastern Europe
"When Moscow clears its throat, the region will hear it."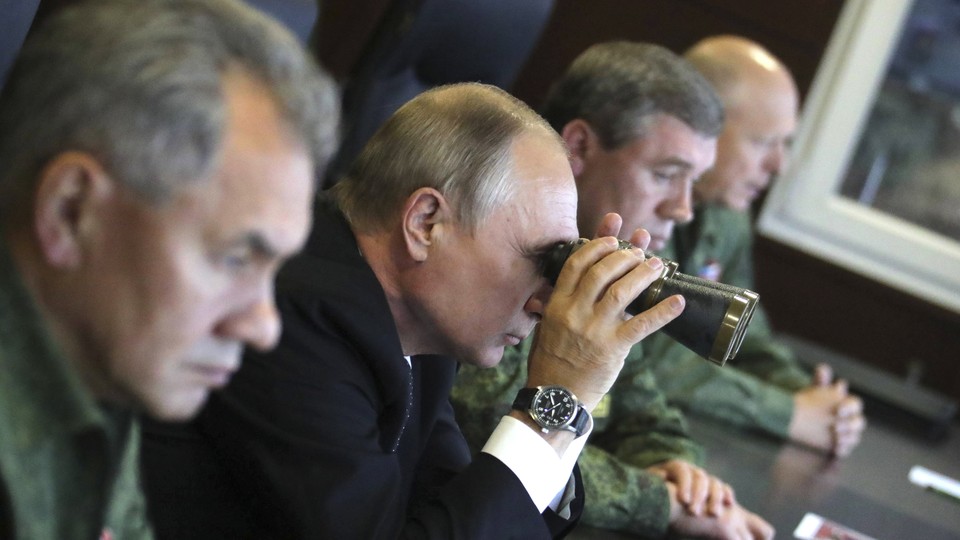 On September 14, Russia and Belarus launched a massive military exercise along their western borders and in the Russian exclave of Kaliningrad. It's meant to mimic war with three invented adversaries: Veishnoriya, the Western-backed aggressor in the scenario, is intent on driving a wedge between Russia and Belarus. Along with its two allies, Lubeniya and Vesbasriya, the imagined countries present a major threat to Russian security. More real, however, is the fear among Russia's neighbors that such a situation could soon become a reality.   
Moscow has dismissed the rhetoric, insisting that the exercises, perhaps the largest show of force in Europe in a quarter century, are purely defensive. But Poland and the Baltic states of Estonia, Latvia, and Lithuania, see themselves in the massive war games unfolding near their borders. And the Kremlin's lack of transparency surrounding the exercises, known as "Zapad," isn't doing much to ease their anxiety. Russian officials have said that they will include fewer than than 13,000 troops, while Western estimates put the number around 100,000, which would make them the largest war games since the end of the Cold War.
In further echoes of the Cold War, another large-scale military exercise is unfolding in Sweden. Approximately 19,000 troops from Denmark, Estonia, Finland, France, Lithuania, Norway, Sweden, and the United States, were mobilized on September 11 as part of a three-week exercise called "Aurora." It's meant to bolster Swedish forces, which have grown fearful of Moscow's growing military strength and willingness to use it.
While the Baltic and Nordic countries are watching both exercises closely, the massive scale and shroud of confusion surrounding Zapad has sparked fears that it could be used to mask deployments for a future intervention, according to Western officials. Such concerns are not without merit: After all, Moscow used drills smaller than this year's to prepare for real war in Ukraine in 2014 and Georgia in 2008. In July, Ben Hodges, the commanding general of the U.S. army in Europe, warned that Zapad could be a "Trojan horse" for something more nefarious by Moscow.
Zapad, which means "West" in Russian, comes at a time of deteriorating relations between Russia and West. From Moscow's annexation of Crimea in 2014 and war in Ukraine, to its meddling in the 2016 U.S. election, Western officials have come to distrust the Kremlin's proclamations and intentions. Zapad has also made clear that many countries are still searching for the best way to respond to the Kremlin in this new standoff. "It's very easy right now for Russia to signal its discontent to the West," Jyri Raitasalo, a docent at the Finnish National Defense University in Helsinki, told me. "Zapad is a military exercise, but in addition to its military significance it has an even bigger role in the wider political and media war."
Zapad, in itself, is not new. It is the latest iteration of military exercises that began in the 1970s under the Soviet Union and continued until its collapsed in 1991. It was revived in 1999 and later expanded under President Vladimir Putin as part of a four-year cycle of military drills that rotate through Russia's geographic regions. The Kremlin has never shied from provocation in its war games: Western officials have stated that they believe Zapad exercises in 2009 and 2013 included simulated nuclear strikes against Warsaw and Stockholm.
Raitasalo said that it's the job of generals to prepare for any eventuality, but that the latest Zapad is clearly also meant to send a strong message of resolve to NATO, which has been beefing up its eastern flank since war broke out in Ukraine in 2014. It's also meant to show non-aligned Western countries like Finland and Sweden that they shouldn't defy Russia. "Fear is a sign of strength for them," he said.
This muscular posturing from Moscow has spurred to a range of reactions for the countries on the frontlines of the Kremlin's current face off with the West. On September 8, Petro Poroshenko, the president of Ukraine, said Zapad was "a smokescreen" for a new "invasion of Ukrainian territory"; Antoni Macierewicz, Poland's defense minister, raised the alarm, charging that Russia could use the exercises to leave troops in Belarus and change "the balance on NATO's eastern flank." In response to such reactions, Jussi Niinisto, Finland's defense minister, said that "Western countries had swallowed the bait" laid by Moscow in reacting so loudly.
The Baltic countries say their fears are well-grounded. All three were occupied as part of the Soviet Union, and rarely shy from voicing their displeasure with Russian provocations. Raimundas Karoblis, the defense minister of Lithuania, told me that his country's military is on high alert, but "there are no indications that the Zapad 2017 could be used as a cover for real operations." He also said that the Kremlin continues to use tricks, as it has done in all its previous military exercises since the collapse of the Soviet Union, in an effort to duck under the 13,000-troop threshold that would require Western observers as part of the Organization for Security and Cooperation in Europe's Vienna Document. Belarus, for its part, has invited foreign military officials based in Minsk to watch its portion of Zapad.
Moscow's actions over the last three years have also compelled NATO countries to bolster their western border with Russia. In June 2016, NATO staged one of the largest exercises in eastern Europe since the collapse of the Soviet Union, a major event in Poland that drew 31,000 troops. Similarly, NATO deployed forward-operating troops for the first time in all three Baltic states. In June, it took part in exercises intended to demonstrate the alliance's commitment to defending the Suwalki Gap, a strategic 60-mile strip of land along the Polish-Lithuanian border. The Suwalki Gap also features in Zapad: Should Moscow seize the area, which runs between the exercise's fictional states of Lubeniya and Vesbasriya, it could isolate all three Baltic countries.
"NATO is now mobilized in ways that we haven't seen since the Cold War," former Estonian President Toomas Hendrik Ilves told me. "Where is the propaganda victory [for Russia] in getting NATO even more engaged in the region?"
In addition to the Baltic countries, non-NATO members Finland and Sweden have also responded to Russia since its annexation of Crimea from Ukraine. Both are boosting defense spending and enjoy a privileged relationship with the alliance, including joint-military planning, exercises, and intelligence exchanges; both countries' militaries possess the technical abilities to operate with NATO. Similarly, Finland and Sweden have both signed agreements allowing the alliance to operate on their territory in the event of a conflict in the region.
While neither Sweden nor Finland plans to join the alliance any time soon, neither nation, particularly Finland, wants to once again walk the delicate tightrope with Moscow that it did during the Cold War. "The NATO alliance and the two Nordics are taking Russia's aggressive actions even more seriously than they were before," Ilves said.
But while Russia may have revived NATO's presence along its borders, Moscow still possess a formidable military that it is actively modernizing. Moreover, the Kremlin has a long track record, from its intervention in Syria to its cyberwar operations, of punching well above its weight. "This does not feel like the Cold War and no one wants to go back to those days," Jim Townsend, the former U.S. Deputy Assistant Secretary of Defense for European and NATO policy, told me. "We need to find a way to deal with our differences that doesn't turn to hostility."
Townsend said that Western policy towards Moscow still remains largely ad hoc, oscillating between viewing Russia as a major threat or a small power, as a natural adversary or a potential ally. Successive U.S. administrations have all attempted to repair ties with the Kremlin upon entering the White House, only to see the endeavor collapse under the weight of conflicting domestic and foreign interests. The loud reaction to Zapad, according to Townsend, is further evidence that Washington is unable to gauge Russia accurately. Meanwhile, for the countries on the frontline of Zapad, Moscow's geopolitical position is more clear.
"[Russia] is not the Soviet Union," Townsend said. "But in the Nordic and Baltic region they are still a superpower. When Moscow clears its throat, the region will hear it."