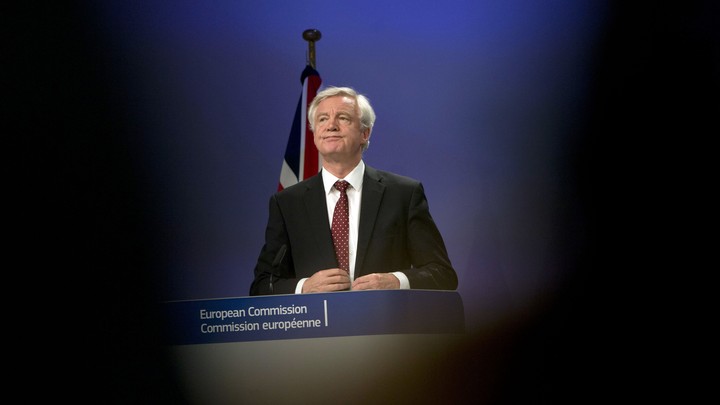 It's been nearly three months, and three rounds, since Brexit negotiations began, and the parties aren't far from where they started. The European Union's Chief Brexit Negotiator Michel Barnier closed the last round of negotiations on August 31 by announcing that neither side had made "any decisive progress" on any of the key issues surrounding the United Kingdom's withdrawal from the bloc. His British counterpart, David Davis, was only slightly more optimistic: "We've seen some concrete progress. … There remains some way to go."
Expectations for the third round weren't high from the start; Barnier opened the talks by admitting: "To be honest, I'm concerned." The last round, like the one preceding it, aimed at reaching some sort of breakthrough on the three major divorce issues surrounding the U.K.'s exit from the bloc—issues, such as citizens' rights, the U.K. financial settlement, and the fate of the border between the Republic of Ireland and Northern Ireland, that the EU insists must be addressed before the parties can move on to discussing trade and their future relationship.
It's a lofty goal, but one both sides anticipated they could reach by October. Now, the EU isn't so sure. "The current state of progress means we are quite far from being able to say sufficient progress has taken place—not far enough for me to be able to say to the European council that we can start to discuss the future relationship," Barnier said.
British negotiators have argued that issues like the Irish border are inextricably linked to both sides' future relationship, and that making progress on one necessitates making progress on the other. The U.K. isn't exactly wrong, said Steven Peers, a professor of law at the University of Essex. "The sequencing makes things actually technically very awkward," he told me. "There are things we can't discuss in advance of knowing what's going to happen in the future. It's just not feasible to do that."
But no resolution doesn't mean no Brexit, and with the U.K.'s March 2019 exit date from the EU quickly approaching, neither side has the luxury of endlessly debating the timeline—especially if they want to come to an agreement on the three major divorce issues and finalize a trade deal before the two-year negotiating period concludes. So what would happen if no resolution is reached? Jonathan Portes, a professor of economics and public policy at King's College London and a senior fellow at the independent research institute U.K. in a Changing Europe, told me one possible scenario is a "cliff edge" or hard Brexit, in which both parties resolve the three major divorce issues, but fail to achieve a trade agreement. Failure to do either, he told me, would lead to chaos.
"We could be headed for a 'chaotic Brexit,' which is no deal at all—no deal on the terms of our withdrawal, let alone the future relationship," he said, noting that such a scenario would have damaging consequences, such as undermining the economic and political stability of Northern Ireland, as well as leaving EU citizens in the U.K. and British citizens in the EU in legal limbo. Though such an outcome is in neither party's interest, Portes said the U.K. would have more to lose than the EU if it occurred. "The issues are pretty much the same, it's just the magnitude that's different because we're a much smaller market for them in size terms than they are for us."
This hasn't been the negotiating posture of British Prime Minister Theresa May, who declared in January that "no deal is better than a bad deal." But the threat appears to have fallen on deaf ears in Brussels, in part because EU negotiators know exactly what would happen if no deal is reached, particularly on trade. As noted by John Springford and Simon Tilford of the Center for European Reform, a cliff edge scenario—in which the U.K. would leave the EU (including its single market and customs union) without a trade deal or transition period—would make the 40 percent of overall U.K. exports that go to the EU subject to automatic tariffs and customs barriers. This, in turn, could cause the attractiveness of the U.K. as a place for investment to rapidly decline and prompt a further drop in the pound, which has lost more than 13 percent of its value against the dollar since the U.K.'s referendum to leave the EU took place.
Though neither a hard Brexit nor a chaotic Brexit would be advantageous for the U.K., Portes said the former would certainly be preferable to the latter, in large part because it would at least give EU and U.K. citizens living on both sides of the channel more legal security. "People will be able to adjust," he said. "It may be a very painful adjustment, but there's a big difference between the complete chaos that you might get with no deal and the sudden shock that you would get with a hard Brexit but with a deal that at least lets you know where you stand."
Despite the lack of agreement on any of the withdrawal issues thus far, a chaotic Brexit is far from inevitable. On the issue of citizens' rights, Davis said there was some agreement on the need for reciprocity for EU citizens in the U.K. (and vice versa), with both sides making commitments to protect existing pensions and health-care rights of U.K. and EU nationals living on both sides of the channel. Both sides also noted that talks surrounding the issue of the Irish border were "fruitful."
But fruitful discussions are a far cry from actual agreement. With only two rounds of talks remaining before October's EU summit (during which it will be decided if talks can proceed to trade), the likelihood of reaching agreement on all three major divorce issues before next month's projected deadline is slim. "I still think the most likely thing is that there will be … [a] deal, but it's not going to happen by October," Portes said. "The longer this drags on, the less time you have to talk about anything else."
We want to hear what you think about this article. Submit a letter to the editor or write to letters@theatlantic.com.