It's Not Just America Losing Patience With North Korea
The United Nations Security Council has unanimously passed a new round of sanctions on the country following its most recent nuclear test.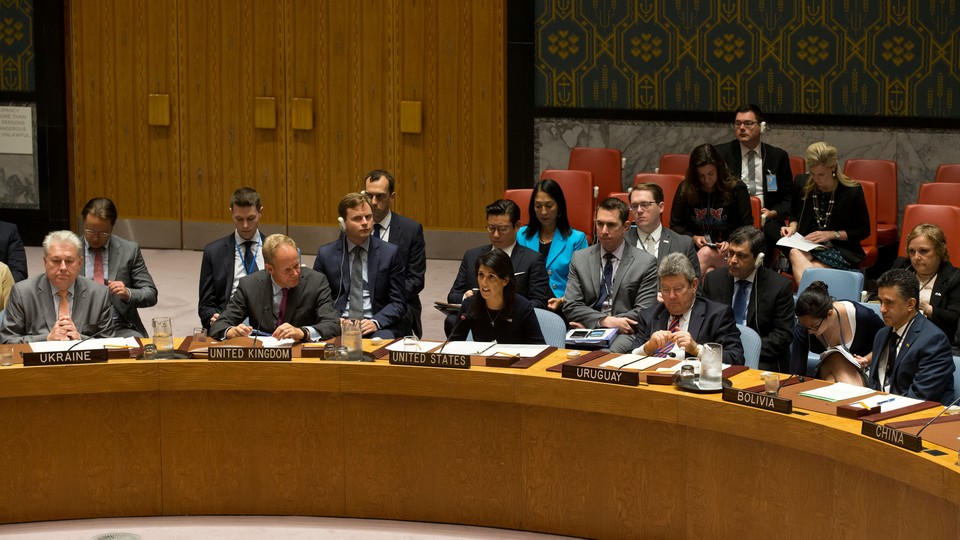 The UN Security Council voted unanimously on Monday to impose fresh sanctions on North Korea in retaliation for its nuclear test last weekend—after United States, the measure's sponsor, watered down its initial proposal in order to win support for it. The outcome reflects the difficulty of securing international backing for punitive measures against Pyongyang, as well as the level of international concern about the country's nuclear and missile programs.
Reuters reported on Monday that the draft resolution calls for a ban on North Korean textile exports, one of the country's main generators of foreign exchange, as well as for a cap on crude-oil imports. But the U.S. had to drop its more stringent demands, the news agency reported, including an oil embargo on North Korea—which would dramatically weaken the Kim Jong Un regime—a financial and travel ban on the North Korean leader, and the ability to inspect any ships suspected of carrying illicit goods to or from North Korea.
Those demands were unacceptable to China and Russia, both veto-wielding members of the UN Security Council. Even with the relatively weakened resolution, however, China's and Russia's votes in favor were far from a sure thing until they were cast Monday evening.
At issue was Pyongyang's claim on September 3 that  it had successfully tested a hydrogen bomb that could be fitted onto a long-range missile. The claim, made amid escalating tensions with its neighbors and the United States, could not be independently verified, but previous North Korean claims about its missile and nuclear programs have more or less been accurate; even when they appear exaggerated, they ultimately point to North Korea's stated goal: of being able to target the contiguous United States with a nuclear-armed intercontinental ballistic missile.  
Amid the often belligerent political rhetoric coming from Washington, the U.S. has tried to marshal a diplomatic response to North Korea's actions. Last month the U.S. spearheaded UN sanctions on North Korea, which also passed the Security Council unanimously, in response to two ICBM tests in July. At the time, Nikki Haley, the U.S. ambassador to the UN, called those sanctions "the most stringent set of sanctions on any country in a generation." They were expected to cost North Korea $1 billion, a third of its export revenue, each year. But as I noted at the time: "North Korea is already subject to separate U.S. sanctions and six previous rounds of UN sanctions, which have done little to change Pyongyang's long-term behavior." The country has a long and successful history of sanctions evasion; the measures usually make the regime more belligerent; and they ultimately did little to deter the North from carrying out further ballistic-missile tests and a nuclear test. If those sanctions did not deter North Korea, it's not clear how another round will.
China and Russia have their own preferred approaches to the crisis, and they're not always compatible with what the United States wants. China, which fears a destabilized North Korea, is Pyongyang's main political and economic benefactor. Russia occupied that position during the Soviet era. It's not that either country is happy with North Korea's actions. China, by far North Korea's biggest trade partner, is said to be furious with Kim, but, despite Western expectations that it can get him to change his behavior, its relationship with the North Korean leadership is poor. Beijing has not only taken steps to enforce the previous round of UN sanctions, it has taken some measures that go even further—for example banning new North Korean accounts in some of its biggest banks.
Russia, on the other hand, relies on North Korean labor, a valuable source of foreign exchange for the Kim regime; Moscow has also expressed skepticism about the efficacy of international sanctions. One reason for this could be Russia itself is under U.S. and EU sanctions for its annexation of Ukraine's Crimean peninsula and its incursion into eastern Ukraine, but another is, as Russian President Vladimir Putin put it, "They'd rather eat grass than abandon their [nuclear weapons] program unless they feel secure."
Both countries say they believe talks with the North are the way forward. The U.S. does not oppose talks with the North, but wants Pyongyang to stop its missile and nuclear tests in order for dialogue, mostly stalled since 2008, to resume. The U.S. has dismissed the idea of "freeze-for-freeze" proposed by China, in which the U.S. freezes military exercises with South Korea in exchange for the North freezing its missile and nuclear tests. Which brings us back to Monday's UN sanctions vote. Now that Russia and China have voted to approve the measure, the international community has once again given the go-ahead to tighten the economic screws on North Korea. How that will immediately affect Pyongyang is unclear, though on Monday it vowed to inflict "pain and suffering" on the U.S. if the new sanctions were approved.