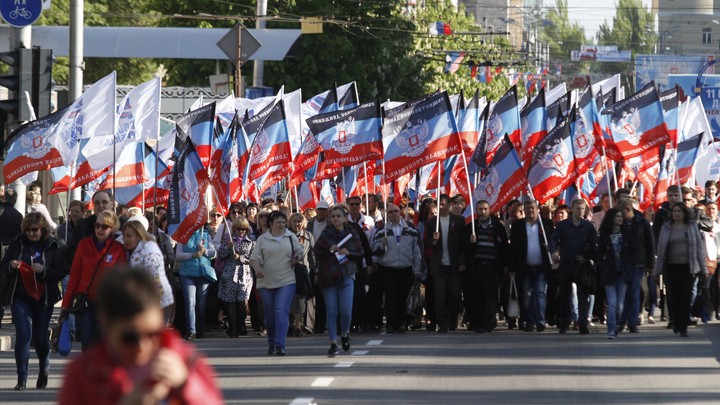 Learning to Fight
Joao Bolan and Sandra Alek | Roads & Kingdoms
"In August 2014, the small city of Ilovaisk became a battlefield, with Ukrainian government forces battling pro-Russian insurgents. Caught in the crossfire, civilians fled the city. Those with nowhere to go hid in damp basements for months.
Since then, the frontline has moved; however, residents cannot forget the bloodshed during that summer.
Three years later, the new flag of the pro-Russian Donetsk People's Republic (DPR) flies above the city. Today, the government of the self-proclaimed DPR calls Ilovaisk "the city of heroes" and invests money into propaganda campaigns to attract new military recruits. Posters depicting militia fighters decorate almost every façade in Ilovaisk, reminding its citizens who those heroes are.
The first thing that students attending secondary school Number 12 see when they arrive in the morning is the smiling face of militia commander Mikhail Tolstykh on a black memorial poster hanging at the entrance. "The hero of DPR," declares the poster. As a child, Tolstykh attended this school."
* * *
While Cambodian Democracy Withers, Washington Stands Aloof
Martin de Bourmont | Foreign Policy
"Since the end of August, Cambodian Prime Minister Hun Sen's government has imprisoned political opposition leader Kem Sokha, ordered the U.S. State Department-funded National Democratic Institute to stop its activities and expelled its foreign staff, suggested the U.S. withdraw the Peace Corps, closed a leading independent newspaper, and intimidated Radio Free Asia into suspending its Cambodian operations, among other crackdowns.
That's the kind of behavior that might have prompted a high-level tongue-lashing or worse from previous U.S. administrations: Former President Barack Obama personally scolded Hun Sen for human rights abuses in 2012. But the Donald Trump administration has so far done little more in response to Cambodia's increasing crackdown than to issue a few statements expressing "grave concern" about the situation there."
* * *
Conversions From Islam in Europe and Beyond
Faisal Devji | The New York Times
"Europe's refugee crisis has seen a spate of conversions to Christianity among Muslim migrants. While numbers are difficult to obtain, The Guardian reported last year about a church in Berlin whose congregation increased from 140 to 700, the newcomers being Muslim converts from Iran, Afghanistan and Central Asia, and mass baptisms held at a municipal swimming pool in Hamburg, Germany. The Telegraph reported from Beirut, Lebanon, that hundreds of Syrian refugees in the country have converted to Christianity at least in part to benefit from aid distributed by Christian charities and for better chances of having their asylum applications accepted in Europe.
Whether the converts are repulsed by the violent forms Islam has taken in places like Syria and Afghanistan or are backing up their claims for asylum, the conversions occur quietly and rarely as a result of proselytism. Nor do they tend to be accompanied by any transformation in the appearance, behavior or language of the convert. Analyzing the news reports suggests that these conversions are characterized by multiple quotidian and ambiguous motives."
***
The Battle Over Jerusalem: A New Year's Story
Bernard Avishai | New Yorker
"When I first encountered the Wall—in the weeks after the 1967 War, when Labor's founders were still in power—it was largely a place of secular pilgrimmage: the site of an ancient catastrophe bearing witness to a recently averted one. When I moved to Jerusalem, in the early seventies, it remained a huge, rectangular, creamy-stoned abstraction—a Rothko-like shrine accepting our projections and sublime thoughts. The Ministry of Religious Affairs has had control over the Wall since the 1967 War, and formally prohibited non-Orthodox prayer, though, informally, pilgrims did what they wished. Orthodox sects did not tightly control access to the site until the eighties, as Likud governments consolidated their victories. The night that my first child was born, in 1973, I went there, my head uncovered, to talk with my parents, both deceased; when the Camp David agreements were finally signed, in 1979, Jerusalem's cosmopolitan mayor, Teddy Kollek, set up a stage at the Wall for Yehudi Menuhin to play Bach.
Before 1967, in other words, observant Jews of all kinds would have found the veneration of Jerusalem vaguely idolatrous."
* * *
The Beat of Tomorrow
Matthew Trammel | New Yorker
"The station's approach to incorporating all these sounds into a modern pop mélange, and its assessment that they are all worthy of rush-hour Ibadan, is what keeps me coming back to the Beat. Here in New York, the most popular reggae and dancehall show, on Hot 97, hosted by Bobby Konders and Jabba, has been buried in a late-night Sunday slot for more than a decade, even as the sound of the genres it plays informs several Hot 100 hits. Reacting to London's bustling West Indian and African communities, the Beat puts reggae songs like Lila Ike's "Biggest Fan" and nimble dancehall collaborations like Kyla and Popcaan's "You Ain't Mine" in rotation alongside cuts by Ed Sheeran and Cardi B. Songs like these receive coverage from major music outlets and are endorsed by A-list artists, but they still haven't found a home on the American radio stations where they might reach receptive audiences. The disconnect is felt by young artists who grew up aspiring to hear their songs on the radio: Chance the Rapper, who boasts endorsements from major companies like Kit-Kat and does daytime interviews on "The Ellen DeGeneres Show," launched a digital campaign to get his singles on the radio, and Tyler, the Creator beams at the news that his singles have earned a precious few spins. But stateside stations still inexplicably hold out."
We want to hear what you think about this article. Submit a letter to the editor or write to letters@theatlantic.com.