How the Rest of the World Heard Trump's UN Speech
Even Iran, with its abysmal human-rights record, feels comfortable criticizing the U.S.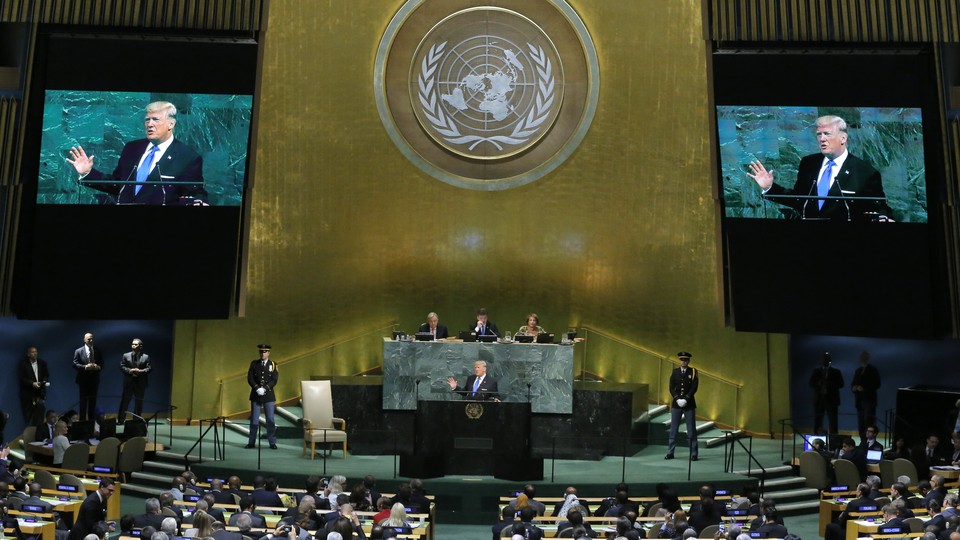 Updated on Thursday, September 21, at 7:08 a.m.
In his sovereignty-centric speech Tuesday to the UN General Assembly, President Donald Trump threatened to "totally destroy North Korea"; called Iran "a corrupt dictatorship" whose "chief exports are violence, bloodshed, and chaos"; and said Venezuela's government "has inflicted terrible pain and suffering on the good people of that country."
The remarks have prompted the expected reactions from Iran, whose foreign minister called it an "ignorant hate speech [that] belongs in medieval times," and Venezuela's foreign minister, who countered: "Trump is not the president of the world ... he cannot even manage his own government." North Korea, whose nuclear-weapons and missile programs have raised tensions with its neighbors and the U.S., called it a "dog's bark."
While Trump's remarks about these countries aren't necessarily off the mark—human rights groups have consistently cited Iran for its abysmal human-rights record; Venezuela has slid into a virtual dictatorship under Nicolas Maduro—the language the U.S. president used to express his remarks was criticized even by U.S. allies. "It was the wrong speech, at the wrong time, to the wrong audience," Swedish Foreign Minister Margot Wallstrom told the BBC. Trump's remarks also gave countries like Iran the opportunity to criticize the U.S. at an international forum—and receive a sympathetic ear.
"Reading the text of the speech, I was struck by the extent to which the language he's using is potentially more appropriate for schoolyard debates as opposed to what we normally see on the floor of the UN General Assembly," Sarah Snyder, an associate professor who studies human rights at the American University's School of International Service, told me. "Using language like 'loser terrorists' [as Trump did to describe terrorist groups like ISIS] strikes me as not the most compelling way to make an argument about international policy."
Indeed, the U.S. has for years detailed human-rights abuses and religious persecution in other countries in annual reports that are angrily denounced by those countries that are named and shamed. China has gone so far as to release its own annual report specifically devoted to human rights in the U.S. (hint: it's not good), but such denunciation, Snyder said, offers strong evidence that countries like China are concerned about U.S. human-rights reports.
"For me, that's some of the most compelling evidence that they take some of these accounting mechanisms seriously," said Snyder, the author of the forthcoming From Selma to Moscow: How Human Rights Activists Transformed U.S. Foreign Policy.
Trump's remarks did not mark the first time an American president, or indeed other world leader, has used the UN General Assembly to criticize another country. George W. Bush referred to the "axis of evil" to describe Iran, Iraq, and North Korea; Hugo Chavez compared Bush to the devil. Nikita Khrushchev banged his shoe as a Filipino official criticized the Soviet Union. What makes Trump's remarks different, Snyder said, is the "significant shift in the tone and the content of what he's saying at the UN General Assembly." And what Trump was saying was sovereignty was the most important element of the global order.
"We do not seek to impose our way of life on anyone, but rather to let it shine as an example for everyone to watch," Trump said. He added: "Strong, sovereign nations let diverse countries with different values, different cultures, not just coexist, but work side by side on the basis of mutual respect."
As my colleague Uri Friedman wrote:
Donald Trump inverted the argument: Contemporary challenges, he told the world leaders assembled in New York, are best tackled by self-interested states that work together when and where their interests overlap.
That's a marked departure from how foreign policy has been conducted by Western countries since the end of World War II when the U.S. and its allies have intervened to stop humanitarian crises in various parts of the world. Snyder told me Trump's "repeated defense of sovereignty and sovereign rights of nations will signal to repressive governments that the United States is no longer going to be paying attention to human-rights violations that are happening within a country's borders."
"I think the other thing that really struck me that seemed to be quite different—particularly thinking about the rhetoric of someone like George W. Bush—was [Trump's] emphasis on preserving American rights, but saying nothing about protecting the rights of others," Snyder said. "And that to me seemed to be a significant shift."
Russia certainly noticed. Foreign Minister Sergei Lavrov told the Associated Press that Trump's message was "the U.S. would not impose its way of life on others." "I think it's a very welcome statement," he said, "which we haven't heard from an American leader for a very long time."