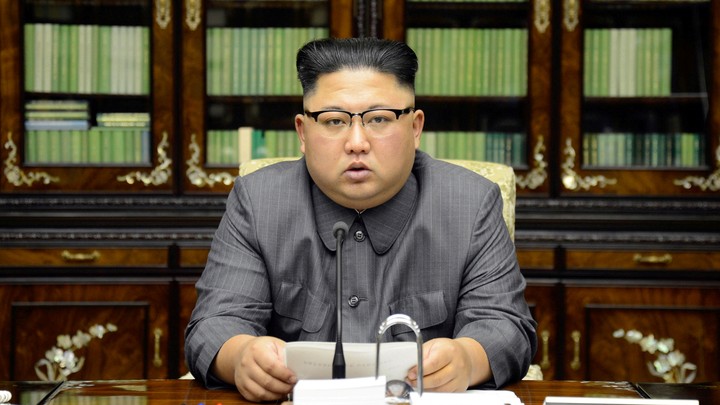 The schoolyard-level taunting at the UN General Assembly sparked by President Trump's threat to "totally destroy North Korea" if the U.S. is forced to defend itself or its allies was taken up a notch Friday as Kim Jong Un, the North Korean leader, responded in what is perhaps his first personal reply. The crux of Kim's response: "I will surely and definitely tame the mentally deranged U.S. dotard with fire."
Hyperbolic rhetoric from North Korea about the United States, South Korea, and Japan is not unusual, but Kim's personal response could indicate the international tensions caused by North Korea's nuclear and missile programs are at their highest levels yet. The North Korean leader's response, which was carried by KCNA, the state-run news agency, came a day after the U.S. tightened financial sanctions on his country, and China, the North's closest ally, reportedly ordered its banks to stop working with North Korean financial institutions—a move that could have a devastating impact on Kim's regime.
Kim, in his remarks, called Trump's speech this week at the UN General Assembly "unprecedented rude nonsense."
"The mentally deranged behavior of the U.S. president openly expressing on the UN arena the unethical will to 'totally destroy' a sovereign state, beyond the boundary of threats of regime change or overturn of social system, makes even those with normal thinking faculty think about discretion and composure," he said, according to KCNA.
Kim said that Trump's words "will have convinced me, rather than frightening or stopping me, that the path I chose is correct and that it is the one I have to follow to the last." That path has resulted in 19 missile tests and one nuclear test in 2017—all indications that North Korea is drawing ever closer to its stated goal of being able to target the U.S. with a nuclear-armed intercontinental ballistic missile. The country already is believed to possess 60 nuclear weapons, and while the U.S. and others insist that North Korea must renounce its nuclear weapons, Kim's words Friday illustrate how difficult that is going to be.
"Now that Trump has denied the existence of and insulted me and my country in front of the eyes of the world and made the most ferocious declaration of a war in history that he would destroy the [North Korea], we will consider with seriousness exercising of a corresponding, highest level of hard-line countermeasure in history," Kim said. "Action is the best option in treating the dotard who, hard of hearing, is uttering only what he wants to say."
How North Korea will respond—and it almost certainly will given how Kim has raised the stakes with a personal statement—is an open question. Previously, North Korean officials had said they might fire an ICBM near Guam, the U.S. territory in the Pacific, a claim that resulted in tensions. But on Thursday at the UN, Ri Yong-ho, the North Korean foreign minister, said his country could test a hydrogen bomb in the Pacific, calling it "the most powerful detonation of an H-bomb in the" ocean. Nonproliferation experts have dubbed such a test "Juche bird," a play on the North Korean concept of "Juche" or self-reliance, and "Frigate bird," the 1962 test by the U.S. of a nuclear missile in the Pacific. Such a test has not been carried out in decades and would have severe environmental consequences besides, of course, raising tensions with the U.S. to an even higher level.
Ri, the North Korean minister, acknowledged that his country might not take that step because any response "will be ordered by leader Kim Jong-un." The comments left room for diplomatic maneuvers that would lower tensions. China urged Friday for calm on all sides of the issue. President Trump responded on Twitter:
Kim Jong Un of North Korea, who is obviously a madman who doesn't mind starving or killing his people, will be tested like never before!

— Donald J. Trump (@realDonaldTrump) September 22, 2017
We want to hear what you think about this article. Submit a letter to the editor or write to letters@theatlantic.com.