The Enduring Appeal of Angela Merkel
The German chancellor secured a fourth term with 32.5 percent of the vote.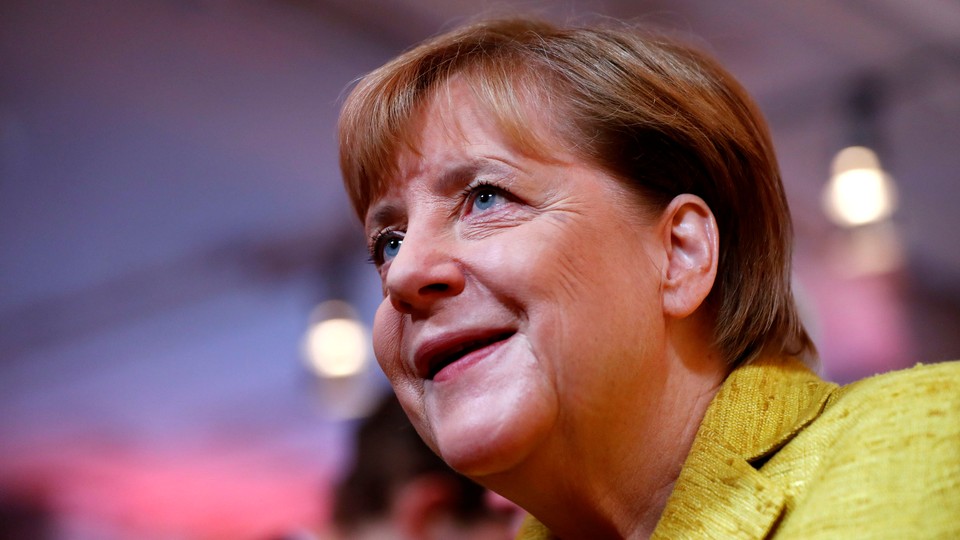 Angela Merkel secured her fourth term as chancellor Sunday after German voters handed her center-right Christian Democratic Union (CDU)—and its Bavarian sister party, the Christian Social Union (CSU)—the largest share of votes, a largely anticipated result marking the end of a race that several observers had written off as "boring."
They weren't wrong. In the weeks leading up to the race, most polls appeared to predict Merkel's electoral victory as an all-but-foregone conclusion. According to early exit polls, Merkel's CDU/CSU received 32.5 percent of the vote, slightly lower than experts had predicted. Merkel's main opponent, the center-left Social Democrats (SDP) led by Martin Schulz, trailed behind with their worst-ever election result of just 20 percent of the vote. They were followed by the far-right Alternative für Deutschland (AfD) with 13.5 percent, the pro-business Free Democrats (FDP) with 10.5 percent, the Greens with 9.5 percent, and the left-wing populist Die Linke with 9 percent.
This election wasn't supposed to be so easy for Merkel. From the backlash against her divisive open-door policy towards refugees to the nomination of newcomer Schulz as the SPD's chancellor candidate, many predicted this election would mark the beginning of the end of Merkel's 12-year reign. But those challenges proved surmountable for Mutti (the German word for "mother," as Merkel is affectionately known), whose ranking in the polls eventually recovered from the "Schulz effect," a boost buoyed by a marked drop in the number of asylum-seeker applications in 2017.
But Merkel's longevity has little to do with those factors, Marcel Dirsus, a political scientist at the University of Kiel, told me. "Merkel is something of an anchor," he said. "She makes people feel safe because she's very experienced, she's been around a long time, she's very calm, and she's very good at dealing with sources of instability. People in Germany really love stability, and she stands for that more than anything else."
While some recent European elections have been consumed by issues such as the refugee crisis and increasing appeal of populist parties, Germany has enjoyed relative stability. Unlike its neighbors in France and Italy, Germany's economy has experienced substantial growth, with its unemployment rate shrinking to 3.9 percent—nearly half of what it was during the last federal election in 2013. Moreover, Germany received 73-percent fewer applicants from asylum seekers in the first quarter of 2017 than it did in the previous year, undercutting the momentum of anti-immigrant parties like AfD.
It wasn't undercut all the way. With the third-largest share of votes, AfD will be the first far-right party to enter the Bundestag in more than half a century. Though both the CDU/CSU and SPD have ruled out forming a coalition with AfD, excluding them from being part of the next government, even its marginal presence is expected to make an impact. "There used to be a broad consensus among the big parties that the European Union is a good thing for Germany, that we support NATO, that we're in favor of strong transatlantic ties," Dirsus said. "Even if they are not in the government and even if they don't make policy … German politics is going to move to the right."
Dr. Constanze Stelzenmüller, the Robert Bosch senior fellow in the Center on the United States and Europe at Brookings, told me the AfD has "refused to distance itself from its most extreme xenophobic and anti-Semitic elements,"  adding that its "experience in the European parliament and in the 11 of 16 state legislatures they have entered since their founding in 2013 suggests we will see a mixture of disruption and incompetence."
But how much of an effect AfD ultimately has will depend on the makeup of Germany's next ruling coalition. Merkel's CDU/CSU and Schulz's SPD could decide to resume their coalition partnership, known as the "grand coalition," to lead the country for another four years—an outcome that would effectively make AfD the largest opposition party. Though this option would be popular among German voters who prefer the status quo, SPD may be more reluctant. German weekly newspaper Die Zeit reported shortly after the exit poll was released that SPD will seek to go into the opposition. Indeed, another term in Merkel's camp would make it more difficult for SPD to distinguish itself as a party—an issue four years in the opposition could resolve.
If SPD does decide to go into the opposition, that leaves two remaining coalition possibilities. One is a minority government, in which Merkel's CDU/CSU would lead without a parliamentary majority. Another is a government spanning the center-left and center-right in the form of a CDU/CSU-FDP-Greens coalition, commonly referred to as "Jamaica." Though the prospect of this untested three-way coalition has garnered more attention in recent weeks, Dirsus noted the ideological differences among the three could prove too much to bear. "The FDP and the Greens are very different political parties," he said. "They would have to find a lot of compromise, especially on environmental policies, as well as Europe."
Regardless of what Germany's ruling coalition ends up looking like, it likely won't emerge anytime soon. German governments have historically taken an average of 46 days to form a governing coalition, though last year's election took nearly twice that amount: 86 days. But for all the uncertainties that remain for German politics, Dirsus said one thing is certain.
"There are tons of options, but there's essentially no option in which Merkel is not going to be chancellor."