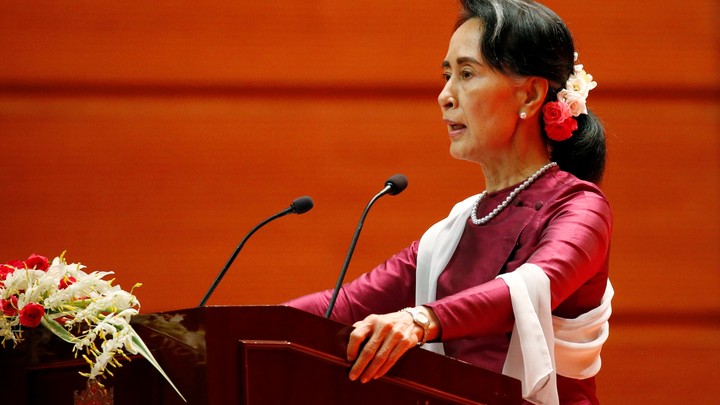 What Happened to Myanmar's Human-Rights Icon?
Hannah Beech | New Yorker
"Recently, I travelled to Myanmar and interviewed dozens of people to assess what had gone wrong. Many of them pointed out that Suu Kyi's power is sharply limited. She has no authority over the Army, while military officers still control key areas of government and have the power to reverse democratic reforms. Some believe that she has made a political calculation not to risk domestic popularity for the sake of a hated and powerless minority; others regard her as lacking political skills. There are also those who think that she shares the Army's authoritarian reflexes and the anti-Muslim prejudices of the Buddhist Bamar majority. But almost everyone I talked to expressed surprise at the speed and the scale of her transformation. 'We never expected that Aung San Suu Kyi would get us this far,' a former student activist and political prisoner who once served as her bodyguard told me. 'But, at the same time, we never expected that Aung San Suu Kyi would have changed so much herself once she got into power.'"
* * *
West Africa's Most Daring Designer
Alexis Okeowo | New Yorker
"Osakwe's career coincides with a subtle change in Nigeria. Women are working more and making more money; with that increased power, they are pushing against long-standing norms. Female organizers helped pass an act prohibiting violence against women, and a senate bill to ban 'indecent dressing' was defeated. Still, abortion remains illegal in most cases, and nearly half of girls marry before they are eighteen. Amina Mama, a women's-studies professor at the University of California, Davis, said, 'When it comes to sexual freedoms, our society is rushing backward to a colonial, missionary idea. It's almost as if they are overreacting to progress in women's rights.' Osakwe's clothes, for clients who can afford them, are both armor and lingerie: intimidating but inviting, with unyielding lines and delicate materials. They reflect her sense that Nigerian women are constantly negotiating how tough or how soft to be in a patriarchal society. 'I'm living this also, and it's still something I haven't got the exact formula for,' Osakwe said. 'I don't think any woman has, and every woman makes a choice at a cost to something.'"
***
Hot Dates in the Saudi Desert
Andrew Leber | Roads & Kingdoms
"Most storylines about Saudi Arabia center around the Kingdom's deep social conservatism, vast oil wealth, or geopolitical machinations in the greater Middle East. Yet to understand a country looking to modernize its economy and re-engineer its society all while retaining traditional power structures, the Unaizah date market helps bring things into focus."
* * *
France's Bizarro-Macron Is on the March on En Marche
Robert Zaretsky | Foreign Policy
"Has Transformers director Michael Bay taken over the French franchise of identity politics? Like Optimus Prime—or is it Megatron?—the French right is decomposing and recomposing in the wake of its disastrous electoral showing this year against Emmanuel Macron and his Republic on the Move party. This transformation—made manifest last week by Florian Philippot's unlamented fall from the vice presidency of the National Front and Laurent Wauquiez's unrelenting rise toward the presidency of Les Républicains—may well set the stage for the French right's effort to regain the Élysée in 2022."
* * *
RT, Sputnik, and Russia's New Theory of War
Jim Rutenberg | The New York Times
"By standard media-industry metrics, RT is relatively small. Numbers that RT commissioned in 2015 from the polling firm Ipsos showed it was watched, weekly, by eight million people in the United States, placing it among the top five foreign networks here and in Europe. (Ipsos also found RT was watched by 70 million per week globally; the BBC, using a different polling firm, says its own audience is 372 million per week.) But American television measures itself by the Nielsen ratings, which RT doesn't pay to be measured by. Nielsen shows Fox News with an average audience of 2.3 million people nightly, MSNBC with 1.6 million nightly and CNN with more than one million nightly. It's a good bet that if RT thought it would rank anywhere near them, it would pay to be rated.
But the ratings are almost beside the point. RT might not have amassed an audience that remotely rivals CNN's in conventional terms, but in the new, "democratized" media landscape, it doesn't need to. Over the past several years, the network has come to form the hub of a new kind of state media operation: one that travels through the same diffuse online channels, chasing the same viral hits and memes, as the rest of the Twitter-and-Facebook-age media. In the process, Russia has built the most effective propaganda operation of the 21st century so far, one that thrives in the feverish political climates that have descended on many Western publics."
We want to hear what you think about this article. Submit a letter to the editor or write to letters@theatlantic.com.