South Korea Is the Best Friend Trump Could Hope For
What explains his odd belligerence towards a proven ally?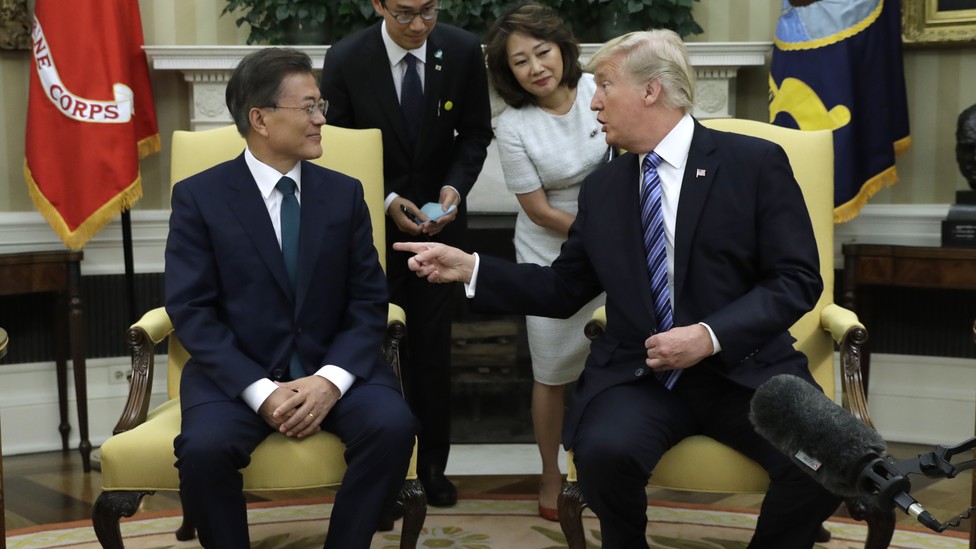 Back in June, many expected the summit between Moon Jae In, the newly elected president of South Korea, and President Donald Trump, to fail. Moon had to overcome the perception that he was anti-American, a lazy caricature based on the last liberal South Korean president Roh Moo Hyun, for whom Moon served as chief of staff. Then there was Trump, who, during his presidential campaign, had blasted the Korea-U.S. free trade agreement (KORUS FTA), signed in 2012, as a "catastrophic" deal that supposedly "destroyed 100,000 jobs" in the auto industry. Trump also suggested that the U.S. military close its base in South Korea, all while North Korea was escalating tensions with nuclear weapon and long-range missile tests. Such contempt from the president of the United States for a vital ally was virtually unheard of.
Defying expectations, the Moon-Trump summit was viewed as a success. The two leaders stressed the importance of their ties, and appeared to be on the same page with regards to North Korea—apply pressure until the Kim regime comes to the negotiating table. Although there were talks of re-negotiating the KORUS FTA, a South Korean plan to import U.S. shale gas and construct factories in America seemed to soften the blow. (Seemingly to make the implicit explicit, Moon even brought with him a large contingent of South Korean business leaders.) When the first meeting between the representatives of the two countries to re-negotiate the KORUS FTA took place on August 22 in Seoul, South Koreans saw it as a hopeful sign that the meeting happened in the South Korean capital rather than in Washington.
But with North Korea's hydrogen bomb test on September 3, the U.S.-South Korea relationship is once again in peril. Since then, Moon and the South Korean public are learning the same lesson that many of Trump's now-fired presidential aides have learned: whatever commitment Trump may have made in the past, he will not hesitate to walk away from it, often seemingly on a whim. But unlike those situations, testing the patience of a long-time ally like South Korea may produce a result far more significant.
On September 2, the Washington Post reported the Trump White House was considering withdrawing from the KORUS FTA altogether without waiting for the renegotiation to conclude. Although Trump's top aides, including National Security Advisor H.R. McMaster, Defense Secretary Jim Mattis, and National Economic Council director Gary Cohn, reportedly opposed the withdrawal, the internal preparations for terminating the agreement were advanced, such that the formal withdrawal process could begin this week. Without the KORUS FTA, Washington may raise the tariffs on many Korean imports from 0 to 3.5 percent, while South Korea may raise its own tariffs on American goods from 0 to nearly 14 percent—a hefty cost: South Korea is the sixth-largest trading partner with the United States, and the United States is the second-largest with South Korea.
The day after North Korea's nuclear test, Trump chastised South Korea on his Twitter account. "South Korea is finding, as I have told them, that their talk of appeasement with North Korea will not work, they only understand one thing!" he tweeted. Yet, the Moon administration's responses to the recent North Korean missile and nuclear tests have hardly resembled appeasement. The responses were unusually hawkish, seemingly designed to signal to North Korea that Kim Jong Un would be betting his own life if he should do anything rash. When North Korea tested a long-range missile in July, Seoul responded with a "decapitation" missile drill designed to show Kim that his government would be eliminated if he deployed his arsenal. When North Korea fired an intermediate-range missile over Japan on August 29, Seoul responded with a bomber drill with bunker busters.
Then, on September 1, Moon and Trump had a phone call in which they agreed in principle to amend the guidelines preventing South Korea from developing its own ballistic missiles beyond a certain strike range and pay load; those guidelines were enacted in 1979 when South Korea first attempted to develop its own nuclear missiles. With the heavier payload, South Korean missiles would be able to destroy North Korea's underground facilities. Although Moon can't expect Trump to be an expert on the full history of the U.S.-South Korea relationship, he surely would have expected him to remember a conversation they had just two days earlier.
At the very least, the self-inflicted damage by Trump reflects a missed opportunity, because he could not have asked for a better partner than Moon to help handle the North Korea crisis. South Korea's previous presidents, Lee Myung Bak and Park Geun Hye, talked a big game about pressuring North Korea, but they always wilted when the Kim regime stepped up its brinksmanship. In contrast, Moon has been in lock step with Trump's push for maximal pressure and sanctions, and has demonstrated that he would deploy merciless force should Kim initiate a war. By gratuitously insulting and engaging in a trade war with the ally most willing to work with him, Trump risks a separation between the United States and South Korea.
This would be a terrible outcome, not in the least because it is exactly what Kim Jong Un wants. Washington distancing itself from Seoul may well embolden North Korea to spark a second Korean War that would kill tens of millions. To prevent such an outcome, South Korea may develop its own nuclear weapons as it once tried to do in the 1970s. This will almost certainly prompt Japan to develop its own nuclear weapons, which in turn would likely prompt China to augment its nuclear arsenal. The whole of East Asia, home to 1.6 billion people and the world's most-significant economic region, would turn into a nuclear tinder box.
Ironically, the only reason why a U.S.-South Korea separation has not yet happened is that South Koreans do not take Trump seriously. In early August, when he promised "fire and fury" against North Korea, South Korea responded with a yawn. The local media duly covered Trump's provocation, but also included the follow-up statements from McMaster and Mattis—with a wink and a nudge that the former generals, and not Trump, were really in charge of the U.S. policy.
With Trump's latest threats to withdraw from the KORUS FTA and his criticisms of the supposed South Korean appeasement, the reaction in South Korea has been the same: indifference, with the expectation that the grownups in the White House will step in. "Opinion polls show South Koreans have one of the lowest rates of regard for Trump in the world and they don't consider him to be a reasonable person. In fact, they worry he's kind of nuts, but they still want the alliance," David Straub, a former State Department official who recently published a book about anti-Americanism in South Korea, observed.
In one sense, this is a hopeful sign. U.S.-South Korea relations may yet survive a U.S. president who is disrespectful of the alliance. But that is not to say the damage has not already been done.