Saudi Women May Get Driver's Licenses—With Some Major Caveats
If the state doesn't forbid them getting behind the wheel, their male guardians still might.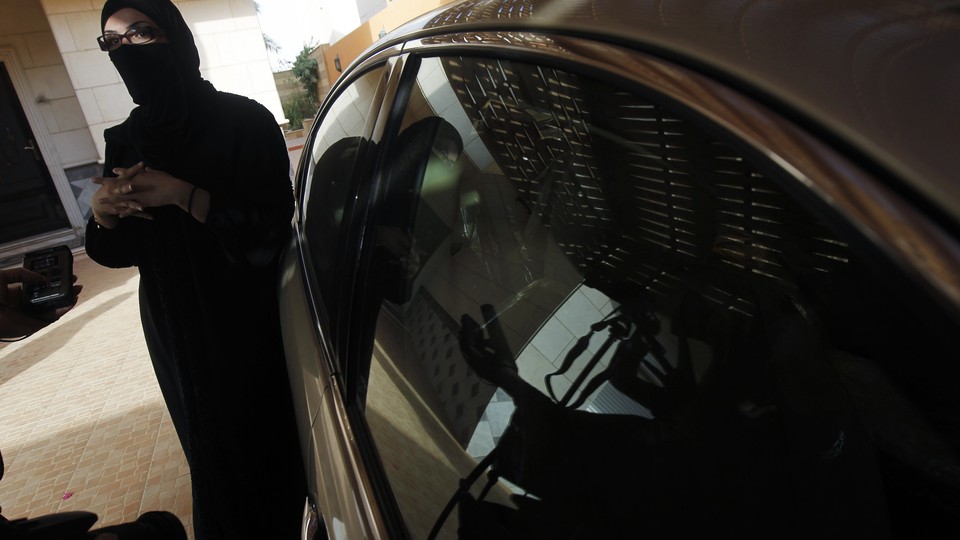 King Salman's royal decree Tuesday granting driver's licenses to Saudi women ends the kingdom's dubious distinction of being the only country that forbids women from driving.
This doesn't mean that Saudi women, who have for years campaigned to be allowed to drive, can immediately get behind the wheel of their friend's father's mint-condition 1961 Ferrari 250 GT and drive it around Riyadh while skipping school. Salman's decree orders the establishment of a ministerial body that will make recommendations in 30 days. Those recommendations are expected to go into effect next summer, the state-run Saudi Press Agency reported.
Saudi Arabia follows Wahhabism, the strict brand of Islam, that, among other things, forbids the mixing of sexes and mandates the veiling of women. Yet the origins of the driving ban are murky and, as the decree notes, "the original Islamic ruling in regards to women driving is to allow it." Saudi women—and their male allies—have campaigned for years for the right to drive. Over the years, many women have been fined and imprisoned for driving in defiance of the ban.
As my colleague Olga Khazan wrote in 2013, the proscription was both cultural and religious. (The decree states: "[T]hose who who have opposed [allowing women to drive] have done so based on excuses that are baseless and have no predominance of thought.") A Saudi judicial adviser quoted in her story noted: "If a woman drives a car, not out of pure necessity, that could have negative physiological impacts as functional and physiological medical studies show that it automatically affects the ovaries and pushes the pelvis upwards. That is why we find those who regularly drive have children with clinical problems of varying degrees." Here's more:
In 1990, Saudi women began demanding social reforms, including the right to drive, but instead the religious police cracked down harder, formalizing a driving ban that had previously been unofficial.

"The incident catalyzed a moral campaign meant to reinforce the feminine ideal of a pious secluded wife and mother," Jaime Kucinskas, who teaches a course on religion and society at Indiana University, told me in an email. "The state-funded media released a television program showing little girls singing how they were women and did not drive cars."

Today, not only are the country's women prohibited from chauffeuring themselves around, they're also discouraged from traveling alone or using public transportation.
The king's order by no means puts Saudi Arabia's female citizens legally on par with their male counterparts. It says nothing about the Kingdom's controversial male guardianship system, which despite recent modest loosening by King Salman still requires women to secure a man's permission for basic tasks like travel—which seems to include driving. In most cases, moreover, a woman's testimony before a court counts as only half that of a man's, according to the U.S. State Department's 2016 human-rights report on the country. The report cited Saudi Arabia's "pervasive gender discrimination and lack of equal rights that affected most aspects of women's lives."
"Violence against women; trafficking in persons; and discrimination based on gender, religion, sect, race, and ethnicity were common," the report added.
Human Rights Watch, meanwhile, noted that the male guardianship system restricted the movement of its female citizens. "Women regularly face difficulty conducting a range of transactions without a male relative, from renting an apartment to filing legal claims," the organization said.
There have been positive changes for women, too—but they have come slowly. In 2015, Saudi Arabia permitted women to vote and run as candidates in municipal elections. Four Saudi women represented their country at the Rio Olympics. Tuesday's order that could allow women to legally hit top gear is another step in that direction.