An Israeli Scandal With Political Consequences
Sara Netanyahu's indictment is distinct from the prime minister's own legal worries.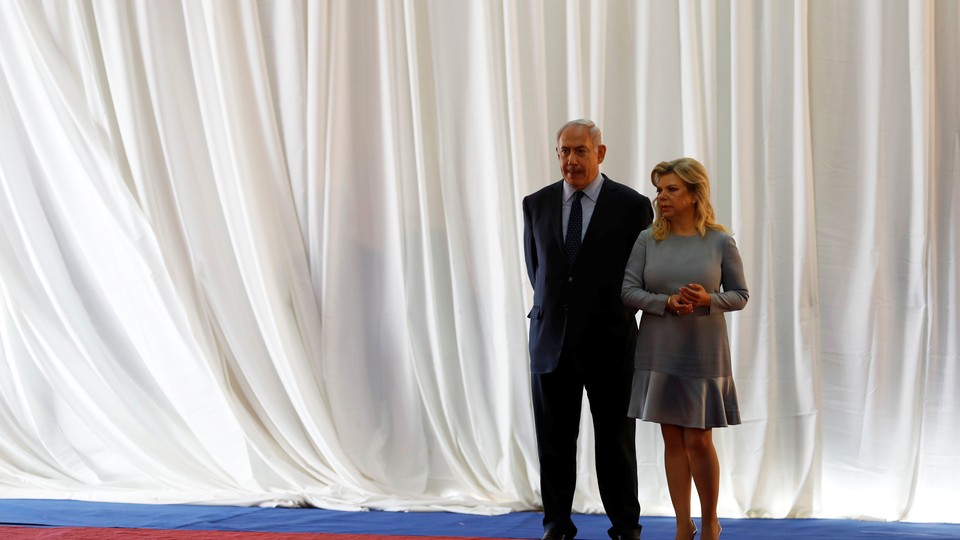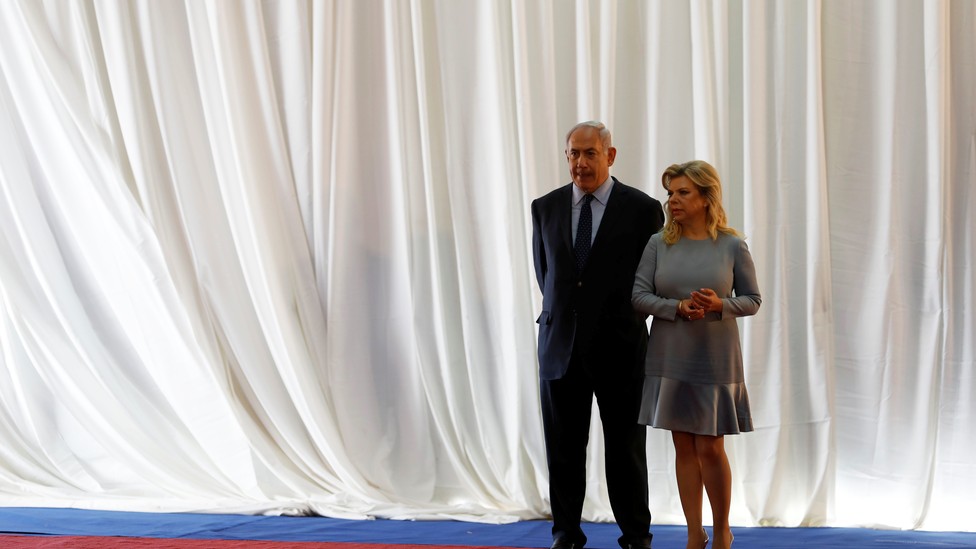 There was "bottle-gate," a scandal over deposits on empty bottles; there were several allegations of abuse made by former household staff; and there were the claims of a shopping spree paid for by a donor. Through them all, Sara Netanyahu, the wife of the Israeli prime minister at the center of those scandals, emerged mostly unscathed and free of legal troubles. Will it be different this time? On Friday, Israeli Attorney General Avichai Mandelblit said he will indict her on charges of fraud and breach of trust. Her alleged crime: spending the equivalent of $102,000 in state funds on catering while claiming falsely the household did not employ a cook.
The Netanyahus have denied any wrongdoing, and say that Meni Naftali, the former caretaker of the prime minister's official residence, padded expenses. Friday's indictment was the culmination of a two-year investigation that was prompted in 2015 by a report from Israel's state comptroller on spending at the prime minister's official residence as well as the family's private home in Caesarea.
Haaretz has more on the latest developments:
The attorney general also announced that three other cases against Sara Netanyahu would be closed. The cases focused on her employment of an electrician at their Caesarea home on Saturdays and holidays, waiters at the official Jerusalem residence and caretakers for her late father. The workers were hired in violation of government regulations and for inflated payments.  
Mendelblit said that it hasn't been sufficiently proven that Sara Netanyahu was aware that the electrician and waiters were employed illegally, or that she was aware that extra payments were made to her father's caretakers from state funds.
The news about the prime minister's wife is also distinct from the prime minister's own serious and mounting legal problems. Israeli media have speculated for weeks that an indictment against Netanyahu on multiple charges related to two cases is imminent.
The details of cases 1000 and 2000—as they are known—have been public for more than year. The first scandal centers on gifts Netanyahu received from a political benefactor; the second involves conversations he had with the publisher of Yediot Aharonot, the Israeli newspaper, that Israeli reports say involved him negotiating favorable media coverage in exchange for using state power to weaken a rival newspaper, Israel Hayom, owned by Sheldon Adelson. Netanyahu has denied wrongdoing in both cases.
As Gregg Carlstrom wrote in The Atlantic in January, such scandals might have been career-enders in a previous era in Israeli politics, but in recent years, corruption and scandal have become more pervasive, and, consequently, less shocking. Here's more:
The Netanyahus have long occupied pride of place in this crowded field of wealth-seekers. In 1994, a Jerusalem paper wrote about the family's penchant for dining and dashing. Their appetites grew after Netanyahu became prime minister for a second time in 2009: a $2,500 contract for gourmet ice cream at their official residence, and a $127,000 bed installed on a government plane so they could nap on the five-hour flight to London. Netanyahu's wife, Sara, has been investigated for stealing patio furniture, and his son, Yair, for accepting free Mariah Carey tickets. None of this seemed to put a dent in the Netanyahu family's political fortunes. But it all made for good headlines.
The Netanyahus have survived their previous scandals. And it's possible they will survive this one, too: The prime minister's approval rating might be at the mid-30-percent level, and there might be more details emerging about his family's spending habits in addition to more legal challenges ahead, but elections are more than two years away. And the Israeli public has shown a remarkable capacity to repeatedly re-elect Netanyahu.