The 'Good Monk' Myth
How the Saffron Revolution, which transformed Burma ten years ago, obscured uncomfortable questions about Buddhist nationalism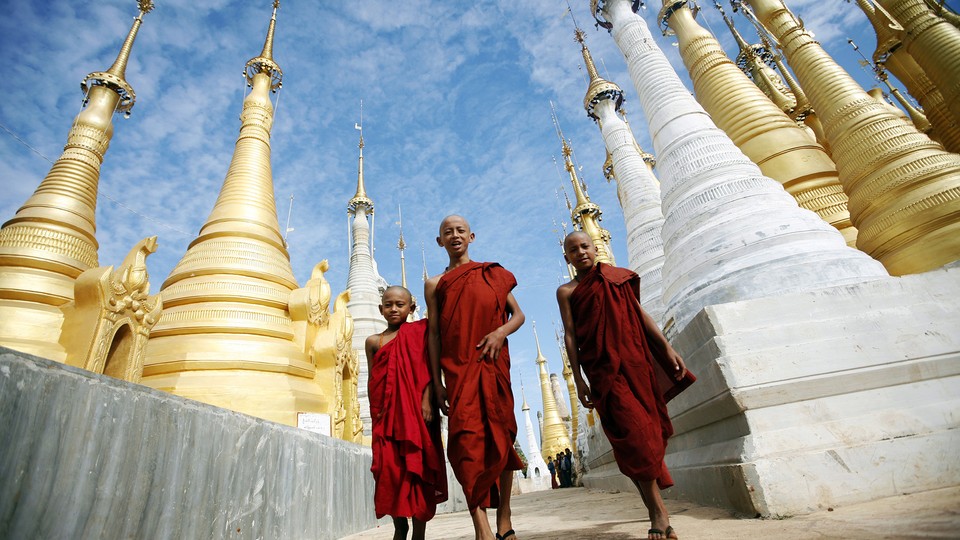 One night in Rangoon last year, I met up for beers with a man who had participated in Burma's Saffron Revolution, which saw tens of thousands of Buddhist monks and nuns protest the former junta, prompting a brutal military crackdown 10 years ago this week. That I was meeting a monk for beers may seem odd, but this one had long since left the monkhood. Still, it felt like a bit of a metaphor for the unexpected ways Burma has changed, and for the country's lack of a fairy-tale ending.
As we sat with other former activists drinking and smoking cigarettes, he talked about his struggle to make a living and about the imperfect state of Burmese democracy. Aung San Suu Kyi had won elections in November 2015, but she was still denied the presidency by the 2008 military-drafted constitution. He wished aloud that more of the people who'd been part of the pro-democracy movement could be in power in the current government, and he reminisced about fighting injustice alongside 80,000 monks during the Saffron Revolution. "I led them," he said, adding ruefully, "I want a real democracy. I want people who sacrificed their lives to be involved in politics. I want the right people to be in the right position."
His frustrated tone suggested, to my ears at least, an uneasy awareness that monks no longer play the role they once did. During the Saffron Revolution, they helped push the country toward democracy, and gained a profile that crystallized into a reassuring myth: Monks in general are peaceful and calm and "good," and Burma's monks in particular are noble stalwarts standing against an evil military regime. But less than five years after Saffron, Burma's monks were already fulminating in the media about the pernicious influence of Muslims on the Buddhist nation, with special invective directed at the Rohingya Muslim minority in Rakhine State, near the border with Bangladesh.
Given the short time between these two periods of Burmese history, was the Saffron Revolution a failure? Or was it simply misunderstood? What happened to the "good" monks who were in it? Are they in cahoots with the "bad" monks—the hardline ultranationalists who frequently make headlines for spreading anti-Muslim sentiment?
The 10th anniversary of the revolution coincides with mounting international pressure for Burma's de facto leader, Aung San Suu Kyi, to address the persecution of the Rohingya minority. Just as Suu Kyi's status as a secular saint is coming under greater scrutiny, so too should the sacred myths of the Saffron Revolution. That doesn't mean taking away the monks' achievements—as some have suggested doing with Suu Kyi's Nobel Peace Prize—but it does mean deepening the understanding of Burma and Buddhism's complex role in a complex country.
The Saffron Revolution probably did contribute to pushing the junta toward the reforms it adopted in 2011, which culminated in the 2015 election victory of the National League for Democracy and its leader, Suu Kyi. But it also contributed to a misunderstanding about the nature of Buddhism in Burma, what Buddhists here cared about, and what they wanted. The story was more complicated than one of Buddhist monks as robe-wearing dissidents who wanted nothing more than an end to iron-fisted military dictatorship. With its photos of overturned alms bowls and courageous monks facing down the mighty Burmese army, the Saffron Revolution obscured a deep-seated fear among Buddhists about the perceived fragility of their faith's future—the feeling that even though Burma was overwhelmingly Buddhist, Islam posed a threat to it.
This feeling, in fact, had been acted upon many times before Saffron. Resentment against Muslims in the country dates back to the colonial era and the British-enabled arrival of large numbers of South Asian workers after the turn of the last century. Since the 1920s, there have been periodic outbursts of violence against the South Asian communities that developed, including the Muslims among them. After independence and the onset of military rule in 1962, General Ne Win booted out hundreds of thousands of South Asians, and the junta began to adopt policies that persecuted the Rohingya. The Rohingya were increasingly cast as immigrants from Bangladesh, despite having generational roots in Rakhine State going back hundreds of years.
"Despite their depleted numbers, hostility towards Muslims bubbled under the surface during Burma's long years of military rule," writes Rosalind Russell in her book Burma's Spring. "Freedom of expression was restrained, but ill feeling had not evaporated." Anti-Muslim sentiment—occasionally erupting into violence—flared in the 1980s and 1990s, and in 2001 after the Taliban blew up the Bamiyan Buddha statues in Afghanistan. Even as the Saffron Revolution was happening, Ashin Wirathu, a monk who would go on to become the face of hardline Buddhist nationalism in Burma, was stewing in jail for inciting anti-Muslim violence back in 2003.
After 2011, things changed amid an uncertain transition. An onerous system of pre-publication censorship was abolished. New freedoms of expression were available as the internet became more widely accessible. Wirathu was released on amnesty. In 2012, intercommunal violence surged in Rakhine, killing hundreds and sending more than 140,000 Rohingya into internal displacement camps. The outbursts were no longer occurring every couple of years, but every year. Buddhist nationalist groups were quick to grab the spotlight, while many non-hardliner monks from the Saffron years never really recovered from the crackdown—if they had survived it at all. They had been forced into exile, or were dealing with psychological problems from their time in prison. Monasteries, which are backed by the state, would not accept them. It wasn't until five years ago that commemorations of Saffron were allowed to take place openly inside Burma.
It would be too simplistic, however, to suggest that there was no ideological overlap between the Saffron monks and their more nationalistic brethren. While many Saffron monks have spoken out against religious violence and in favor of reconciliation, they may share some views with nationalists, especially when it comes to the Rohingya. Mark Farmaner, the director of the London-based advocacy group Burma U.K., told me in an email that when one of Saffron's leaders visited the group's office, he mentioned that the Rohingya should be put into camps until they are deported. The view that Rohingya are outsiders is hardly a rare one, even among pro-democracy activists.
The violence between Buddhists and Muslims after 2011, and the explosion in online hate speech, contributed to the growing influence of Burma's nationalist monk movements. And the increased deprivation in Rakhine contributed to the formation of the Arakan Rohingya Salvation Army, which attacked police posts in October 2016 and August of this year, killing state security forces and unleashing the military in the northern part of the state. Nearly 500,000 Rohingya have now fled to Bangladesh. Anti-Muslim sentiment is once again running rampant.
As the world undertakes a dramatic reexamination of Burma and what had seemed to be its democratic success story, it's worth remembering that a crisis can provoke deeper understanding of a country's history and politics. But this critical assessment shouldn't happen only among curious journalists, academic circles, rights groups, and longtime supporters of Burma's struggle for democracy. It has to happen within the country, too.
Some of that has occurred. In 2013, the Irrawaddy published an article headlined "Two Sides of the Sangha," featuring two interviews with two different monks: one, a prominent Saffron alum, and the other, a member of the two-year-old Buddhist nationalist "969" movement. The Saffron monk was asked in his interview why 969 was getting so popular. He replied bluntly: "Because the authorities concerned haven't taken the necessary action. Plus, even though most of the Burmese are tolerant, there is underlying anti-Muslim sentiment. It's quite similar to what happened in the past, when we heartily supported anyone who said anything bad about the military."
But this kind of self-examination may be limited to the more progressive monks who constitute the remnants of Saffron, and who don't seem to be in a position to vocally challenge the prevailing view. Or maybe they don't want to badly enough, and the "good monk" versus "bad monk" paradigm is yet another myth.