The Misunderstood Roots of Burma's Rohingya Crisis
"This fear is very deeply felt and not understood in the West—and it comes from a real place rooted in history."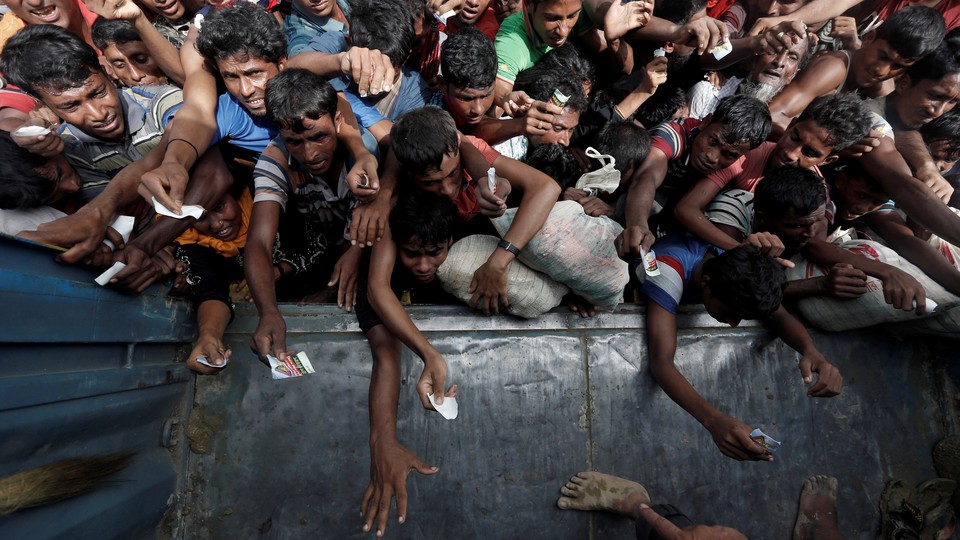 Over the past month, a crackdown by Burma's military has forced more than 400,000 Rohingya Muslims from Rakhine state to flee to neighboring Bangladesh in what the UN human-rights chief has called a "textbook example of ethnic cleansing." The military crackdown was prompted by an attack August 25th by the Arakan Rohingya Salvation Army (ARSA), a Muslim militant group with reported links to Pakistan and Saudi Arabia, on security outposts.
The international community has condemned the violence unleashed by the Burmese military on Rohingya civilians. It has also voiced sharp criticism of Aung San Suu Kyi, the Nobel laureate and de-facto Burmese leader, for, in the view of her critics, not doing enough to protect the Rohingya, who have been stateless for more than three decades. But where humanitarian groups and Western nations see the world's most persecuted minority, the government of Burma (also known as Myanmar) and an overwhelming majority of its people see a foreign group with a separatist agenda, fueled by Islam, and funded from overseas. It's this difference in perception that will make any resolution of the Rohingya issue extremely difficult.
"It gets to this notion of ethnicity in the Myanmar mind that I think the West doesn't quite understand," Derek Mitchell, who served as U.S. ambassador to Burma from 2012 to 2016, said. "We in the international community see the Rohingya as innocent people who just want to call themselves a name and who are uniquely abused for it. And, of course, it's true they are largely innocent and uniquely abused. But to people in Myanmar, the name suggests something much more."
Tensions between the Bengali-speaking Muslims and Buddhists in Rakhine state have existed for decades—some would say centuries—but the most significant inflection point came in 1982 when Burma's junta passed a law that identified eight ethnicities entitled to citizenship.* The Rohingya were not among them, though they had enjoyed equal rights since Burma became independent from British rule in 1948. Almost overnight, they were stripped of their citizenship.
In the years since then, the Rohingya were persecuted, steadily lost their rights, and were the victims of violence. The worst of this violence erupted in 2012 following the rape of a Buddhist woman allegedly by Muslim men. That prompted massive religious violence against the Rohingya, forcing 140,000 of them into camps for internally displaced people. International pressure resulted in the military government agreeing to grant the Rohingya a reduced form of citizenship if they registered themselves as Bengali—not Rohingya. Although many Muslims in Rakhine state were previously indifferent to how they were labeled, the years of oppression, combined with the type of citizenship they were being offered, made the offer unpalatable.
"Activists and leaders in the [Rohingya] community are very protective of that name.  They see it as protective of their identity and dignity after so many basic rights have been taken from them in recent years. The name has also been essential to their international campaign for attention," Mitchell said.
For the Burmese government, the word Rohingya is particularly fraught. This is because if the government acknowledges Rakhine's Muslims as members of the Rohingya ethnic group, then under the 1982 citizenship law—ironically, the same measure that stripped the Rohingya of their citizenship—the Muslims would be allowed an autonomous area within the country. And therein lies the crux of the problem: The Burmese fear a Rohingya autonomous area along the border with Bangladesh would come at the expense of Rakhine territory. The Burmese military, which has cracked down on Rohingya civilians, views this as a possible staging area for terrorism by groups like ARSA.
"This fear is very deeply felt and not understood in the West—and it comes from a real place rooted in Burma's history," Mitchell said.
That "real place" dates back to the aftermath of World War II, when the forebears of the Rohingya appealed to Pakistan, which at the time included what is now Bangladesh, to annex their territory. Pakistan did not do so. Subsequently, many of the Muslims took up arms and fought a separatist rebellion until the 1960s, though vestiges of the rebellion continued until the 1990s.
"So when the Rakhine and others in Myanmar look at what's going on with the name Rohingya, the desire for recognition as an accepted ethnicity, now this militant activity in their name, and calls by some for international intervention, including a safe zone, they see that as a separatist agenda by other means," Mitchell said. "And those caught in the middle are hundreds of thousands of innocent Rohingya."
The Rakhines themselves are an ethnic minority in Burma, though they are predominantly Buddhist, and so share the same faith as nearly 88 percent of the rest of the country.
Indeed, Maung Thway Chun, the editor of a newsweekly for hardline Buddhist nationalists, told Joe Freeman, a journalist based in Rangoon: "[W]e don't want Muslims to swallow our country … They will not finish with attacking just Rakhine. They will also invade Chin State or Irrawaddy region," he said, referring to two states located to the immediate south and northeast of Rakhine. "Then this country will be a Muslim country. It is such a shame for us that the land we inherited from our former generations will be lost in our time."
That may sound absurd in a country with a 4 percent Muslim population, but it's an argument that many Burmese make, pointing to ARSA's growing presence in Rakhine and surrounding areas. Bangladesh has watched with growing concern the group's activity on its soil, and proposed military operations with Burma against it.
The Burmese government, under international pressure, has tried to come up with a solution to this issue, setting up a commission under Kofi Annan, the former UN secretary-general. The so-called Advisory Commission on Rakhine State issued a number of recommendations, including a review of the 1982 citizenship law. Suu Kyi, the country's de-facto leader, embraced those recommendations made on August 25th. But just hours after that report was made public, ARSA carried out its attacks, prompting the military's crackdown, and the subsequent allegations of ethnic cleansing against the Rohingya.
Suu Kyi has been widely condemned for her controversial remarks about the Rohingya, as well as her perceived silence on the violence inflicted upon them. Several commentators have argued the Nobel laureate has lost her moral authority. Her fellow Nobel peace laureates Desmond Tutu and Malala Yousafzai have urged her to protect the Rohingya. Her speech this week was also condemned because she did not mention the ethnic cleansing of Rohingya.
Tom Malinowski, the Obama-era assistant secretary of state for democracy, human rights, and labor, told me he had warned Suu Kyi that "extremist groups will eventually provoke a confrontation as a means of recruiting fighters for violent attacks" and, when they eventually do, "Burma has no defense against groups like al-Qaeda and ISIS." He said he also told Suu Kyi the Burmese military "will willingly fall for that trap [of responding with force against civilian populations], because it can use the ensuing confrontation to rally Buddhists to its side, and thus preserve its authority."
But Mitchell said he found reasons for optimism in Suu Kyi's remarks this week. The Burmese leader repeatedly appealed to the international community to work with the Burmese to find a solution.
"That's an opening," Mitchell said. "To me that's an opportunity."
---
* This article originally misstated the number of Burmese ethnicities entitled to citizenship as 135. We regret the error.