The Diplomat Who Could Get North Korea's Attention
There's a chance for engagement as well as pressure.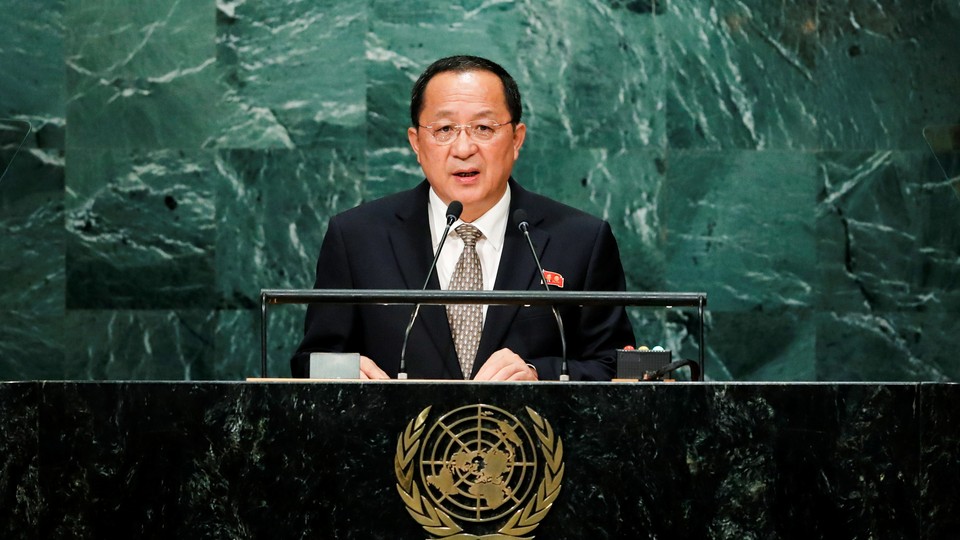 Earlier this week, the passage of yet another United Nations Security Council resolution imposing sanctions on North Korea provided the Trump administration with more on the pressure side of its stated "maximum pressure and engagement" strategy to deal with Pyongyang. And then North Korea responded to the pressure, which Trump has admitted is still somewhat short of maximum, as it frequently has in the past—with another missile test. So perhaps some attention to the engagement side is in order, especially since North Korea's top diplomat, Foreign Minister Ri Yong Ho, is slated to visit the United Nations General Assembly next week. If he met with Ri, Secretary of State Rex Tillerson could show that he is serious when he talks about a diplomatic solution to the current crisis.
Maybe the North Koreans won't agree to talk. But while Trump's "maximum pressure and engagement" makes for a better sound bite than his predecessor's "strategic patience," it is currently leading to the same place, a policy dead end. Sanctions aren't working, and the Chinese can't be pressured to cut off their troublesome ally entirely. Threatening rhetoric from the White House is ringing increasingly hollow. Kim Jong Un is not intimidated. After all, the North Koreans are undisputed masters of hyperbolic threats—asserting, for example, that the "U.S. should be beaten to death like a rabid dog" after the UN passed its latest round of sanctions. And America's threats may prove counterproductive, straining U.S. alliances in Northeast Asia, with South Korea publicly stating its opposition to military action at a time when Washington, Seoul, and Tokyo should be moving forward in lockstep.
So how to break the counterproductive cycle of escalation? This is where Ri comes in. At the moment, Ri may offer the best chance for finding a way forward because of his close ties to the ruling Kim family. Ri was promoted to the position of foreign minister—as well as important positions as a member of the Korean Worker's Party and an alternative member of the North Korean Politburo—in May 2016. I first got to know him over 20 years ago during negotiations with the North under the Clinton administration; subsequently observed Ri as Pyongyang's ambassador to Great Britain when he argued with European critics of North Korea's human-rights record; and then met him, after he became vice foreign minister in 2010, in private "track 2" discussion sessions between North Korean government officials and former U.S. officials.
Ri is not a typical communist bureaucrat. He has impressive diplomatic skills. Smart, thoughtful, and articulate, he is a careful listener who often asks perceptive questions and chooses his responses with care. He can be both reasonable in trying to understand the other country's point of view and tough in defending North Korea's interests. Moreover, he is clearly "connected." A protégé of Kim Jong Il's principal foreign-policy advisor, Ri is also the son of Kim the elder's deputy chief of staff. He is an expert on the United States and disarmament issues—his office phone rings constantly with questions from other North Korean officials when Washington makes pronouncements on the nuclear issue or U.S. officials visit the region.
A meeting with Foreign Minister Ri would be an important opportunity for the Trump administration to directly communicate its views to a North Korean official with ties to Kim Jong Un. With the added leverage of the new sanctions, Tillerson would be in a strong position to send a tough message not just on behalf of the United States but also that of the international community. He could also offer a path away from conflict and towards resolving the crisis, in the words of the new UN resolution, "through peaceful, diplomatic and political means."  After all, just two days after her speech asserting that North Korea is "begging for war," UN Ambassador Nikki Haley allowed that "North Korea has not yet passed the point of no return," leaving the door open a crack for dialogue. If the secretary of state relays both messages directly to a senior North Korean official who can pass them to Kim Jong Un, it will go a long way toward preventing misunderstanding and miscalculation.
While Tillerson has been subject to criticism for his performance as America's top diplomat, he is nevertheless the right person to deliver these messages. He was the driving force behind quiet back-channel contacts with North Korea that resulted in the release of Otto Warmbier—the American student held in detention—last spring. And he has repeatedly and publicly emphasized that the U.S. is not seeking regime change in Pyongyang and is open to a peaceful diplomatic solution. Tillerson has also been tag-teaming Pyongyang with Secretary of Defense James Mattis, who has taken a tougher but still measured supporting public line. He could certainly take officials from the Pentagon to emphasize that point, as well as a few from the National Security Council to show that the initiative has the full backing of President Trump.
If the meeting is successful, it could jump-start new, more detailed talks designed to explore peaceful paths forward. Those talks would not be easy, but they could also end the escalating tensions if the U.S. and North Korea can agree on an initial set of "confidence-building measures." One possibility is a North Korean moratorium on nuclear and missile tests in exchange for modifications to large-scale joint U.S.-South Korean military exercises. While many analysts argue that such modifications would undermine the alliance's ability to defend itself, in fact, it is quite possible to design a program of smaller, less threatening exercises that would still do the job. On a political level, initial talks could also help further solidify an international coalition aligned against the North, bolstering ties with America's South Korean ally—which is the party most acutely interested in avoiding the horrific consequences of conflict—and with China and Russia, both of whom have urged the U.S. to pursue a dialogue with Pyongyang.
But even if the meeting doesn't set up this kind of breakthrough, there's no harm in trying. The Trump administration will have delivered its tough message knowing it went straight to Kim Jong Un. It will have demonstrated to the Chinese and Russians that the North Koreans aren't willing to play diplomatic ball. And it will have further prepared the ground for returning to the "maximum pressure" side of Trump's policy equation. That would likely mean escalating sanctions against North Koreas well as China—both internationally and unilaterally—as well as further steps to strengthen American alliances in Northeast Asia. In that context, short-term measures to bolster the U.S. military presence will be important to deter Pyongyang and reassure U.S. allies during the current crisis. But Washington might also launch a comprehensive, systematic review, in cooperation with South Korea and Japan, of its military posture in the region, focused on the long-term objective of coping with a nuclear-armed North that may be around to stay for some time.
Critics will argue that a Tillerson-Ri session would amount to appeasement. Trump himself recently accused the South Korean government of the same sin for its interest in dialogue with Pyongyang. But diplomacy can serve an important role in advancing tough policies, a reality recognized by statesmen such as Winston Churchill, who famously said that "meeting jaw to jaw is better than war," and Yitzhak Rabin, the Israeli general and prime minister who started the Oslo peace process and once wisely observed: "You negotiate peace with your enemies, not your friends."
Looking back at the last two decades of U.S.-North Korean relations and how we arrived at this sorry state of affairs, North Korea is of course to blame for most of what has happened. But Washington has repeatedly missed opportunities for high-level meetings with North Korea that might have made a difference in the subsequent downhill flow of history. What if President Clinton had visited North Korea in 2000 at the end of his second term, as it seemed he might, to seal a deal limiting North Korea's ballistic missile program? That could have aborted the danger of a North Korean ICBM that we face today. What if Secretary of State Condoleezza Rice had attended the 2008 performance of the New York Philharmonic Orchestra in Pyongyang—also meeting Kim Jong Il—rather than dismissing the event as "just a concert"?  Would the two countries have avoided the downward spiral in relations that thereafter led to the second North Korean nuclear test in 2009 and the Obama administration's policy of "strategic patience"? Maybe not. But in retrospect it's hard to see how they would have made things worse.
Similarly, a Tillerson-Ri meeting may not in the end prove an important milestone in U.S.-North Korean relations. However, one meeting could make all the difference, particularly in view of the current drift towards tension and confrontation. And we will never know if it never happens.