North Korea's Bitcoin and Kenya's New Railway: The Week in Global-Affairs Writing
The highlights from seven days of reading about the world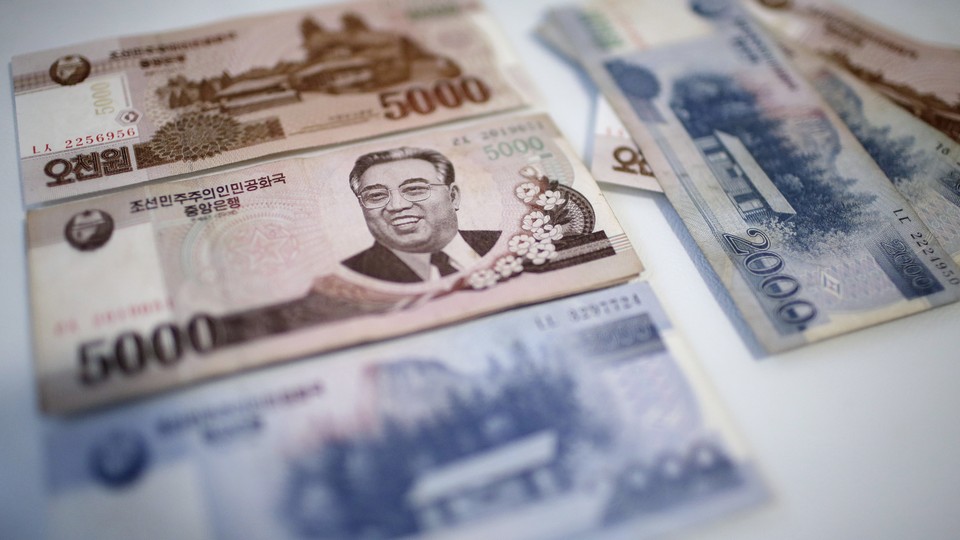 North Korea Is Dodging Sanctions With a Secret Bitcoin Stash
Yuji Nakamura and Sam Kim | Bloomberg
"North Korea appears to be stepping up efforts to secure bitcoin and other cryptocurrencies, which could be used to avoid trade restrictions including new sanctions approved by the United Nations Security Council.
Hackers from Kim Jong Un's regime are increasing their attacks on cryptocurrency exchanges in South Korea and related sites, according to a new report from security researcher FireEye Inc. They also breached an English-language bitcoin news website and collected bitcoin ransom payments from global victims of the malware WannaCry, according to the researcher.
Kim's apparent interest in cryptocurrencies comes amid rising prices and popularity. The same factors that have driven their success—lack of state control and secretiveness—would make them useful fund raising and money laundering tools for a man threatening to use nuclear weapons against the U.S. With tightening sanctions and usage of cryptocurrencies broadening, security experts say North Korea's embrace of digital cash will only increase."
***
Riding the Madaraka Express
Melissa Lefkowitz | Roads & Kingdoms
"The Standard Gauge Railway is the fastest train Kenya has ever seen. It operates at an average of 75 miles per hour. This is nearly double the speed of the country's only other train line, the now-defunct Kenya–Uganda Railway, built in 1901 during the colonial era. As if to emphasize the point, the SGR opened 18 months ahead of schedule on Kenya's annual anniversary of self-rule: Madaraka Day on May 31. The train line, which has been labeled the Madaraka Express, has been sold out every day since.
The railway was primarily built to help ease the transport of 22 million tons of imports, which arrive every year at Mombasa's ports and are hauled, mainly on those passing cargo trucks, to destinations around Kenya and as far away as the Democratic Republic of Congo and Rwanda.
Despite its obvious benefits, the new train line, the country's most expensive infrastructure project to date, is controversial. In 2014, President Uhuru Kenyatta signed a $3.8 billion contract with the China Roads and Bridges Corporation, a Chinese state-owned construction company, to build phase one of a railway that will eventually extend to Uganda, Rwanda, South Sudan, and Ethiopia. The disputes started almost immediately: overfinancing, land acquisition, and the project's environmental impact."
***
After Multiple Invasions, the U.S. Army Is Getting Tired of Liberating Atropia
James Marson and Julian E. Barnes | Wall Street Journal
"'Candidly,' says Lieutenant Colonel Joe Buccino of the 82nd Airborne Division, a veteran of multiple Atropia actions, 'having liberated that place four times in 15 months, it is about time we let the Atropians provide security for themselves.'
Atropia's problem, it seems, is reality. It keeps interfering with an elaborately constructed military-training scenario.
The U.S. Army's training command in 2012 developed a rich back story for various ersatz countries in its war games. The fictional country of Atropia, according to the playbook, is a pro-western dictatorship. The Army ordered its training centers adopt the scenario.
Soldiers, like Colonel Buccino, soon tired of rerunning the same old script. Bigger problems with Atropia arose when some European U.S. allies balked at the idea of propping up faux dictators—even if the blood on their hands was only stage paint."
***
The View From Kabul On Sept. 11, 2001
Hannah Bloch | NPR
"When the planes hit the Twin Towers two days later, it was close to sundown in Kabul. TV was banned, so Afghans couldn't see the images that were horrifying the rest of the world. It was hard to absorb the enormity of the event. Being in a place so isolated from the world felt like being underwater.
Afghans had little idea of what the World Trade Center was—it could have been a big bazaar—and the Twin Towers at the southern end of Manhattan had to be described. The best comparison I could come up with was to Afghanistan's two colossal Bamiyan Buddha statues, which the Taliban had blown up six months earlier."
* * *
Where's Rex?
Robbie Gramer and Dan De Luce | Foreign Policy
"[Nikki] Haley's high profile on pressing international issues, including Iran and North Korea, raised fresh questions about the influence and political future of the secretary of state. Tillerson has been strangely absent from the public spotlight, even amid mounting tensions with North Korea, and Haley has stepped in to fill the void."
* * *
Inside the Suwalki Gap
Timothy Fadek | Roads & Kingdoms
"On September 14th, Russia will hold one of its biggest military exercises since the Cold War. Tens of thousands of military personnel are expected to participate in the Zapad 17 drill, set to take place over seven days in Belarus, Kaliningrad, and Russia.
In the Suwalki Gap, the 64-mile border between Poland and Lithuania, tensions are high. This is the only border the Baltic states share with the rest of NATO. After Russia's annexation of Crimea in 2014, some fear that the three countries (Lithuania, Latvia, and Estonia) could be next. Taking the Suwalki Gap would cut them off from their European NATO allies.
I spent two weeks in the Suwalki Gap to get an early look at NATO's response to the Russian deployment, which some analysts believe is there to stay."