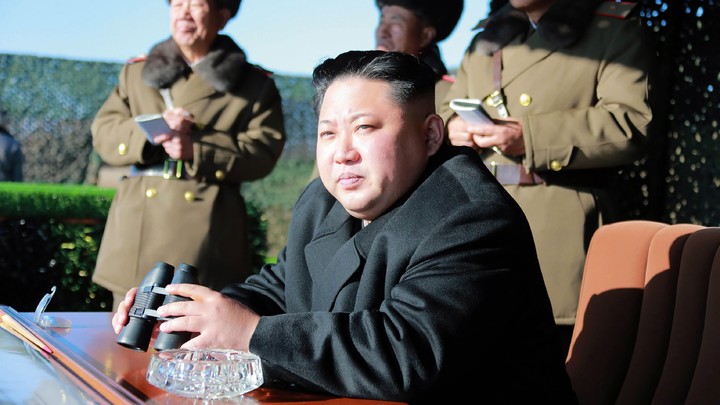 North Korea on Thursday for the second time in recent weeks flew a ballistic missile over Japan. The launch came days after the United Nations Security Council passed its harshest round of sanctions yet on the country, and is the first missile test the North has conducted since its sixth nuclear test on September 3. (By coincidence, the launch occurred around the same time that Air Force General John Hyten, the commander in charge of America's nuclear forces, told reporters he "had to assume" that test was of a hydrogen bomb, as North Korea claimed.) The September nuclear test was North Korea's most powerful to date; the missile tested Thursday, The Diplomat's Ankit Panda pointed out, flew further than any other the North has tested so far. With each incremental advance, the North gets closer to its stated goal of being able to target the United States with a nuclear weapon—and may have already reached it.
Pyongyang is estimated to have about 60 nuclear weapons. But for it to be able to use their destructive power—or gain the deterrence it says it wants—it needs the ability to miniaturize a warhead that can be fitted onto an ICBM. The Japanese government estimated last month that the North had succeeded in miniaturizing a nuclear warhead—a significant development that would allow it to put the entire United States in its nuclear crosshairs.
As I reported recently, in 2016, North Korea tested 26 missiles; 16 of those tests were successful and 10 failed, according to a database maintained by the Nuclear Threat Initiative. So far this year, there have been 19 tests—counting Thursday's: 13 successes, five failures, and one unknown. Not only is North Korea showing its increasing ability to successfully test missiles—62 percent success rate in 2016 vs 68 percent so far this year, including Thursday's—but it is also well on its way to exceeding the number of tests it carried out last year. This suggests that the North isn't really worried about its supply of missiles; in other words, it's now making its own.
And despite the frequency of tests, overflying Japan is an escalation. As my colleagues Yasmeen Serhan and Kathy Gilsinan noted when a North Korean missile overflew Japan in late August—the first time such an event had occurred in eight years—the North's technical ability to do so had been known before. But the message then, as now, may have been more political than technical. They wrote:
James Acton, the co-director of the nuclear policy program at the Carnegie Endowment for International Peace [said]: "I think you have to look at this test more than anything else as a signal to the United States." ... Having warned North Korea in unusually bellicose terms not to threaten America earlier this month, President Donald Trump at a recent rally noted that he thought Kim Jong Un was beginning to respect the United States, given what seemed to be a pause in North Korea's missile testing. That apparent pause ended last Friday as the United States and South Korea engaged in annual joint military exercises that the North has long viewed as a provocation. (North Korea has tested missiles during such exercises in the past.)
Still, the missile tested Thursday, like the one tested in late August, followed a flight path over northern Japan, and away from the American territory of Guam, which North Korea's Kim Jong Un had threatened earlier in the summer. The provocation now as then may be calibrated to avoid direct confrontation with the United States, though the U.S. has maintained it hasn't ruled out any option for dealing with North Korea.
North Korea's nuclear and missile technology is by no means state of the art. For decades, it relied on technology and parts from the Soviet Union, Russia, China, Iran, and Pakistan. So the technology is tried and tested, and the North, in the face of international sanctions, now seems to be able to make the parts needed for its ambitious military programs. (Nor is North Korea's economy as hamstrung as many in the West believe, according to Mitsuhiro Mimura, a Japanese economist, who has visited the North 45 times since 1996. In an interview with 38 North, the North Korea-focused website, Mimura called the North the "poorest advanced economy in the world—but what's important to understand is that, while it may be poor, it is still an advanced economy.")  
International sanctions on the North, while ambitious in scope, are relatively recent—and it's not clear they are particularly effective. North Korea has a proven track record of sanctions evasion. There's a history of the sanctions, including those imposed by the United Nations, being subverted. So far the U.S. goal of imposing an oil embargo remains unrealized; the U.S. had to drop it from the most recent sanctions package to get Russia and China's approval in the Security Council vote.
Though Beijing too is growing increasingly annoyed with Pyongyang and has twice voted for stronger sanctions in the Security Council in recent weeks, it ultimately wants dialogue to resolve the tensions. Beijing's freeze-for-freeze proposal, in which the U.S. and South Korea would suspend military exercises in exchange for a North Korean moratorium on testing, has been labeled as "insulting" by Nikki Haley, the U.S. ambassador to the UN. Russia, which is another of the five veto-wielding UN Security Council members—France, the U.K., and the U.S. are the others—also favors dialogue. Russian President Vladimir Putin dismissed the efficacy of sanctions, saying North Korea would "rather eat grass than abandon their [nuclear weapons] program unless they feel secure," though Russia nevertheless voted in favor of the latest round of sanctions.
Which leaves the U.S. in the position of trying to cobble together a diplomatic solution to the crisis, with partners who might view the situation in the same way it does, but offer an entirely different prescription. Haley has been advocating a tough response to the North at the UN. In Washington, when Rex Tillerson, the U.S. secretary of state, was asked recently if he had "any response to North Korea's nuclear test," he replied: "Oh, we'll have one." After Thursday's missile test, the world is still waiting.
We want to hear what you think about this article. Submit a letter to the editor or write to letters@theatlantic.com.