The Smartphone App That Tells You An Earthquake Is About to Hit
A deadly quake in Central Mexico on Tuesday was yet another test for the country's sophisticated earthquake warning system.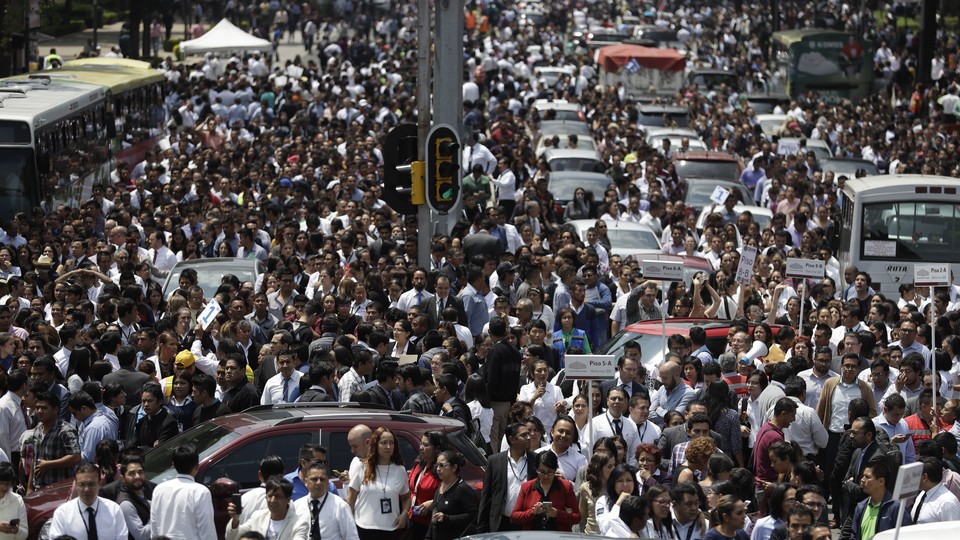 Updated at 8:04 a.m. ET
More than 200 people are dead after a magnitude 7.1 earthquake struck Mexico on Tuesday, the anniversary of the 1985 quake that killed at least 5,000 people. It was the second major earthquake in the region this month. Just 12 days ago, Mexico City's earthquake-warning sirens blared ahead of an 8.1-magnitude temblor—and many Mexicans reacted as they are by now accustomed to when the alarm went off Tuesday.
The warning system, which has been in place since the early 1990s, is linked to a complementary smartphone app used by millions of Mexicans.
The U.S. Geological Survey said the quake's epicenter was five miles southeast of Atencingo, in central Puebla state, at a depth of 32 miles. Details of Tuesday's quake are still emerging, but videos and images posted on social media showed fleeing people, collapsed buildings, and smoke emerging from structures. The mayor of Mexico City, where the quake was also felt, said many people are trapped in the rubble.
In an odd coincidence, the quake struck just hours after Mexicans participated in earthquake drills to mark the anniversary of the 1985 Mexico City earthquake. It was also the second powerful quake to strike this month: an 8.1-magnitude temblor that hit Chiapas on September 7 killed 98 people. Mexico has a rash of major quakes in its recent history. Tuesday's was the 14th earthquake greater than 7.0 magnitude in Mexico since 1985. None of the quakes since that period have had the same devastating impact as the one more than three decades ago, even if several of them, including the one on September 7, were at least as powerful, if not more so. One reason for this: improved building codes.
The codes are strictly enforced in Mexico City—which is particularly vulnerable to the impact of faraway quakes because it's built on a dried-out lake bed—and other major cities. As the Christian Science Monitor noted in 2003, after a deadly quake killed 25 people:
Millions of dollars have been spent to reinforce centuries-old structures across the city, and any new construction must comply with strict quake protection measures.

Teams of rescue workers, police, hospital staff, and firemen practice earthquake simulations throughout the year so they can respond immediately.

City workers from the subway system to the power grid are assigned specific checklists they must work through the instant any seismic activity occurs.

They are understanding orders to repair any damage immediately, even in the event that telecommunications are down and they can not reach their superiors.

Meanwhile, a state-of-the-art alert system beams emergency messages to the capital every time major seismic activity is detected along coastal fault lines. Warning sirens then sound, giving city residents up to a minute's warning that a quake is coming.

Perhaps most important, massive public-awareness campaigns have trained Mexico City residents how to react when they hear the sirens: Get outside quickly and stand clear of any structure or power cables that could fall.
Many of those systems put in place have proved invaluable in the years since the 1985 quake. For instance, during the September 7 quake, the early-warning system, called SASMEX, which relies on sensors installed along Mexico's western coast, gave residents more than a minute's warning of the impending quake, likely saving lives. That system has been in place since the early 1990s; a complementary smartphone app is used by millions of Mexicans.
This sort of early-warning system is particularly useful outside the major cities where building codes may not be as well enforced. But as CityLab pointed out, poorer states like Chiapas, where 16 people were killed in the September 7 quake, aren't part of the system. (The CityLab piece also noted that the SASMEX system needs an overhaul.)
The southern state of Oaxaca bore the brunt of the earlier September quake, and the damage in the town of Ixtaltepec prompted one state official to tell The New York Times: "We have no idea how we are going to rebuild the entire town." There have been warnings for years about this looser enforcement of building codes in some parts of the country. The Guardian pointed out in 2015:
Yet, in the peripheral zones, beyond the tourist's reach, informal settlements continue to proliferate. There, codes and regulations are irrelevant. Residents build with whatever materials they can find and afford, and they continue to struggle to gain access to basic services such as water and electricity. For all the improvements of the last 30 years, roughly 60% of the city is made up of these unregulated, informal and vulnerable zones.
The newspaper continued: "The growth of these settlements over the last three decades attests to the persistence of poverty and inequality in Mexico City—and as a result, its vulnerability to its next big earthquake." This month's two quakes, the accompany devastation, and deaths illustrate just how vulnerable it is.