How Two Cities Encapsulate the Battle for Germany's Identity
The tension between Leipzig and Dresden represents a national struggle, which will come to a head in elections on Sunday.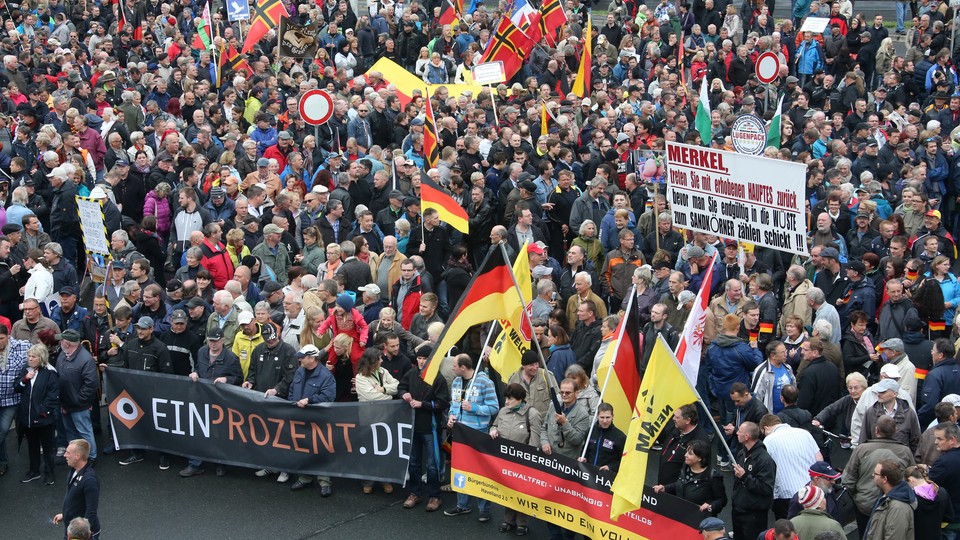 Last time Germany held federal elections, back in 2013, refugee policy was barely an issue. Now, with the country gearing up for elections on Sunday, the refugee debate has become a defining feature of German society.
In 2015, Chancellor Angela Merkel opened Germany's doors to refugees. One eastern state in particular soon registered its unease with the policy, earning a reputation for resistance. Saxony—the birthplace of the anti-migrant group PEGIDA and stronghold of the anti-migrant political party Alternative für Deutschland (AfD)—saw more xenophobic incidents per capita than anywhere else in Germany in 2016. Refugee shelters were set on fire and buses carrying Syrian newcomers were mobbed.
But within the state itself, division reigns. Saxony's two biggest cities—Dresden and Leipzig—have come to represent the two sides of the refugee debate unfolding nationwide. Dresden, apparently worried that the challenge of integration is too great and that true German identity is in danger, has embraced the PEGIDA movement and become associated with its weekly Monday marches. Leipzig, meanwhile, has become home to radical-left wingers and formed a center of support for the Refugees Welcome movement. Activists' sometimes-violent opposition to the right-wing AfD party led Breitbart News to label the city "a hub for left-extremist political terror." Sometimes branded as "The New Berlin" in travel sections, Leipzig aligns itself with the country's left-leaning capital—unlike Dresden, which shares its conservative attitude with the small towns and villages of the Saxon countryside.
Mark Gärtner grew up in one of these villages, where neo-Nazi networks sometimes have deep roots. He used to have friends with strong right-wing views, he told me. "Back then I thought I could convince them to my way of thinking—just by talking!" he said, laughing and shaking his head. "I failed. I got to know 'alternative facts' far earlier than Kellyanne Conway used the term."
Gärtner, 27, now works at the Dresden-based Saxon Refugee Council. "Dresden has a far more rightist population than Leipzig," he said. "In middle-class Dresden, racism is far more accepted. In Leipzig, people are much more liberal."
He believes Dresden suffers from a lack of support for the people who embrace refugees. "There is a lethargy here," he said. "People don't take a stance against PEGIDA. They might have political views, but they are not politicized."
PEGIDA continues to meet every Monday in Dresden's old city. There are counter-protests, but not enough to stamp out the weekly demonstrations. When PEGIDA and the AfD decided to appear at a rally alongside each other for the first time back in May, they chose Dresden as their location.
In Leipzig, the AfD still holds campaign rallies, and LEGIDA (PEGIDA's Leipzig branch) still organizes protests. But right-wing activities are met with overwhelming counter-demonstrations, and visible far-right support has dwindled.
"The counter-protests were always bigger than LEGIDA," said Juliane Nagel, a politician for the far-left Die Linke (The Left) party, who was born, raised, and now works in Leipzig. "That's the tradition in Leipzig—people go out on the street when Nazis protest. The atmosphere is better here than in other towns in Saxony. More people are open-minded with migrants. In Dresden, it's the opposite."
Online, the "NO LEGIDA" Facebook page is liked by 30,000 people, whereas LEGIDA's fanbase pales in comparison at 2,000.
Nagel believes the city's strong stance against right-wing extremism reflects local politics. "The mayor's office is often part of the counter-protest," he said. "It's important that official politics send a clear message." When LEGIDA marched through Leipzig in 2016, the counter-protests were led by the city's mayor, Burkhard Jung, flanked by banners that read "No PEGIDA."
Leipzig's leftist activists have become targets of attacks. In January 2016, more than 200 far-right extremists ransacked Connewitz, a Leipzig district with a strong antifascist presence. And this year, an unknown person fired shots at the office of Nagel, injuring no one but leaving bullet holes in the window.
With only one hour's drive between them, Leipzig and Dresden influence one another. In Leipzig, too, refugees experience discrimination. "There are a lot of Nazis," said Mesbah Mohammadi, a refugee from Iran. "You can see them everywhere. Once I was cycling on my bike, then a Nazi guy just threw another bike in my face. How did I know he was a Nazi? Because then he did a Hitler salute."
While Leipzig is not free from right-wing influence, Dresden is not free from the left's.
I spoke to one Afghan man from Kabul, the capital of Afghanistan. He heard rumors of Dresden's PEGIDA marches while still living in a refugee camp, before he was rehoused. "It was not my choice to go to Dresden," he told me. "Before I arrived I heard about the Monday demonstrations from another Afghan. He told me the city is against refugees and I was a bit worried."
That was before he discovered the Montagscafé, an open meeting for locals and refugees that takes place on Mondays—the same evening as PEGIDA rallies. "This area," Ali gestured around him to Neustadt, a left-wing area with a bohemian atmosphere, "is an open place where everyone is welcome, including people from different countries."
Since moving to Dresden in February 2016, the former English teacher said he has experienced two xenophobic incidents and has noticed that people look at him differently. Still, he is hopeful: "Although Dresden has a bad image, it has the capability to work on it," he said, speaking outside the theater where he currently works. "Even in 2015, I heard the atmosphere was very different. I think it has changed for the better."
Social scientist Dietrich Herrmann agrees that Dresden is changing. "One interpretation of PEGIDA is that it exists because of change," Hermann said. "The minority feel they are being left behind. They feel Dresden is not Dresden anymore because there are so many foreigners and so many Muslims. While they represent only a minority, this minority is becoming more aggressive because they realize they cannot hold up this change."
As Leipzig and Dresden compete to define east Germany's identity, the tension between the cities also represents a national struggle. Sunday's election could mark a turning point in that battle. Polls show that Merkel will win a fourth term as chancellor. But they also suggest that the AfD could take around 10 percent of the vote, making it the first far-right party to enter parliament in the postwar period—a signal that the political landscape is polarizing. With noise from the fringe set to grow louder after the election, Germany still has to decide what kind of country it wants to be.