Will the Splintering of France's National Front Help or Harm It?
Marine Le Pen's right-hand man has quit the party, a move that will impact its efforts to rebrand.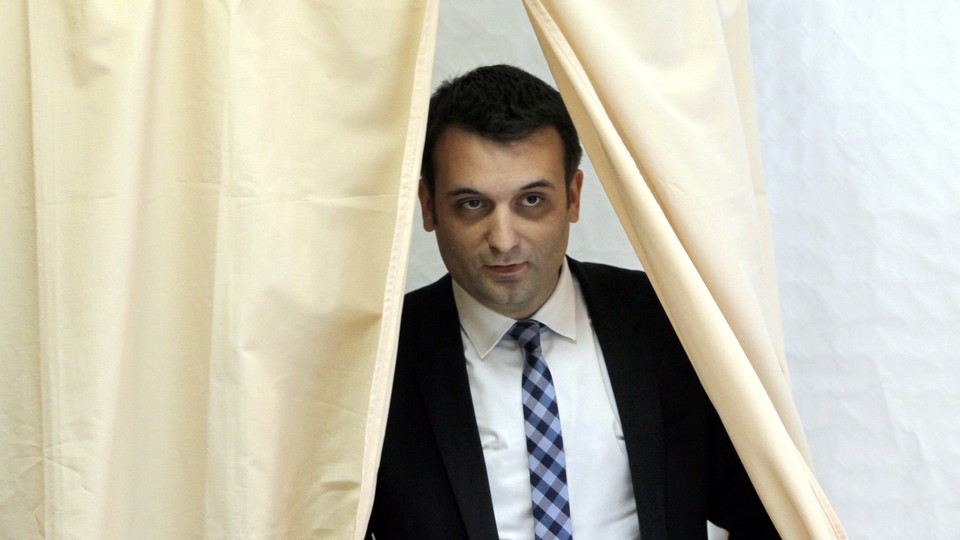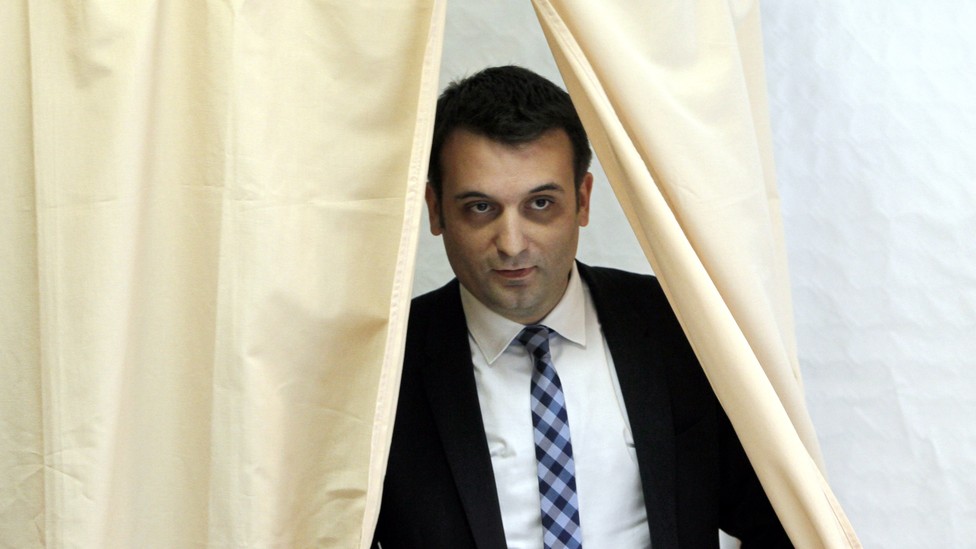 Marine Le Pen warned recently that big changes were coming to her far-right National Front (FN) party, but she didn't say they would happen so soon. On Thursday, key aide and FN Vice President Florian Philippot announced his decision to leave the party, in a move he says was prompted by internal divisions.
"They told me that I was the vice president of nothing," Philippot told France 2 Thursday, adding: "I don't like ridicule, and I have never liked doing nothing, so of course I am leaving the National Front."
As Philippot left, he took a group of key allies with him. To hear him tell it, the 35-year-old FN stalwart was stripped of his official duties as head of strategy and communications after he refused to step down from his role as president of "The Patriots," a think tank he launched within the party in May. Though Philippot described the group as a "new political force" supporting Le Pen, the far-right leader called it a "conflict of interest," and demanded he quit one or the other. "I asked Florian Philippot to choose between the two," Le Pen said Wednesday. "I will meet him, and if he does not choose, I will do it for him."
The group isn't the only source of tension to appear within the party since its failed bid for the presidency against independent centrist Emmanuel Macron. Benoît Dillet, a teaching fellow at the University of Bath, told me the party also grew divided over ideological issues. "The first is very much on this idea of whether the Front National will remain a far-right party or not," he said. "The second is whether the FN should ask to leave the European Union, or at least have a referendum."
The latter is an important issue to Philippot, who is credited as being the architect of the FN's anti-EU and anti-eurozone platform. Though Philippot has stood by these policies (he previously threatened to quit the FN if it backtracked on either), some within the party blamed them for driving voters away from Le Pen, and argued that the party should instead focus its messaging around immigration and cultural identity. Indeed, 72 percent of French voters surveyed in the months leading up to the election said they opposed leaving the eurozone; 44 percent said they were "very opposed."
Though Philippot's exit could give the FN an opportunity to shift away from its less popular euro-skeptic policies, the party also runs the risk of reverting back to its more extremist elements.
"Philippot has been instrumental in helping the party to rebrand and detoxify—it's for this reason that Le Pen has kept him close throughout her leadership despite marked opposition to Philippot across the party," Dr. Rainbow Murray, a professor of politics at Queen Mary University of London, told me. "The only reason why hardliners tolerated the party's more moderate messages was the promise of electoral gains. When these promised gains largely failed to materialize, support for Philippot's rebranding rapidly withered."
Much of Philippot's efforts to modernize the party involved toning down its historically homophobic and xenophobic elements. Himself gay, Philippot led the FN's courtship of LGBT voters—no small task for a party whose founder once called homosexuality a "biological and social anomaly." As the Guardian reported, he was also credited with banishing open expressions of racism and anti-Semitism within the party (though the FN's long history of Holocaust denial, paired with Le Pen's recent comments denying France's involvement in the roundup of French Jews during World War II, have complicated the latter).
Without him, Murray said, Le Pen's ability to soften the FN's more extremist edges could be more challenging. "This might bolster those in the FN who want to move further to the right and reclaim their own distinctive identity," she said. "The risk now is that the FN will once again become a toxic brand that alienates most voters, allowing more moderate right-wingers to return to the Republican fold and denying the FN the opportunity to be the major opposition to Macron that they had claimed to be."