Germany's Far-Right Populists Have an Infighting Problem
What happens when the AfD gets to the Bundestag?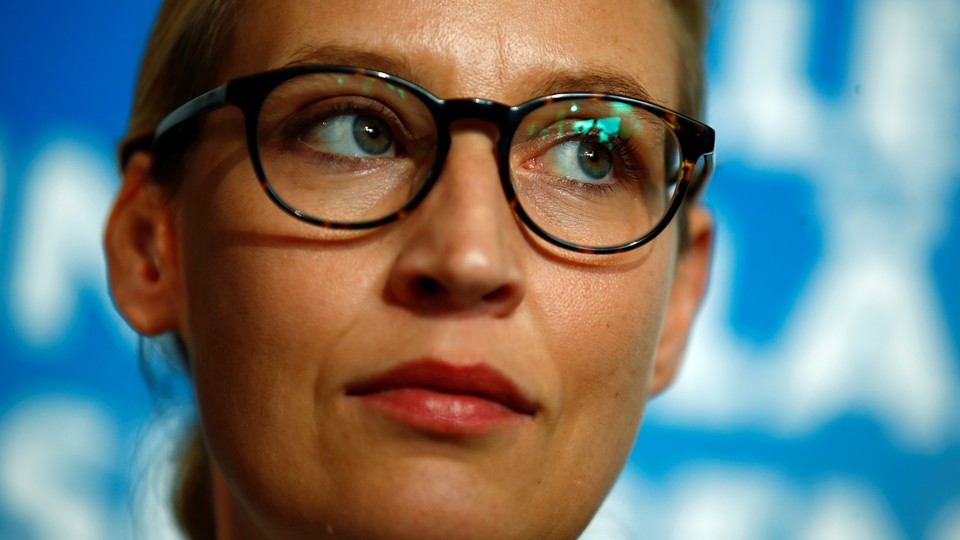 Through much of last year, Germany's centrist parties feared that the wave of right-wing nationalism that has swept across Europe in recent years would finally crash upon their shores. That moment seems to have arrived. Barring any last-minute developments or major shifts in the polls, Germany's far-right Alternative für Deutschland (AfD) party is on track to clear the five percent threshold needed to win seats on the federal level in the upcoming elections on September 24th—a first for the party: While it holds seats in 13 of Germany's 16 state parliaments, it has never held any in the Bundestag.
Founded in 2013 by euro-skeptic intellectuals and economists, the anti-immigrant, populist AfD pounced on Chancellor Angela Merkel after her open-door policy led to an influx of refugees coming into Germany in 2015. The party received a jolt following the country's refugee crisis, but its double-digit surge in the polls evaporated earlier this year once Merkel adopted more hardline views, including support for a burqa ban, and brought the situation under control. Still, the AfD's electoral campaign seized on more extremist anti-Islam rhetoric, with a party manifesto declaring that "Islam is not part of Germany."
But any celebration may be short-lived. Merkel, who is expected to win a fourth term on Sunday, has already closed the door on governing with the far-right party, whose leaders she has openly criticized. (She's also ruled out coalitions with the far left.) This means that the AfD will largely exist as a protest party—one that promises to make a lot of noise in the Bundestag.
Still: Even if the AfD is made a pariah in the parliament, it will be presented with an unprecedented opportunity. With its new status, the party will have to choose whether its political future will be best served by demonstrating that it can co-exist as a more cooperative opposition party, or by sticking with its right-wing populist bona fides. First, it will have to reckon with its weakness for infighting if it has any hope of achieving its far-right goals on migration and domestic security.
Alexander Hensel, an expert on the AfD, told me that the Bundestag will give the AfD the biggest platform it has ever had. "They will try to use parliamentary debates to get more visibility in public for their radical political demands. With the entry in the national parliament, the AfD will gain many new resources: more finances, a big staff and new formal possibilities of political action," Hensel added. Its "entry in the parliament is an important step in the long-term party development."
Infighting between the AfD's more moderate and extremist poles, however, could complicate the equation. After founder Bernd Lucke's departure, Frauke Petry took the helm as the party gravitated to the right. She drew headlines for her sharp rhetoric on refugees and Islam, but also began charting a more pragmatic course for the party that could help it one day become a coalition partner.
That new direction was met with resistance by leading AfD figures like now co-leading candidate Alexander Gauland and the controversial Björn Höcke, who has suffered from backlash over comments he made related to the Holocaust. Some AfD leaders, like Höcke and Jörg Meuthen, accused Petry of trying to divide the party. At the party's convention in April, the 600 delegates declined to debate her motion to take the AfD in a more mainstream direction, as the right-wing Freedom Party of Austria has done. Additionally, new rifts between party leaders opened over Höcke's calling the Holocaust Memorial in Berlin a "monument of shame." The AfD's federal board voted to expel him earlier this year, but Gauland and Meuthen rose to his defense. (Höcke's expulsion is now in the hands of an AfD arbitration committee in the central German state of Thuringia.)
Ultimately, Petry chose not to stand as the AfD's leading candidate in the election, signaling the party's further shift to the right. AfD members who attended the party's convention in April elected Gauland and Alice Weidel to fill her spot. At the convention, Gauland, who has frequently clashed with Petry, directly acknowledged the party's internal struggles. "From this day on, all conflicts in this party should end. From today on, we will only attack political enemies," he said.  This political odd couple appeared to represent two wings of the party: Gauland, a firebrand conservative with a penchant for provocation, and Weidel, an economist, lesbian, and mother, who was drawn to the party because of its euro-skeptic roots.
While Weidel doesn't resemble a typical AfD leader, experts said that her elevation could broaden the party's coalition and help extend its appeal to more female voters. But they also said she has shifted since becoming a co-leading candidate. While she's distanced herself from some of the party's heated rhetoric and previously backed Höcke's expulsion, she has also defended the party's hardline immigration stance and embraced more right-wing populism in recent months, according to Hensel.
With these different political forces, Hensel said the future of the party and its brand following the election is unclear. "We'll see harsh internal struggles for political power, leadership, and the strategic course of the AfD. Who will lead the party in the future is actually unclear."
That intra-party drama may only deepen after the election. A few months after last year's state election, the rift was on display in Baden-Württemberg, a state in southern Germany where the Green Party came in first during the 2016 election, the AfD temporarily split in two over its decision not to expel a regional politician for anti-Semitic sentiments he wrote in a book in 2012. The regional divide underscores a major dilemma for the AfD: addressing its anti-Semitic elements and the broader issue of when its leaders should condemn any extremist or racist comments.
"What we know from history is that division is much easier to camouflage and overcome when you're building [a party], but once there's actually something to be given way like positions in parliament … they tend to come out," Cas Mudde, an expert on far-right European parties at the University of Georgia, told me.
Because the Bundestag is foreign territory for AfD lawmakers, there's no concrete answer of how they will behave when they arrive. So analysts have looked to their limited tenures in state parliaments for signs.
Hensel, who has studied the AfD in three state parliaments from May 2016 to January 2017 for the Otto Brenner Foundation, said these newly elected members had to learn how to govern since many were political newcomers. Their inexperience has produced some conflict and confusion. But he said he sees the potential for future political work beyond the AfD's core issues; the party may branch out to other issues like the environment, infrastructure, and health care. According to the AfD's website, the party is skeptical of human contributions to climate change and wants to launch a nationwide rehabilitation program to restore and expand Germany's infrastructure.
Depending on the AfD's performance on Sunday, the party has the potential to win around 70 seats and could be the largest opposition party in the Bundestag, though that depends on whether Merkel's conservative parties form another grand coalition with the center-left Social Democrats (SPD). Others have suggested that it may prefer to keep up its appearance as an outsider. "I don't think the Bundestag will be the platform for their policy issues, to push them forward," Martin Klausch of Free University in Berlin, told me. "They'll do that probably on the sidelines, to show they're not part of it."
"In parliament, they can of course adapt to parliamentary work, but I think the campaign shows that at least when elections come up, they try to raise attention by showing that they don't fit into the system … to victimize themselves," Klausch said.
But before the AfD needs to think about how to navigate the Bundestag, a lot will be riding on how well—or poorly—it performs on Sunday. "If the AfD becomes the third party … it will be the story of a big success," Mudde said. "If they're the seventh party, even if it's the same percentage, that will be the story, that they failed."