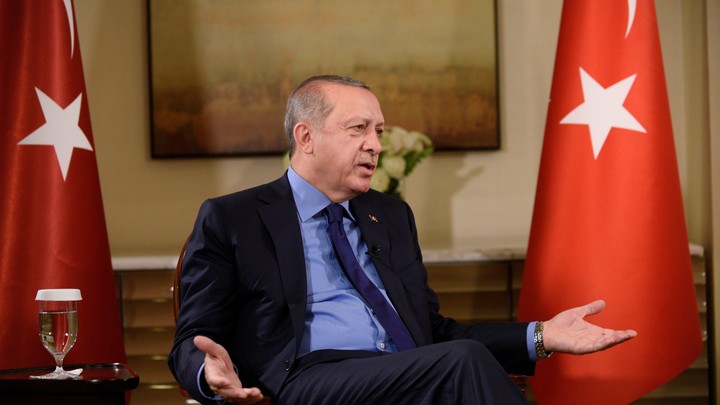 A new video shows what appears to be the Turkish president's security detail roughing up protesters during a speech Recep Tayyip Erdogan made Thursday in New York to a Turkish-American group.
#Erdoğan'ı New York'ta Protesto Edenlere Yaka Paça Müdahale https://t.co/xqKyXuGIN1 pic.twitter.com/PrhSxsXCZv

— Amerika'nın Sesi (@VOATurkish) September 21, 2017
In May, video showed Erdogan's security detail assault protesters outside the Turkish ambassador's  residence in Washington; 12 people were injured in the incident. The furor prompted charges filed by the U.S. Department of Justice against members of the security detail. Erdogan told PBS this week that President Trump had "said that he was sorry" about the charges and "that he [Trump] was going to follow up on this issue when we come to the United States within the framework of an official visit." The White House denied an apology was made.
Erdogan's security detail was also photographed in March 2016 manhandling reporters and protesters outside an event where the Turkish president was speaking in Washington. As I wrote at the time:
The altercation with journalists is merely a physical manifestation of what's been happening to Turkey's free press since Erdogan was elected president in 2014 (after more than a decade as prime minister). Since then, newsrooms deemed critical by the president have been attacked, journalists arrested and charged with espionage, an opposition newspaper has been seized, and foreign reporters deported and harassed for their coverage. Indeed, Freedom House, the pro-democracy advocacy group, says the press in the country is "not free" following a five-year decline in press freedom. Reporters Without Borders, the media-watchdog group, ranked Turkey 149 out of 180 countries in its 2015 World Press Freedom Index—an improvement from 154th place in 2014.
Erdogan, who was elected prime minister in 2003, began his rule as a reformer. A free press and other freedoms associated with democracy thrived during his early years in office. But in the years since then, he has increasingly tightened his grip on power.
A failed coup attempt against him in 2016 led to a massive crackdown against those he deemed responsible: millions of teachers, civil servants, and military officers lost their jobs; tens of thousands of people, including journalists, were imprisoned. They were labeled terrorists, and accused of being part of a deep state run by Fethullah Gulen, a Pennsylvania-based cleric (and former Erdogan ally). The Turkish leader's hold on power culminated in a referendum in April that transformed the parliamentary democracy into a presidential system of government in which Erdogan enjoys near-absolute power.
Trump, who met with Erdogan earlier in the day, called him "a friend of mine" during a joint appearance in New York on Thursday. "I think now we're as close as we've ever been," Trump said. He also said Erdogan's performance as president had earned him "very high marks."
We want to hear what you think about this article. Submit a letter to the editor or write to letters@theatlantic.com.