Why Was Chad Included in the New Travel Ban?
The country is a key U.S. counterterrorism ally.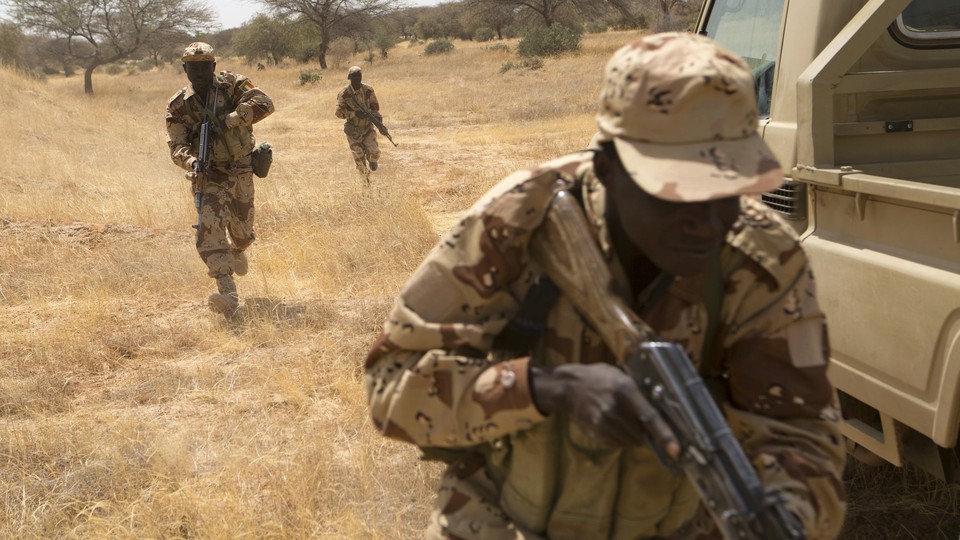 Updated at 4:50 p.m. ET
Is Chad "an important and valuable counterterrorism partner of the United States" or is it a nation that "does not adequately share public-safety and terrorism-related information"? Both, according to the White House proclamation that listed the central African country among seven nations whose citizens are barred indefinitely from the United States.
Not many Chadians will be affected by the Trump administration's order. In fiscal year 2017, which ends September 30, 141 Chadians entered the U.S. on nonimmigrant visas, including as tourists and for business, according to a database maintained by the Department of Homeland Security. Additionally, according to the database, 79 Chadians became permanent U.S. residents (meaning they received a green card) in fiscal 2017. The number of Chadian refugees allowed into the U.S. in the 2017 fiscal year was seven, according to a State Department database.
"It's bewildering," Reed Brody, a human-rights lawyer who has worked in Chad, told me in an interview. "I've been trying to explain to Chadians that there's no reason."
Chad's inclusion on the list of countries deemed security risks to the U.S. is additionally difficult to explain given its role over the past 15 years as a key counterterrorism ally. In April, U.S. forces participated in annual counterterrorism exercises with their counterparts from around the world in Chad. Chad's inclusion in the list was met with astonishment in the country, and not only because this close counterterrorism partnership: The country has mostly managed to avoid the kinds of terrorist attacks that have afflicted its immediate neighbors like Nigeria and Mali.
"Chad sits in a very tough neighborhood," Lauren P. Blanchard, a specialist in African affairs at the Congressional Research Service, told me. The country is a relative oasis of stability. It hosts French and U.S. forces, is engaged in fighting al-Qaeda in the Islamic Maghreb in Mali, was critical in pushing back Boko Haram in Nigeria, and plays host to the Multinational Joint Task Force, the regional military effort to fight Boko Haram.
"Of course, Chad is challenged by the fact that it's a large territory," Blanchard said. The country is twice the size of Texas with a population of 14 million people—roughly the populations of New York, Los Angeles, and Chicago combined. It's "very difficult to control those borders," Blanchard said. "And its security forces are stretched quite thin now with Boko Haram threatening the south, the threats from Libya in the north," and other security threats in the region.
Chad's neighbors—Libya, Sudan, Mali, Niger, Nigeria, and the Central African Republic—each have severe security concerns. Libya is home to remnants of ISIS; AQIM in active in Mali; Boko Haram operates in Nigeria; AQIM, ISIS, and Boko Haram are all active in Niger; and the Central African Republic has been wracked by recent sectarian violence that has spawned a massive refugee crisis.
The U.S. State Department, in its most recent country terrorism report from 2016, acknowledged Chad's financial challenges in providing "external counterterrorism assistance in Cameroon, Niger, and Nigeria," but noted that Chad "engaged in major external military operations in … neighboring countries," as part of the Lake Chad Basin Multinational Joint Task Force, which includes Benin, Cameroon, Niger, and Nigeria. Chad, the State Department reported added, was also contributing to the UN Multidimensional Integrated Stabilization Mission in Mali. Additionally, the report pointed out that terrorist incidents in the country had fallen due both to "proactive security force presence" and a split within Boko Haram. Here's more:
The Government of Chad continued to operate at a heightened level of security and has instituted screenings at border-crossings to prevent infiltration by members of BH and Central African militias, as well as transit of illegal arms, drugs, and other contraband. Border patrol continued to be provided by a combination of border security officials, gendarmes, police, and military. Chad continued to screen travelers using the U.S.-provided Personal Identification Secure Comparison and Evaluation System (PISCES) at major ports of entry.
Brody said the country's inclusion makes little sense because "one of the main reason for the U.S. support is [Chad's] autocratic regime is a linchpin of counterterrorism in the region. … It's one of the things they are probably good at."
Responding to a query about Chad's inclusion in the presidential proclamation, a U.S. State Department spokesman said: "We have been in contact with our counterparts in Chad," and directed further questions to the White House. The White House in its fact sheet said: "several terrorist groups are active within Chad or in the surrounding region."
Terrorism aside, Chad certainly has its problems. These include an authoritarian government under President Idris Déby, politicization of the armed forces, and widespread poverty despite the country's oil wealth. But the country—and the wider region—remains a key focus of Western counterterrorism efforts. Brigadier General Donald Bolduc, who until recently was commander of American Special Operations Forces in Africa, called the Lake Chad Basin, which encompasses Cameroon, Chad, Niger, and Nigeria, "ground zero" of the war on extremism in Africa. "I'm no fan of Idris Déby," Brody told me, "but this makes no sense."
Blanchard told me "Chad is very important in figuring out movement between ISIS elements in Libya and Nigeria—they have to go through Chad or Niger."
Chad's government, in a statement quoted by The New York Times, expressed "incomprehension in the face of the official reasons for this decision, which contrasts with Chad's constant efforts and commitments in the fight against terrorism." It's unclear how the Trump administration's move will affect U.S. cooperation with Chad on a range of issues.
"In the short term," Blanchard said, "I would expect some push back depending on what sort of diplomatic effort was done before Chad was added to this list."