Can Anyone Stop Burma's Hardline Buddhist Monks?
Their anti-Muslim rhetoric poses a challenge for everyone from Aung San Suu Kyi to Pope Francis.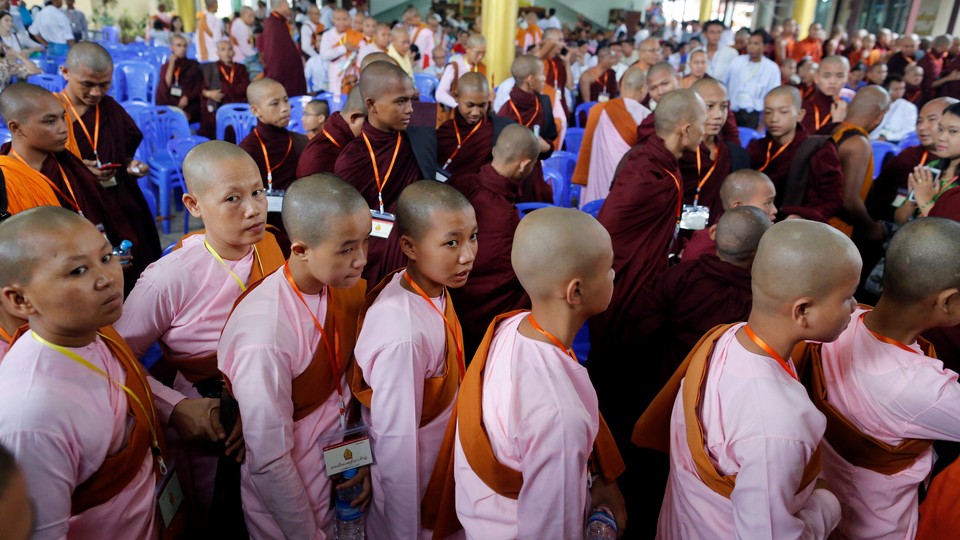 Even by the standards of Burma's Rakhine State, which has seen its share of tragedy, the violence of the past two weeks has been staggering. Militants from the stateless Rohingya Muslim minority stormed police posts on August 25. The attacks killed at least a dozen members of Burma's security forces and prompted clashes that have resulted in the deaths of some 400 people. The Burmese military claims most of the dead are Rohingya insurgents, but Rohingya activists counter that civilian casualties figure highly. Villages are on fire. More than 140,000 Rohingya refugees have fled to neighboring Bangladesh. "All the other villages have been already burnt down," a Rohingya activist messaged me this week. "Women are giving birth while running away." More than 10,000 Rakhine Buddhists have been internally displaced.
But for hardline Buddhist nationalists, the chaos may be a boon insofar as it lends support to their negative portrayal of the country's Muslim minority. Ma Ba Tha, a group led by ultranationalist Buddhist monks, can already be seen using the August 25 attacks as fodder in their weekly newspaper Aung Zay Yatu, whose tagline is "Race and Religion Must Exist Until the World Ends." In the September 1 issue, one headline read: "The Different Dangers of Bengali Muslims." (Despite evidence to the contrary, Burma's government insists the Rohingya are from Bangladesh and calls them Bengali.) The newspaper also featured an interview with Ashin Wirathu, a hardline monk and Ma Ba Tha leader who has served time in prison for inciting anti-Muslim violence.
The editor in chief of the paper, Maung Thway Chun, told me in a recent interview at his Yangon home that he harbors no hatred toward Muslims and has Muslim friends—but the threat of "Islamization" is a problem. "We're not oppressing Muslims, and we recognize their existence. But we don't want Muslims to swallow our country. … They will not finish with attacking just Rakhine. They will also invade Chin State or Irrawaddy region," he said, referring to two states located to the immediate south and northeast of Rakhine. "Then this country will be a Muslim country. It is such a shame for us that the land we inherited from our former generations will be lost in our time."
Founded in 2013, Ma Ba Tha successfully backed the 2015 passage of four race and religion laws—widely perceived as discriminatory toward Muslims—that attempted to implement population control methods, forbid polygamy, and put restrictions on religious conversion and interfaith marriage. The government has attempted to crack down on the group, for example by ordering Aung Zay Yatu to stop publishing, but the weekly will simply relaunch under a different name, its editor said.
In March, Buddhist religious authorities slapped Ma Ba Tha's Wirathu with a one-year preaching ban after he thanked the men who killed a high-profile Muslim legal adviser in Yangon and after he told Buddhist women it would be better to marry dogs than Muslims. The state-backed Buddhist Sangha Council said Ma Ba Tha was not a legal organization and ordered it to take down its signs. Ma Ba Tha chapters either ignored the order or rebranded.
Wirathu also ignored it. On the Sunday after the August attacks in Rakhine, he appeared at a rally in front of City Hall in Yangon. "We've been to some high schools in Maungdaw and we didn't see any of our ethnic people in these schools," he said, referring to one of three main towns in northern Rakhine State impacted by the fighting. "All of them are Bengali students. Will the world know who is the majority or who is the minority when it sees that?"
Buddhist nationalism and religious tensions in Burma have existed at least as far back as the British colonial era and into the rocky period following independence in 1948. Rohingya groups have for decades fought under different banners for more autonomy in Rakhine. But these tensions reached a new phase after 2011, when the country started to open up to the outside world after decades of military rule, and the feeling of uncertainty over the future of Buddhist life in a changing country was more acutely felt.
Muslims make up only about 4 percent of the country's 53 million people, and the Rohingya make up part of that minority. But Rakhine State fuels nationwide existential angst as the Rohingya are concentrated in that territory, with more than 1.1 million living there. The state is seen as the "Western Door" beyond which Muslim South Asia, and Global Islam, waits.
"There's been a longstanding fear of Islamic cultures encroaching on Myanmar and weakening a national identity centered around Buddhism, and the violence of the past five years, which is spun as being largely perpetrated by Rohingya, confirms this in the minds of many," Francis Wade, author of the new book Myanmar's Enemy Within: Buddhist Violence and the Making of a Muslim Other, told me. "There are also local anxieties felt by Rakhine [Buddhists] which are often material in nature—that Rohingya are taking land, overwhelming resources, and so on—but these feed into a wider narrative that sees events in western Myanmar in more symbolic terms, of a conquest underway that threatens Myanmar's sovereignty and, as a result, one of the last bastions of Buddhism."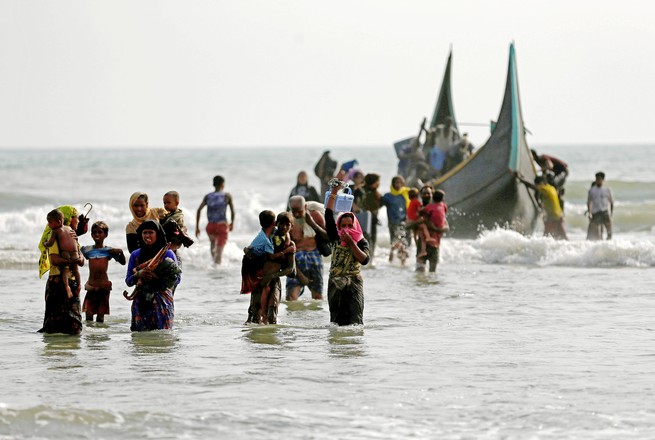 The upsurge of violence in Rakhine has complicated efforts by State Counselor Aung San Suu Kyi's new government to confront Ma Ba Tha. While many Western critics see Suu Kyi as callous in the face of Rohingya oppression, Buddhist nationalists are also upset with her, but for opposite reasons. They think she is weak on Rakhine and on "Islamization."
One of the first things Suu Kyi did after coming into office in 2016, following elections months before that ended decades of military-backed rule, was to appoint a commission led by former United Nations secretary general Kofi Annan to provide recommendations on solutions to the conflict. But less than two months after she announced the news, the group that came to be known as the Arakan Rohingya Salvation Army struck for the first time, initially killing nine officials at border guard posts and triggering clashes that killed dozens and forced nearly 90,000 into Bangladesh.
The emergence of ARSA "gave new oxygen to nationalist groups," according to a report on Ma Ba Tha released Tuesday by the International Crisis Group. "This brought the perceived threat of violent Islam to the forefront of national consciousness and anti-Muslim sentiment spiked," authors of the report write, citing rising tensions in Yangon neighborhoods with large Muslim populations. Protests shut down two Muslim schools, and there was a late-night mob raid on a house suspected to be harboring "Bengalis" from Rakhine State. The Kofi Annan commission seemed doomed, yet it pressed on with its work. But hours after it delivered its final report to the media at a fancy hotel in Yangon on August 24, the latest ARSA attacks went forward.
The measures taken so far against nationalists could backfire. As the International Crisis Group points out in its report, Ma Ba Tha also provides social services, legal aid, disaster relief, and education. Moving against it aggressively, authors of the report argue, could feed into the narrative of Buddhism under threat, "and ultimately empower the organization and other, more extreme nationalist groups."
Into this complex saga steps an unexpected figure: Pope Francis. The pontiff is visiting Burma for the first time in late November. Many are hopeful about the appearance. "Pope Francis has particularly shown he is very much on the side of the persecuted and marginalized, and is also passionate about speaking for peace and reconciliation," said Benedict Rogers, East Asia Team Leader with Christian Solidarity Worldwide. "He is therefore in a unique position to bring a message of peace to a place of conflict, and as a Christian leader he may perhaps be able to speak to the hearts and minds of Buddhists and Muslims as an independent third party, as well as strengthening the Church as a voice for justice and peace for all."
But Rakhine has ensnared even the pontiff. He has spoken out several times on the plight of the Rohingya but not paid much attention to Buddhist victims. This has not gone unnoticed. Buddhist hardliners have cautioned the pope not to use the trip to advocate for the Rohingya. Bishops in Burma have also reportedly asked him to avoid using the word "Rohingya." Father Mariano Soe Aung, a spokesman for the trip, told me recently that this was not official policy, and besides, they can't tell the pope what to say.
For the moment, at least, it seems no one can tell the hardline Buddhists what to say either.