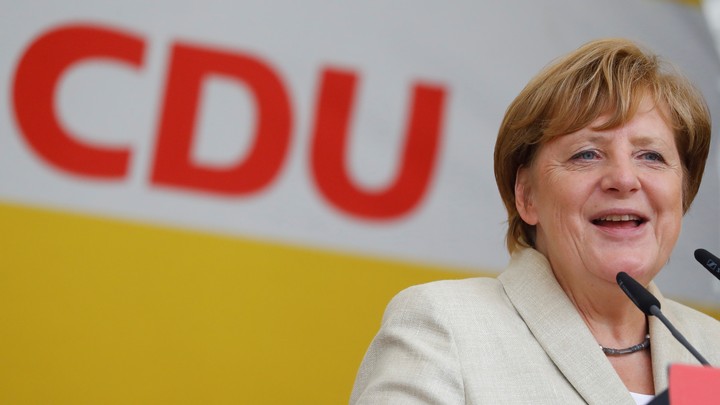 On August 12, German Chancellor Angela Merkel kicked off her reelection campaign in the west German city of Dortmund. Fresh from a three-week vacation in the Italian Alps, she joked that she'd neglected to mention that the election wasn't yet over and done with. "I almost forgot to say that the election isn't already decided," she said. "And of course, we need every vote."
With the way this campaign is going, Merkel could be forgiven for nearly forgetting that crucial piece of information. After expectations that this year's campaign would be Germany's most contentious one in years, the final weeks of the election have felt decidedly devoid of drama—enough so that the Wall Street Journal's headline in a recent story about the campaign declared succinctly: "Wow, it's Boring."
But still, the fact that Merkel could make so casual a comment barely a month before election day is a sign of how much the political outlook has shifted even in the last six months—and how secure her position has become. A confluence of several factors, from her opponent's stumbles to an improving outlook for refugees, have converged to Merkel's benefit, seemingly making her reelection an all-but-foregone conclusion.
2017 was expected to be Merkel's toughest campaign yet: to start, it's the year when Europe's far-right populist parties, including the anti-immigration Alternative für Deutschland (AfD), have sought to showcase their electoral strength amid a growing backlash against globalization and Europe's refugee crisis. When Merkel announced her reelection bid last December, she did so battered by more than a year of tough criticism over her open-door policy toward refugees, and facing a certain degree of voter fatigue after hitting her 12th year in office.
And then came Merkel's main challenger, Martin Schulz, a political "newcomer" from the center-left Social Democratic Party (SPD) initially lauded as a charismatic and effective contrast to Merkel. After Schulz entered the race in January, support for her party dropped into the low 30s, putting her dead even with the SPD for the first time in more than five years. The German political world was abuzz over the "Schulz effect": the new candidate's widespread appeal and ability to take on Merkel to give the country new blood in the chancellery. "We were getting a little bit afraid and uneasy at the beginning of the year when Martin Schulz was introduced as a candidate," Peter Beyer, a member of the Bundestag from Merkel's CDU, told me. "The polls were completely different … he was a star."
Today, Merkel's CDU has recovered its lost ground and stands at or just below 40 percent in most public polls—around the same level of support it had at this point four years ago, shortly before the CDU won 41.5 percent in the 2013 federal elections. The SPD, by contrast, has fallen to its pre-Schulz levels, hovering between 22 and 25 percent of the vote. And Merkel has recovered personally, too. At this point in 2013, her approval rating was at 67 percent; it dropped considerably in 2015 and 2016, at the height of the refugee crisis, but was actually two points higher this July than it was shortly before her reelection in 2013.
With immigration and refugee issues still the top priority for many voters, it certainly helps that the flow of new asylum-seekers into Germany has slowed. In the first quarter of 2017, statistics from the German government show that 54,600 people applied for asylum in Germany—a stunning 73-percent drop over the same period in 2016. With fewer new arrivals, AfD has found it difficult to sustain its momentum: down from a high of 15 percent nationally, it is currently polling anywhere between seven and 10 percent in national polls.
Meanwhile, after Schulz's much-lauded campaign debut, he's had little luck finding an issue on which to effectively challenge Merkel. Though he initially pitched himself as a man of the people (he's a former professional soccer player without a high school degree, who turned to alcoholism after an injury ended his athletic career) and the left's answer to rising right-wing populism in Europe—the Munich-based Süddeutsche Zeitung referred to him earlier this year as a "politically correct populist"—that message does not seem to have resonated in a significant way. And in Sunday night's debate between Schulz and Merkel, Schulz needed a game-changing performance to shift the tide for his campaign—but instead, post-debate polls indicated voters saw Merkel as the winner.
What's more, since the SPD is currently serving in a "grand coalition" with the CDU in Germany's parliament, Schulz has struggled to explain just how his party differs from Merkel's and why voters should change the status quo for something that appears on its face relatively similar. "Because the Social Democrats are part of that coalition government, that is always a very difficult situation," Alexander Mauss, a Berlin-based political pollster, told me. "You can't really oppose the politics or the policy of the governing coalition because you are part of it."
That challenge for Schulz was apparent in three state elections across Germany in the spring, all of which were seen as potential bellwethers for September, and all of which delivered victories for the CDU (and by extension for Merkel). In Saarland, a tiny western state along the French border that voted in March, Merkel's party expected to face a tough challenge, but instead gained 5 points over its previous performance there. And in May, the CDU ousted SPD governments in both Schleswig-Holstein and North Rhine-Westphalia, Germany's most populous state and an SPD stronghold. "For us it was extremely good to learn that we are able to actually win again, elections on the Länder [state] level," Beyer, who hails from North Rhine-Westphalia, said.
And Merkel's argument for continuity in Germany isn't hurt by the fact that many Germans, leery of President Donald Trump and the unpredictability he's brought to the world stage, have come to further appreciate their chancellor's even hand. Merkel "is still a stable figure in a rapidly changing world," Sudha David-Wilp, a senior transatlantic fellow at the German Marshall Fund in Berlin, told me. "The disarray across the Atlantic, as compounded with a European Union that's weak, prompted people to perhaps throw their support behind Merkel."
More than any other politician in modern German history, Merkel—often referred to as Mutti, or "Mother"—has run personality-driven campaigns that lend themselves to the kind of ubiquitous image she has built up among German voters. Those qualities are reflected in recent polling: asked in July which candidate was a stronger leader, voters chose Merkel over Schulz by 77 percent to 12 percent; asked who is more competent, again they chose Merkel by a landslide (67 percent to 13 percent).
People see Merkel as "someone who is looking out for you, taking care [of you], who is not polarizing in contrast to [former SPD Chancellor Gerhard] Schröder," Mauss said. "People ... have a lot of faith in her, that she is doing the right thing. Especially in comparison to Schulz, she is seen as a strong leader, very competent, trustworthy, sympathetic and stands to her beliefs."
None of this, of course, means Merkel doesn't face obstacles in the lead-up to election day—and in its immediate aftermath. AfD is still expected to win seats in parliament, aiming to be the third-largest party in Germany and billing itself as the primary opposition party against Merkel. And what's more, it's still unclear with whom Merkel's CDU will build a coalition: The bigger the AfD gets, the less likely it is that Merkel will win the support necessary to ally with one of the smaller parties (like the liberal Free Democratic Party or the Greens) and instead be forced into another four years of the not-so-popular grand coalition with the SPD.
There's also a real possibility that a late-breaking event or surprise could change the dynamics of the campaign. Though the flow of refugees into Germany has slowed, any uptick in new arrivals could serve as a talking point for the AfD and potentially raise their support going into September. And any day, the contents of a 2015 hack of the Bundestag could make an appearance on Wikileaks or elsewhere, mirroring similar pre-election occurrences in America and France.
But barring some major change or event, Merkel's party will come out on top next month. "Things may come out: we still don't know if that hack on the Bundestag is going to be a smoking gun … or if, for some reason, her party can't find a coalition partner to establish a majority," David-Wilp said. "But … it's very hard to see these scenarios."
We want to hear what you think about this article. Submit a letter to the editor or write to letters@theatlantic.com.
Emily Schultheis
is a writer based in Berlin with a fellowship from the Institute of Current World Affairs. Her writing has appeared in
Foreign Policy, The Guardian,
and
Politico
, among other publications.