Germany's Right-Wing Populists Are Importing U.S.-Style Campaign Tactics
How a prominent GOP-linked political firm engineered the AfD's strategy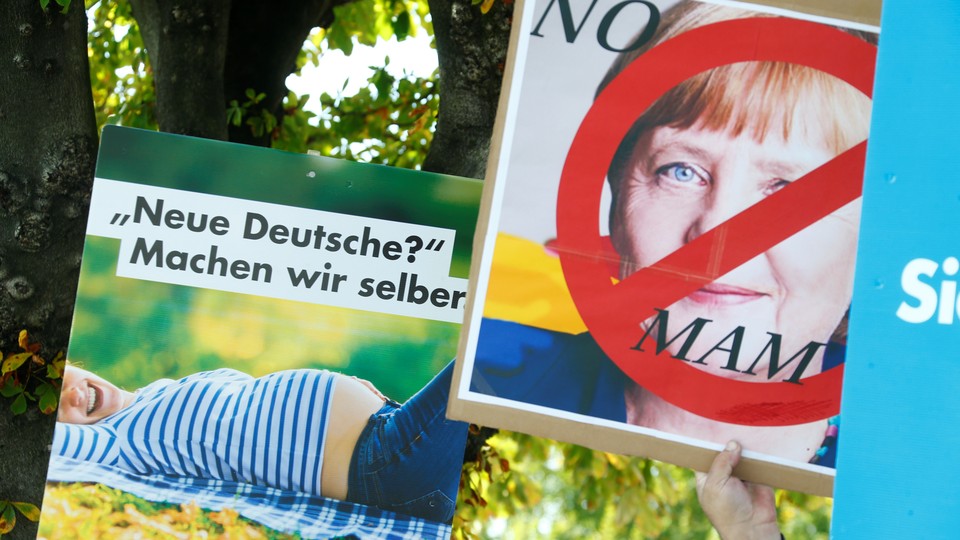 About two weeks before election day in Germany, ads for a new website from the right-wing populist party Alternative für Deutschland (AfD) began popping up online across the country. "Angela Merkel: The Oathbreaker," the website read, with a menacing, black-and-white flickering image of the longtime German chancellor's face—a reference to Merkel's decision to allow large numbers of refugees into Germany. The homepage listed two numbers: "98," which it suggested was the number of Germans killed or injured by Merkel's refugee and immigration policies, and "1,500€," which the site alleged was the estimated monthly cost to the government of one refugee. Until election day, a Google search for "Merkel" would return an ad for this site as its first result ("Look at the lies," one such ad said).
Such sites, and the subsequent online advertising that draws attention to them, are common in American politics: at every level, be it presidential, congressional or even local races, digital strategists build so-called "oppo" websites to help their clients score points against their opponents. But here in Germany, where negative campaigning typically feels more like polite disagreement, it was virtually unprecedented.
In many ways, the AfD, which on Sunday became the first far-right party to enter Germany's parliament in over half a century, was an obvious adopter of these types of tactics. Like its populist counterparts across Europe, the party has a strong social-media presence with engaged followers. As of this week, the party's Facebook page had more than 385,000 fans, more than any other German political party.
The AfD has an American partner to thank for the design and execution of its online strategy: the U.S.-based Harris Media, a firm headed by 29-year-old Texan Vincent Harris, a long-time fixture in Republican politics. He has worked for American clients ranging from Donald Trump, to Senate Majority Leader Mitch McConnell, to former Alaska Governor Sarah Palin. Outside the United States, Harris's team helped plan digital strategy for the pro-Brexit United Kingdom Independence Party and Israeli Prime Minister Benjamin Netanyahu's Likud Party, among others.
Tasked with helping the AfD amplify its campaign messages across the internet, Harris Media did a few notable things for the right-wing party. First, it drew on the AfD's existing themes and slogans to fashion a U.S.-style online attack campaign. This meant running harsh anti-Merkel and anti-refugee ads across the internet, something that major German political parties just don't do. But just as important, the firm used targeted online advertising and social-media campaigns and tools to help reassure AfD voters that they weren't alone—a major obstacle for a country that, because of its history, reacts so viscerally to the far right.
The AfD was willing to push past traditional boundaries and taboos in German politics—which is perhaps why a U.S.-style negative campaign worked for it in a way it wouldn't for others. Its campaign posters, designed earlier this summer by controversial German writer and ad maker Thor Kunkel, featured a series of photos and slogans designed to provoke controversy: one, for example, included an image of two women's bikini-clad posteriors and reads: "Burqas? We prefer bikinis." Following the terror attack in Barcelona last month, the party ran a Facebook ad showing bloody tire tracks with a list of the major truck-related terror attacks in Europe. ("The trail of World-Chancellor Merkel through Europe," it read.) By contrast, other parties' criticism of Merkel throughout the campaign were implicit at best. The libertarian Free Democratic Party (FDP), for example, ran a campaign poster with the line, "Impatience is also a virtue," which was seen as an indirect reference to Merkel's tendency to wait out certain problems or situations.
Working for parties and candidates that run more insurgent campaigns is how Vincent Harris got his start. Back in 2012, he ran digital strategy for Ted Cruz's Senate campaign against a GOP establishment candidate, a race that helped bring Harris to prominence in U.S. digital politics. When I asked Josh Canter, one of Harris Media's two Berlin-based staffers, how the firm has chosen its international clients, he pointed out there's something parties like UKIP and the AfD have in common with their U.S.-based counterparts: As anti-establishment outsiders, all depend far more on online grassroots support and tend to be committed to investing in a digital strategy. "AfD was clearly committed to that and showed that from their campaign … we were running ads way before anything I saw from other parties," he said.
Julius van de Laar, a German digital political strategist who worked for the 2008 and 2012 Obama campaigns, called the AfD's digital advertising among the fiercest Germany has seen. "While there has been some negative campaigning in the past, most campaigns always made sure to insert a certain sense of humor in their attacks," he said. He pointed to a science-fiction themed 1998 campaign spot from the center-left SPD's chancellor candidate Gerhard Schröder, featuring a space ship and a scene in which his opponent, Chancellor Helmut Kohl, tried and failed to teleport—implying that the center-right CDU was too focused on the past. "The future: not everyone is made for it," the slogan went.
Harris Media and the AfD digital team have faced pushback for their work in Germany, including criticism from the German media for the "Oathbreaker" site (which ultimately received more than 400,000 page views, the firm told me). The German newspaper Stern referred to Harris in a headline as the "high priest of social media dirt," saying his work for the AfD consisted of "mockery, denunciation and dirt." In addition to media criticism, the AfD ran into trouble when Google reportedly refused to place ads for it across its vast ad network. (There are some messages that are even too much for the AfD, however. When Harris Media's staffers suggested "Germany for Germans" as a potential slogan, unaware that the phrase has Nazi roots, AfD leaders balked and suggested that the firm keep brainstorming.)
Just as important as the negative campaign tactics, Harris Media helped the AfD convince German voters that it was socially acceptable to vote for the party. In August, the Harris team created a video campaign across social media called "I dare to show my face for my party!" a play on AfD's slogan encouraging Germans to "dare" to vote AfD ("Trau Dich, Deutschland!"). Supporters submitted short videos explaining why they were proud to publicly pledge their support to the party. Many of those videos were shared across the party's social-media networks. "All of these elements helped to humanize [the AfD] online," Canter told me. "We put real faces to AfD supporters and showed its country-wide appeal. That allows us to appeal to on-the-fence voters."
The week before election day, the AfD digital team launched a similar effort: mapping AfD supporters across the country. Voters entered their first name and postal code on a website to indicate their commitment to voting AfD, a way to show potential supporters that the party enjoyed broad support. (Canter said 10,000 people signed up in the first 24 hours after it went live; by election day, more than 29,000 people had entered their information.)
Georg Pazderski, an AfD candidate running in Berlin, told me while campaigning on election eve that his party was definitely "stigmatized," and that it was difficult for some to admit they were AfD supporters for fear of facing judgment or repercussions at work or at home. "In Germany, it's an easy thing: someone soon puts you in the right-wing corner and says, 'These are Nazis,' … People have tried this against the AfD for many, many months," he said.
Whatever the AfD's future, its members know they owe their recent success to their Harris-designed digital strategy. "We use the internet," Christian Buchholz, an AfD member of the Berlin parliament elected last year, said. "We have got internet people—Harris Media—that's how we have to compete with the situation. … It's part of our success that we are the first ones doing it."