A Political Opposition for Macron
The French president has enjoyed a mandate without a strong opposition—but that may have changed.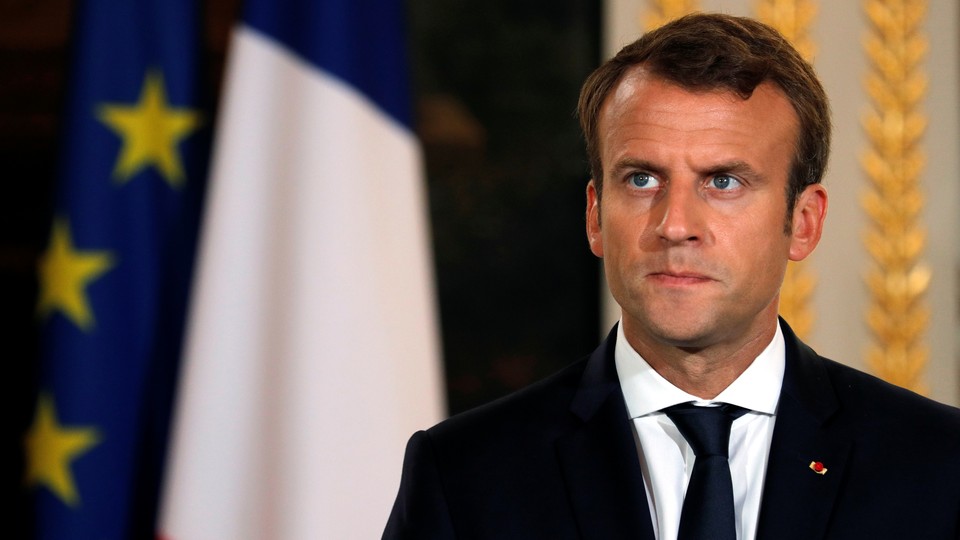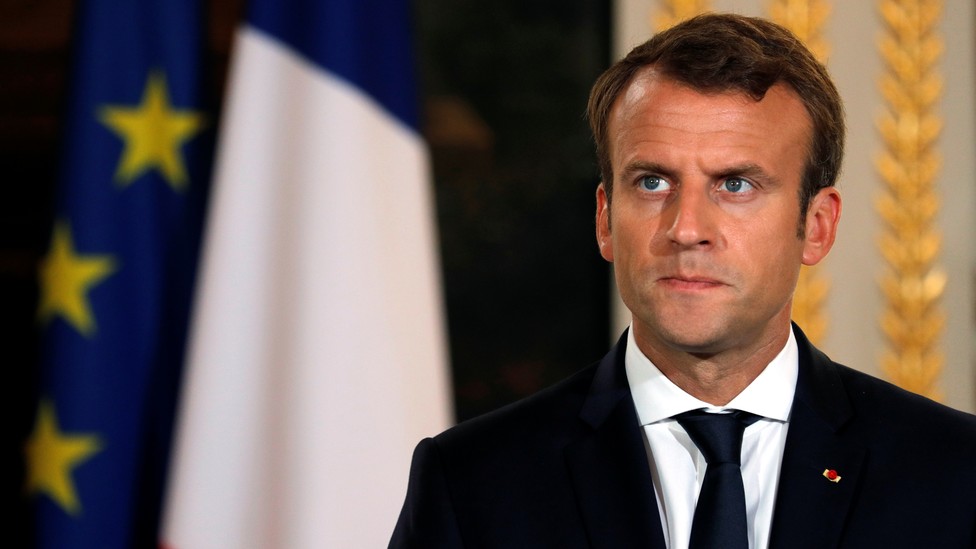 Emmanuel Macron has had little in the way of a political opposition since his meteoric rise to the French presidency in April. By creating his own centrist political party, La République En Marche (LREM), the self-dubbed "Jupiterian" president engineered a political victory designed to appeal to a broad coalition. And by staffing his cabinet with representatives of the right, left, and center, he sought to ensure he would have enough allies across the political spectrum to carry out his ambitious reform agenda.
It hasn't been entirely smooth sailing for the young president. Over the summer, French pollster Ifop observed a 24-point decline in Macron's favorability—a nosedive not seen by a French president in more than two decades. Still, opposition to Macron and his policies hasn't impeded his ability to govern—his labor reforms were met with street protests, but they weren't enough to stop him from signing off on them by presidential decree.
That is, until now.
On Sunday, Macron's LREM failed to gain a majority in the country's Senate, claiming only 23 of the upper house of parliament's 348 seats. The right-wing Les Républicains (LR) secured the greatest share of votes with 150 seats, followed by the left-wing Socialists with 93 seats and the center-right UDI/MoDem with 43 seats. After earning a consequential 32.3 percent of the vote in the country's legislative elections in July and anticipating 50 to 60 seats in the senatorial race, François Patriat, LREM's leader in the Senate, called the party's showing a "disappointment."
The loss of the Senate isn't the end of the world for Macron. France's government follows a bicameral system, in which the more-powerful lower house (the National Assembly) and the less-powerful upper house (the Senate) don't share equal weight. In cases of dispute, the National Assembly has the final word. Because of this political reality, the Senate and its 348 members are traditionally considered a less-partisan body than the National Assembly; the impact it has on presidential reforms are, as such, considered less likely to be negative.
But underestimating the Senate could come at a cost. Dr. Paul Smith, an associate professor of French politics at the University of Nottingham, said the Senate has historically "always been a bit feisty," capable of slowing down even the most popular of reforms. "When François Mitterrand was president in the 1980s and he had a majority between '81 and '86, the Senate became the principal focus of opposition to his really quite radical reform program," Smith said. "There is nothing that the Senate enjoys more as part of its institutional mystique than its historical reputation for standing up to power."
Whether the Senate lives up to that reputation depends on a number of factors, including how much the Républicains and other parties want to stand in Macron's way. Under Article 89 of France's constitution, the president would need the approval of three-fifths of both houses of parliament convened in joint session, known as a Congrès, to enact constitutional changes, such as his proposal to shrink the number of lawmakers in both houses of the country's parliament by a third. Though this particular reform received support from Macron's opponents on the left and the right during the country's presidential contest, Smith noted that support then doesn't necessarily guarantee support now. "They're not going to give Macron an easy ride," he said. Bruno Retailleau, the newly-reelected head of the LR group of the Senate, suggested as much Sunday after the results were announced, calling the "poor results of the En Marche! Movement" evidence that "the honeymoon between the French people and Emmanuel Macron is over."
But Macron does have one option that would allow him to forego parliamentary procedure altogether: the referendum. By invoking Article 11 of the constitution, he could pose some of his institutional reforms directly to French voters—a move the president hasn't ruled out. "I want all of those deep reforms that our institutions seriously need to be done within a year," he told lawmakers during his address to both houses of parliament in June, adding: "These reforms will go to parliament, but if needed, I will put them to voters via referendum." Though it's unclear if Macron is still considering using the referendum as a last resort, Smith said such a move could be risky. "It becomes in the sense a national vote of confidence," he said.
But perhaps an even safer option for Macron is to recognize the opposition potential of the Senate and, if possible, to try working with its members. Holding back on some of his more contentious reforms (such as his promise to cut the funding of local government, which Senate speaker Gérard Larcher called a "red line") could be one way of extending an olive branch to his detractors in a way the young president hasn't during the first few months of his term. Retailleau appeared to indicate these concessions would be necessary during a TV interview with Public Sénat: "There will always be an open door [for institutional reform], but we won't be handing out any blank checks."
This would mark a difficult shift for Macron, who has, until recently, shown little regard for his political detractors, telling CNN's chief international correspondent Christiane Amanpour last week, "I don't mind to be very high in terms of popularity, and so on. My country has to be reformed." But should he want those reforms to pass, he may not have a choice.