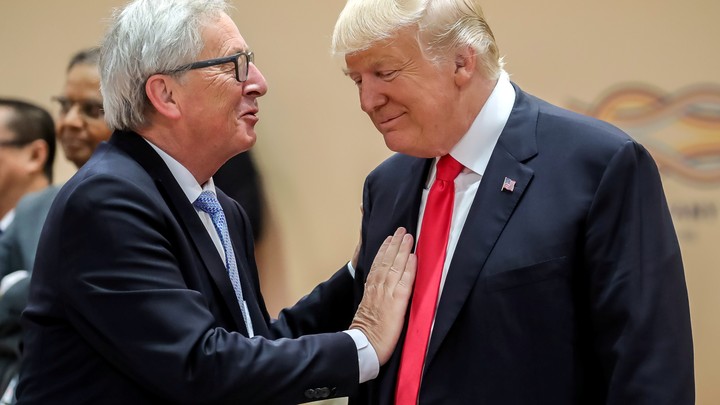 When President Trump on Wednesday signed into law a bill that will impose new sanctions on Russia, he simultaneously expressed his opposition to the measure. The law aims to punish Moscow for its interference in the 2016 U.S. presidential election and limit the president's own ability to unilaterally lift such sanctions. "By limiting the Executive's flexibility, this bill makes it harder for the United States to strike good deals for the American people, and will drive China, Russia, and North Korea much closer together," Trump said in a signing statement, adding that the bill was "seriously flawed."
Then there was this somewhat surprising objection: The law, Trump said, "hurts the interests of our European allies." It was surprising not only because Trump has been notably skeptical of the value of European alliances in the past, but also because Europeans were instrumental U.S. partners in the sanctions imposed on Russia following its annexation of Crimea in 2014. But these sanctions are different. European leaders have been vocal in their opposition to the bill since it was approved by the House last week, albeit for different reasons. European Commission President Jean-Claude Juncker warned of potential collateral damage to Europe's energy market, as the sanctions could inadvertently hit European companies involved with Russia's energy-export pipelines. One such pipeline, the Nord Stream 2, which aims to carry natural gas from Russia to Germany through the Baltic Sea, involves several European companies. "'America First' cannot mean that Europe's interests come last," Juncker said, adding that the Commission would be ready to act "within a matter of days" if their concerns were not addressed. Germany, in a separate warning, suggested the U.S. was using the sanctions as cover for its own natural-gas interests.
By contrast in 2014, when the EU sanctioned Russian energy firms alongside the U.S. and Canada, gas was exempted due to numerous EU member states' reliance on Russian supplies. Even then, those sanctions came at a cost to the European economy—it's estimated the sanctions cost the EU as much as 100 billion euros.
As Trump noted in his signing statement, the bill did undergo some revisions to address European concerns—and Brussels seems cautiously optimistic. Juncker, in a somewhat pointed statement Wednesday, noted that the "U.S. Congress has now also committed that sanctions will only be applied after the country's allies are consulted. And I do believe we are still allies of the U.S." He added, however, that the EU would reserve the right to retaliate if the U.S. sanctions disadvantaged EU companies involved with Russia's energy sector. "We must defend our economic interests vis-a-vis the United States," he said. "And we will do that." As Reuters reported, retaliation could include applying an EU regulation to shield itself from U.S. measures, or even filing a complaint at the World Trade Organization. Such actions, however, would likely require the approval of all 28 EU member states.
Moscow, unsurprisingly, registered its own objections. Russian Prime Minister Dimitry Medvedev proclaimed that Washington had declared a "fully-fledged trade war on Russia," adding that "the hope of improving our relations with the new U.S. administration is dead." He further criticized Trump for demonstrating "complete impotence by humiliatingly transferring executive powers to the Congress, which changes the balance of power in U.S. political circles."
Ironically, however, the sanctions do benefit Russia in one way—by fostering a potential point of contention between the U.S. and its European allies. As my colleague Julia Ioffe noted, Russian President Vladimir Putin "has long sought to peel off the EU, or at least some of its member countries, and thus undermine the effect of the 2014 sanctions." In Congress's attempt to ensure the Trump administration holds Russia accountable, it has also threatened to strain the U.S.-European relationship. Germany's Foreign Minister Sigmar Gabriel and Austria's Federal Chancellor Christian Kern warned as much in a joint statement in June, noting that it would not "only be highly regrettable, but also damaging" to U.S.-EU cooperation on the crisis in Ukraine if "irrelevant considerations such as U.S. economic interests in exporting gas were to gain the upper hand."
We want to hear what you think about this article. Submit a letter to the editor or write to letters@theatlantic.com.