Trump Doubles Down on North Korea
The president said his earlier remarks about "fire and fury" were not "tough enough."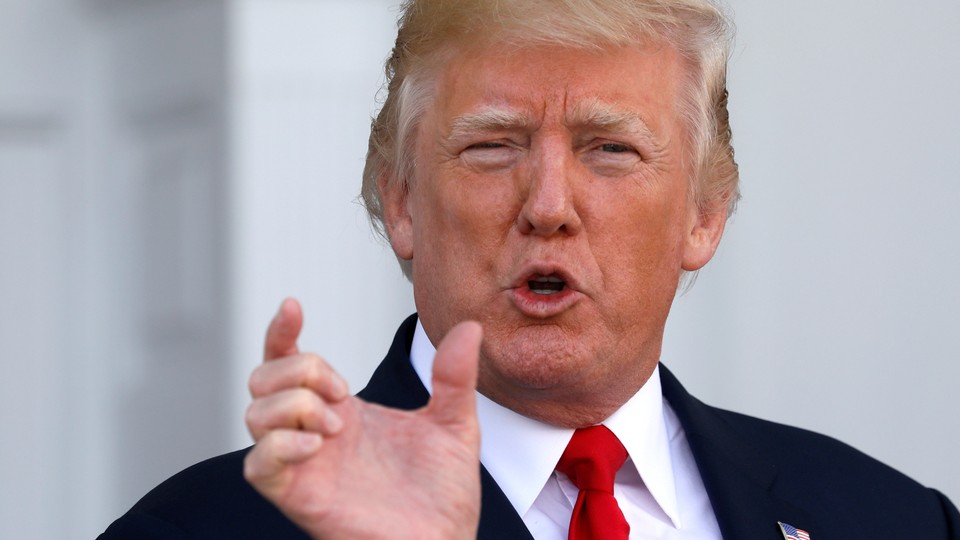 Threatening an unstable adversary in possession of nuclear weapons with "fire and fury" would, in most cases, be seen as the final warning that comes before an actual military strike. But President Trump Thursday doubled down on his remarks about North Korea, suggesting they weren't "tough enough."
"Frankly, the people that were questioning that statement—was it too tough?— maybe it wasn't tough enough," Trump said in Bedminster, New Jersey, where he is on vacation. "They've been doing this to our country for a long time, for many years, and it's time that somebody stuck up for the people of this country and the people of other countries."
The president also seemed to downplay the effectiveness of diplomacy with North Korea and suggested that if the country threatened U.S. interests and allies "things will happen to them like they never thought possible." The remarks about diplomacy in particular—"Sure, we'll always consider negotiations, but they've been negotiating now for 25 years"—are a surprise because of the success of U.S. diplomacy at the UN last Saturday, which resulted in a unanimous vote to impose stricter sanctions on North Korea. They also appear to undermine Secretary of State Rex Tillerson's remarks that Americans "should sleep well" because diplomatic pressure on North Korea would ultimately be successful.
Trump's remarks Thursday cap a dramatic escalation of tensions with Pyongyang since Saturday's sanctions imposed in response to its tests last month of intercontinental ballistic missiles capable of reaching the United States. On Tuesday, the president, in seemingly off-the-cuff remarks, said North Korea "will be met with fire and fury like the world has never seen" if it continued to threaten the U.S. Those remarks came hours after The Washington Post reported that the North had succeeded in miniaturizing a nuclear warhead that could be fitted on an ICBM. Tillerson tried to downplay the concerns, calling the president's threat of a response with "fire and fury" the only kind of message North Korean leader Kim Jong Un would understand. Soon after that, Trump tweeted that the U.S. nuclear arsenal "is now far stronger and more powerful than ever before," adding he hoped the U.S. would never have to use it. North Korea responded Wednesday by providing a detailed outline of a plan to fire an intermediate-range ballistic missile at Guam, the U.S. territory in the Pacific that is home to military bases. James Mattis, Trump's defense secretary, was more measured in his response, noting the "State Department is making every effort to resolve this global threat through diplomatic means," but added: "The DPRK should cease any consideration of actions that would lead to the end of its regime and the destruction of its people."
Since Trump took office in January, foreign-policy experts have emphasized the importance of looking at actual policy accomplishments rather than the president's sometimes colorful statements. But when pressed Thursday about Tillerson's remarks and whether his administration was sending mixed messages, Trump said: "Look, here's the view. I said it yesterday. I don't have to say it again. And I'll tell you this: It may be tougher than I said it, not less."
Earlier in the day, Sebastian Gorka, a deputy assistant to the president, made the same case, noting Tillerson was not empowered to discuss military matters.
"You should listen to the president; the idea that Secretary Tillerson is going to discuss military matters is simply nonsensical," he told the BBC. "It is the job of Secretary Mattis, the secretary of defense, to talk about the military options, and he has done so unequivocally. … That is his mandate. Secretary Tillerson is the chief diplomat of the United States, and it is his portfolio to handle those issues." Later in the day, he said it was "irresponsible" to suggest "fire and fury" meant an impending attack on North Korea.
Pressed on Gorka's comments about Tillerson, Heather Nauert, the State Department spokeswoman, pointed out Tillerson was "fourth in line to the presidency."
Any military action against North Korea will have dramatic consequences for U.S. allies in East Asia. South Korea and Japan, together home to about 70,000 U.S. troops, would be the first to suffer any North Korean military response to Trump's rhetoric—or the U.S.'s use of military force in the region. Nearly half of South Korea's 50 million people live within 50 miles of the demilitarized zone. North Korea regularly tests missiles that land in Japan's exclusive economic zone. Both countries have warned North Korea not to carry out its threat against Guam. Japan is reportedly preparing to deploy Patriot interceptors in its western regions. But Trump said if Kim "does something in Guam, it will be an event the likes of which nobody's seen before, what will happen in North Korea. … That is a statement of fact."
He said Thursday his remarks were "backed 100 percent by our military." "We're backed by everybody," he said. "And we're backed by many other leaders."
"North Korea better get their act together," he said, "or they're going to be in trouble like few nations ever have been in trouble in this world."