The Russians Are Glad Trump Detests the New Sanctions
"Sometimes, it seems to me that the biggest sanctions aren't aimed at us, but at Trump."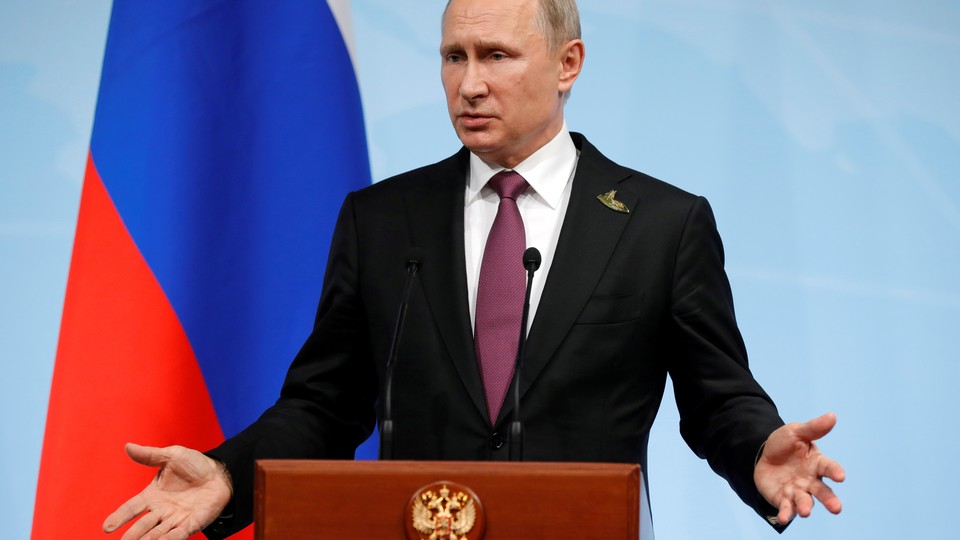 When President Donald Trump finally signed the new congressionally mandated Russia sanctions into law on Wednesday, Dmitry Peskov, Vladimir Putin's spokesman, announced that the Kremlin wouldn't implement any new retaliatory measures to mark the signing. "Retaliatory measures have already been taken," he said, referring to Putin's Sunday diktat that would cut America's diplomatic presence in Russia by two-thirds.
But it wasn't just that. Why retaliate against the new American sanctions when the American president has done it for you? After fighting against the bill and dragging his feet on signing it, Trump issued a reluctant signing statement about the sanctions. He expressed his "concerns" with the bill, which he said had "problems" and was "seriously flawed," and bemoaned that it "it encroaches on the executive branch's authority to negotiate." Speaking publicly about the law, he has denounced it as "clearly unconstitutional." He has still said nothing about Russia's edict cutting 755 American diplomatic staff in Russia.
Russia has seized on Trump's criticism. And it's not just Russian state television, which is gleefully reporting that Trump "has noted that the law is unconstitutional" and that Europe is against these sanctions. (Peeling Europe away from the United States has long been a goal of Putin's.)
Russian officials are also citing Trump's disapproval. Valery Vasiliev, the deputy head of the economic policy committee in the upper house of Russian parliament, noted that "Trump isn't pleased" with the sanctions. "Even the president of the U.S. said that the law is not a good one," said Igor Sechin, a close Putin ally and Russia's oil czar. "He objected but he signed it. What else is there to say? Of course it's not a good law, they all get it."
"Trump called the sanctions law 'seriously flawed,'" tweeted Alexey Pushkov, a hawkish Russian senator. "It's true, but America's whole Russia policy is flawed, especially the Congressional line. Only flaws."
The most remarkable commentary came from prime minister Dmitry Medvedev, who was once the president before he was unceremoniously moved aside by Putin in 2012. The sanctions law, he wrote on Facebook, "ends hopes for improving our relations with the new US administration. … The Trump administration has shown its total weakness by handing over executive power to Congress in the most humiliating way."
That Trump has fallen prey to the rabidly anti-Russian political establishment in the United States has been the main way the Russian establishment has rationalized why a President Trump, whose victory they aided and celebrated, was not delivering quick policy dividends, like lifting Obama-era sanctions. Now that Trump has been forced to sign a Russia sanctions law he so obviously detests, Russian officials are repeating their argument—Trump wants to be friendlier with Russia but the hawks just won't let him—with ever more force.
"The US establishment fully outwitted Trump; the President is not happy about the new sanctions, yet he could not but sign the bill," Medvedev went on. "The issue of new sanctions came about, primarily, as another way to knock Trump down a peg. New steps are to come, and they will ultimately aim to remove him from power."
"American sanctions are bad to the Americans themselves," Pushkov tweeted. "They're tying Trump's hands, angering the E.U., pushing Russia away. But Congress is seized with a shark-like madness—they're hungry for blood."
"Sometimes, it seems to me that the biggest sanctions aren't aimed at us, but at Trump," Sechin said.
It is almost verging on concern trolling, with Russian officials expressing a concern not just for the sanctity of the American presidency but the health of the American system. Would that the American president didn't make the trolling easier.